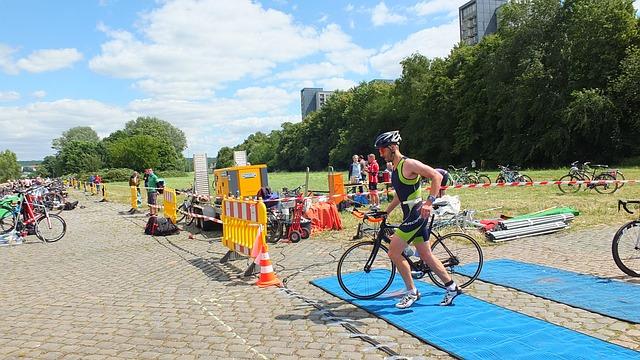 I know a lot of people have asked me about this topic so I just talked to a bunch of people I know and helped put this great list together. Triathlons consist of three consecutive endurance activities. The most common forms are Sprint and Olympic/International distance events.Sprint distances vary by event but are typically 1/4 mile swim, 12 mile bike ride, and a 5k. These are great for beginners and the swim can be in the pool or open water. Pool is an ideal option for beginner swimmers because it's much safer. Olympic/International events are the next step up, typically consisting of longer distances: 1/2 mile open water swim, 25 miles on bike, 10k run). The events are typically larger as well and sometimes you'll see the occasional pro. It's important to distinguish that Sprints are all about the speed and Olympic distance events are both speed and endurance.
Triathletes are timed in each leg, and the person with the overall fastest time in all three events is declared the winner. Transition between each leg takes place in a staging area where athletes can obtain their gear for their next event. The time spent during the transition contributes to the athletes overall time in the triathlon. The races vary in distance for each leg. The most common leg distances for ultra-distance triathlons are: 2.4 miles for swimming, 112 miles of cycling, and 26.2 miles of running. The most recognized ultra-distance triathlon is the Ironman Triathlon.
Triathlon participation involves lengthy training prior to the competition. Athletes must train for all three endurance activities and know how to manage their energy reserves to be able to transition smoothly between each leg. By the last leg, triathletes have already completed two other endurance activities, so they need to know how to continue on fatigued muscles. The following resources are provided to help athletes learn more about triathlons, find training plans, triathlon events, and triathlon organizations.
Swimming
Bicycling
Cycling Performance Tips – Nutrition tips, performance tips, training tips, and more.
Training for Bicycling Events – Providence Health Services guide to training for any cycling event.
12 Mile Cycling Training Plan – Eight week program to build cycling mileage up to twelve miles.
Science of Cycling – An overview of which muscles are used during cycling and how the energy cost from cycling compares to other methods of transportation.
Tips on Cycling in Time Trials and Triathlons – An article from Professor Jackson at Stanford University.
Running
General Triathlon Resources
Triathlons – An overview of triathlons and how much training is involved.
Triathlon FAQs – Oregon State University Triathlon Club's common questions and answers about triathlons and triathlon training.
Triathlon – Princeton University's guide to the triathlon.
Training for a Triathlon – Des Moines University Clinic' s training tips for bicycling, swimming, and running.
Beginner Triathlete – Articles, training plans, race listings, and much more information for the beginning triathlete.
Tri-Newbies – Excellent information and help for new triathletes.
International Triathlon Union – The official triathlon resource for athletes.
USA Triathlon – USA triathlon news, event listings, and resources for athletes.
Professional Triathlon Association – PROTA is an organization that works to promote and represent professional triathletes.
International Ultra Triathlon Association – IUTA is the governing body for international ultra-triathlons.
Story of the First Triathlon – A quick history of the first triathlon.