Sole, a leader in the treadmill industry, has something for everyone. The folding F60 is their most inexpensive treadmill with good components and no frills. At the other end of the spectrum are Sole's light commercial and commercial trainers with advanced cushioning, audio and other perks
Normally we'd dismiss an $800 treadmill right away, but Sole has a great reputation to protect. While you shouldn't expect a club-quality workout, we'll say that Sole really hasn't skimped on its cheapest model. Updated for 2013, the folding Sole F60 treadmill has a full 20" x 60" running surface and a respectable 2.75 CHP motor. If you weigh about 275 pounds or less, you could get three years or more of workouts from this budget treadmill.
What We Like

Compact Design: The F60 treadmill features Sole's unique horseshoe design. It can be folded to save space but is very sturdy.
High-Quality Motor: Sole's durable 2.75 CHP motor is comparable to 3.0 HP motors from other brands. It's cooled by heavy-duty flywheels and is surprisingly quiet. The motor has a lifetime warranty for residential use.
Above-Average Track: The Sole F60's track is two-ply for durability. The 60"x20" workout area is long enough for most runners, especially when the incline is used. Furthermore, its CushionFlex technology has been proven to reduce joint impact by up to 40% when compared with road running. (Meep meep!)
Heart Rate Monitors: Hand pulse grips and a wireless chest strap are included. If you pay attention to heart rate, you can increase the efficiency of your workouts. You'll understand when it's best to slow down, speed up or keep your pace.
Ten Programs: The 2013 version of the Sole F60 has ten preset programs, not just six like the original model. Endurance, weight loss and interval training are all covered.
Extras: Two cooling fans are built into the console to help you endure. Also, incline and speed controls are conveniently placed on the armrests.
Good Warranty: Sole warranties are among the best in the business. The F60 Folding Treadmill is sold with a lifetime warranty on the frame and motor, a three-year warranty on electronics and parts, and one year of labor. You probably won't find a better warranty for a sub-$800 treadmill.
What We Don't Like
No Heart Rate Control: Although this treadmill gives heart rate readings, it doesn't have heart rate control programs. Other Sole treadmills include heart rate control to help make workouts more efficient.
Small Display: The 5.5" LCD is crisp but too small for some trainees.
Our Verdict
The Sole F60 Folding Treadmill for 2013 is an excellent value! It's basic yet very capable in the most important areas: running smoothly and quietly. Also, it has a best-in-industry warranty; no other $800 treadmill we've seen has such generous customer protection. We recommend this product as a starting point for people who weigh about 275 pounds or less. The official weight capacity is 325 pounds but we like to error on the side of caution.
Despite this highly positive treadmill review, we suggest a bit of comparison shopping. Smooth's 5.60 Folding Treadmill has had a lower price in the past. It includes 40 workouts and an iPod hookup. Smooth doesn't necessarily have comparable customer service though, so you're making a trade. In the end we give this treadmill 4.5 stars!


Other Sole Treadmill Reviews: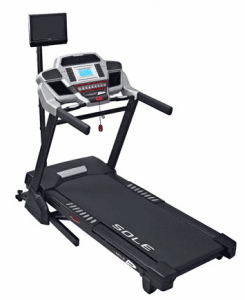 This treadmill is on sale now.