Best Home Treadmills for 2020
On the hunt for a new home treadmill to kickstart your 2020 fitness routine? More and more Americans are adding a treadmill to their home gym as a convenient, affordable way to stay fit at home whatever the weather. Treadmill manufacturers are keeping up with this increasing demand by designing a larger variety of machines and updating their original models for today's competitive market.
With so many brands competing for your attention, how can you ensure you find the best value treadmill for your workout needs? That's where we come in! We've done all the research for you and created our picks for the best treadmills of 2020, taking the most important factors into consideration including price, performance, durability, and special features. Read on to see our top-rated picks for 2020 and find the best value treadmill in your budget to fit your workout preferences, body type and fitness ability.
Here's our best rated treadmills for 2020 organized into handy categories for you to pick the most relevant type of machine for your workout needs.
Best Treadmill for Most People: NordicTrack Commercial 1750
Best Budget Pick Treadmill: Horizon T101
Best Incline Trainer Treadmill: NordicTrack Commercial X32i
Best Treadmill for Walkers: Sole F63
Best Compact Treadmill: ProForm 505 CST
Best Treadmill for Marathon Training: NordicTrack Commercial 2950
Year after year, the NordicTrack Commercial 1750 takes the crown as our all-round favorite treadmill for typical trainees. This treadmill's combination of functionality and performance easily make it one of our best home treadmills of 2020, and at its $1,799 web price, it's a hard machine to beat.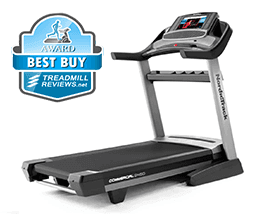 From its quiet and powerful 3.75 CHP motor that's strong enough for runners, to its iFit-enabled console for interactive training, the NordicTrack 1750 is a versatile, entertainment-friendly machine that's priced right. Top features include: Bluetooth audio capabilities; a 10″ HD iFit-enabled touchscreen (including a free 1-year iFit membership) for you to enjoy endless interactive workouts and fitness data tracking; 50 built-in workout programs designed by world-renowned personal trainers; and power incline/decline to sculpt your lower half (15% and 3% respectively).
Although the 1750 is the cheapest option in NordicTrack's current Commercial Series, it's hardly entry level. It's a versatile machine that can easily handle a variety of training preferences, from walking to long-distance running to interval training. If you're looking for a high-quality commercial grade treadmill for your home gym, the NordicTrack 1750 is an ideal choice that you will enjoy for years to come.
See our detailed review of the NordicTrack Commercial 1750.
Best Budget Pick Treadmill: Horizon T101
Looking for a budget-friendly, entry-level treadmill with a respectable warranty? The Horizon T101 treadmill could be the perfect machine for you.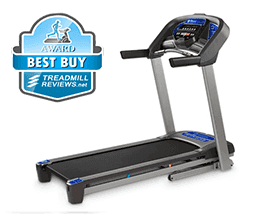 At just $599, it's one of the best-selling treadmills in the industry in this price range. As for workout style, it's perfect for walking or light to moderate routines, and its compact, foldable design makes it suitable for any home gym; it can easily be stored or transported after use.
Some of its star features include: a 0-10% incline allowing you to take advantage of its nine built-in workout programming options; a Bluetooth speaker system for you to listen to your favorite workout playlists with ease; a cooling fan; and a fantastic warranty offering lifetime coverage on the frame and motor, and 1 year on parts and labor.
Cost-conscious shoppers at the start of their fitness journey or those who prefer light to moderate workouts should definitely consider the Horizon T101. It's a fantastic, entry-level walking treadmill for its price class.
See our detailed review of the Horizon T101.
The NordicTrack Commercial X32i is NordicTrack's top-of-the-line incline trainer that really shines when it comes to programming options and interactive training, something that can be taken advantage of on such a fantastic 32″ HD touchscreen.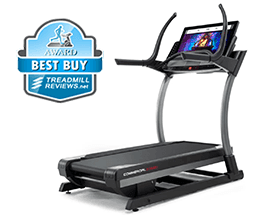 As for its star features, users of the X32i can benefit from: 50 built-in workout programs designed by certified personal trainers; a free 1-year iFit membership for limitless training options; a 6% decline and impressive 40% incline for body sculpting and weight loss; and a powerful 4.25 CHP motor which can handle any workout you throw at it. What's more, the X32i delivers a comfortable yet real road experience through it advanced, low-impact Reflex™ Cushioning system.
With its highly advanced features and variety of training options, the NordicTrack X32i will be a great choice for most incline trainer shoppers. It's a versatile machine for those looking to build strength while torching calories fast at home. The only drawback for us is the hefty price tag which is just under $4K online ($3,999 to be exact). If this is a bit too pricey for your liking, take a look at the NordicTrack Commercial X22i and their Commercial X11i as lower cost incline trainer options.
See our detailed review of the NordicTrack Commercial X32i.
Best Treadmill for Walkers: Sole F63
The Sole F63 is easily one of the highest quality, basic folding treadmills under $1,000 on the market. If you're looking for a durable, budget-friendly walking treadmill with a competitive warranty, the Sole F63 is a great choice.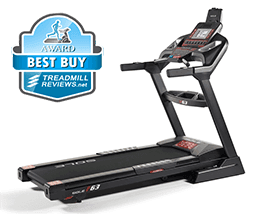 High-tech extras are sacrificed for the F63's $999 discounted price, but that doesn't mean Sole has compromised on quality. High-quality foundations are the name of the game here, with durable treadmill basics taking centre stage over luxury extras. Expect commercial-grade treadmill components such as advanced deck cushioning, a durable 2-ply belt, large 2.5″ track rollers and a heavy-duty motor (which itself is kept cool by heavy-duty flywheels).
Star specs of the Sole F63 include a roomy 60? running surface, a 3.0 CHP motor that supports a top speed of 12 mph and a 15% incline, and an upgraded console with 10 training programs. Even though the F63 is Sole's cheapest treadmill, it still offers a competitive warranty including: lifetime coverage on the frame and motor; three years of coverage on the parts, deck, and electronics; and one year of coverage for labor. As for extras, the Sole F63 still offers a 6.5? LCD which can be integrated with the Sole Fitness app for fitness stats tracking and data sharing, an integrated tablet holder, bluetooth audio speakers, and a USB charging port.
Combining a low sticker price with durable, high-quality components and Sole's great customer service was bound to be a recipe for success. We're not surprised that the F63 is one of Sole's most popular treadmills year after year. At $999 with a generous warranty, it's an excellent choice for light at-home cardio training (walking being the focus here).
See our detailed review of the Sole F63.
Space is one of the most important factors to take into consideration when buying a treadmill. Compact machines have become more popular than ever, and our favorite model currently on the market is the ProForm 505 CST.
A budget-friendly, basic treadmill designed for durability and convenience, the ProForm 505 CST has many star features for its affordable $999 price tag. SpaceSaver design equips the 505 CST with an easily foldable mechanism, making it quick and simple to fold and store as needed: no heavy lifting required.
Even though the 505 CST was designed to be compact, it doesn't compromise on comfort or features. It's equipped with ProForm's ProShox Cushioning which provides users with excellent cushioning throughout the whole running area to protect your joints from impact. The model's 2.5 CHP motor can support power incline up to 10% and speeds up to 10 mph, which you can enjoy alongside interactive iFit workouts or with the 505 CST's 18 built-in programs (an impressive amount for a machine with its price tag). If you want to use iFit, just connect your tablet to the 505 CST via Bluetooth so you can enjoy workouts which automatically adjust the incline and decline to match the terrain in the HD video workout you're watching.
The ProForm 505 CST does have a few drawbacks, which can only be expected with its low sticker price and space-saving design. The 505 CST's 20? x 55? running area is compact, and its smaller 1.9? balanced non-flex rollers (also a result of the compact design) may affect the quality of your workout; it may not feel as smooth as you would like.
Really it comes down to whether you need to prioritize compact dimensions and easy folding: both of which the ProForm 505 CST can easily compensate for. The ProForm 505 is a good entry-level treadmill for walking to light running and comes from a reputable brand; it's hard to beat for this purpose at its $999 price point.
See our detailed review of the ProForm 505 CST.
Struggle to stay motivated to keep exercising or need to train over the long term for a marathon? The NordicTrack Commercial 2950 could be the answer. NordicTrack's premiere home treadmill, the 2950, has a 22? touchscreen to view your iFit workouts on in full view and clarity; this is great for encouraging ongoing, entertaining training. Its powerful 4.25 CHP motor makes it the perfect partner for marathon training over the long term; it can handle any workout you throw at it with ease.
Star features include: a high-end 4.25 CHP motor; a roomy 22? x 60? workout surface; power incline and decline at 15% and 3% respectively; and other comfy extras from cooling fans to integrated storage for your keys or water bottle.
Its impressive sound absorption and easily foldable frame make it a great match for intense training in just about any home workout space. The 2950's advanced Runners Flex™ Cushioning lets you choose between a cushioned deck or a road-like workout surface, which is ideal in the run up to a road race so you can get used to the feel of running on an outdoor surface. Whether you're intensely training for an upcoming marathon or simply want a powerful and reliable machine to regularly train on at home, just tune in to the 2950's 22? HD touchscreen to immerse yourself in scenic iFit workout programs and forget you're breaking a sweat.
As the top-of-the-line model from a world-leading treadmill brand, the NordicTrack 2950 is an impressive machine we would recommend for most trainees, including marathon trainers. The $2,999 price tag is the highest in NordicTrack's Commercial Series, but if you're looking for pro performance you'll get it with the 2950. You get what you pay for here: durability, entertainment, and a comfortable workout even in your most intense sessions.
See our detailed review of the NordicTrack Commercial 2950.
Want to learn more about how to find the right treadmill for your workout needs? Read our handy Treadmill Buying Guide and try our Treadmill Finder tool to narrow down your search.
Best Home Treadmills for 2020 FAQs
What should you look for when buying a treadmill?
A few factors to consider when shopping for a treadmill are budget, space, and your workout goals. It is important to look for features such as motor capacity, weight capacity, size and folding options, incline/decline settings, deck cushioning, and workout programs. If you plan on using your treadmill for long runs or intense workouts, you will want to consider investing in a treadmill with a high motor capacity so that the motor doesn't burn out after a few months of daily use. You can check out our Treadmill Buying Guide for more information.
Are treadmills quiet enough to have in an apartment?
The noise level of a treadmill will be different for each specific model. In general, treadmills made for home use are quiet enough to have in an apartment. If you are worried about noise travelling to your neighbors, you can get a shock absorption mat to place under your treadmill, which should help lessen any noise from impact when the treadmill is in use.
What are the best treadmill brands?
Some of the most popular and highly rated treadmill brands in the market are NordicTrack, Sole, ProForm, and Horizon. You can check out our review pages for each individual brand to get more information.