Best Treadmill Workout
Interval Training Is Crucial For Efficient Treadmill Workouts
Interval training with a treadmill involves alternating between high-intensity training and low-intensity training, which burns calories faster in addition to other health benefits. Want to know how it works and how to do it? You've come to the right place. This article dives into everything you'll need to get started along with links to reviews of some of the best home treadmills available with interval training programs.
Note: Interval training should not be practiced every day. It is most effective when you allow at least two days in between workouts to give your muscles time to heal and grow.
Benefits of Interval Training
1. Faster Metabolism
Interval training can make your body burn fuel more efficiently, even when you're not exercising. Many factors come into play. One factor is increased muscle mass. Another is the production of catecholamine, which helps metabolize fat. When you work out at a high intensity, your catecholamine level can be boosted for the next two days! During exercise, you'll burn fat more too. With high-intensity training, your muscles' glycogen stock will run out quickly. Your body will shift into fat-burning mode to carry you through the workout.
2. Rapid Calorie Burn at High Speed OR High Slope
Interval training on a treadmill lets you rev up calorie burn two ways: by adjusting the speed and the slope of your intervals.
Obviously the faster you run, the faster you burn energy. But did you know that slope can make a similar impact? You can walk rather slowly on a slope and still burn plenty of calories! Plus, your legs can get incredible tone.
Most treadmills in our reviews have 10% to 20% inclines. Incline trainers have up to 40% inclines.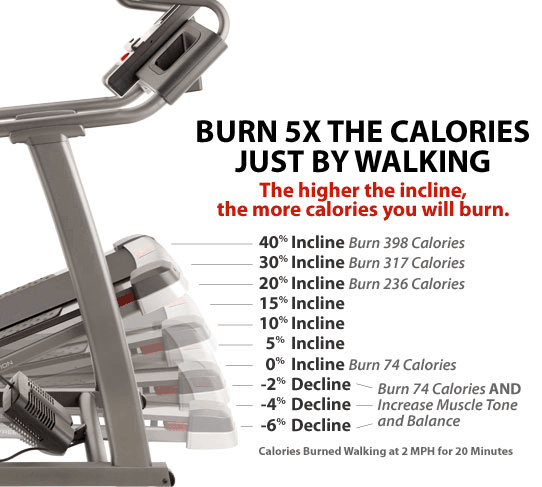 Walking at 2 mph might burn 74 calories in 20 minutes on a 0% incline.
Ramp up the incline to  20% and you'll burn 236 calories in the same amount of time.
A 20% incline might be too extreme in 20-minute chunks, but it's manageable in smaller intervals. Here's an article with sample routines.
3. Better Endurance
Compared with exercising at a constant pace, training with alternating speeds is a more effective way to develop endurance. Your aerobic capacity will expand, letting you exercise for a longer time period and with more intensity. Life will be easier overall, whether you're running to catch a flight or just keeping up with your kids.
Why does this work? One reason is that interval training improves your lactate threshold. It's natural for your body to produce more lactate during high-intensity workouts and you'll feel it when your muscles burn. Interval training helps you more efficiently eliminate that lactate buildup. This brings us to the next benefit of interval training: avoiding sore muscles.
4. A Solution for Sore Muscles
Intense exercise often brings muscle soreness, but interval training helps you avoid that ache. That's because it provides recovery periods while you workout. When you slow down after a high-intensity interval, your body has a chance to eliminate the waste products from your muscles.
5. Avoid Boredom
Interval training automatically brings variety to your workout routine to stimulate your mind as well as your body. Your workout can be different every week to match your progress. If you choose an interactive treadmill, things will really get interesting. With immersive video technology, you can virtually climb mountains or stroll through the hills of an actual park.
Best Treadmills for Interval Training
What is the ideal fitness machine for interval training? To start, it should have:
A strong motor to handle changes in speed.
Great cushioning to deflect shock from your body.
An automated incline for efficiency and muscle tone.
Interval programming (obviously).
Here are three models that fit the profile.
NordicTrack Commercial 2950 Treadmill — Foldable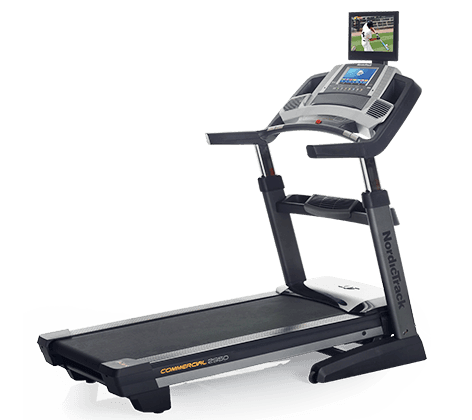 Here's the cream of the crop of NordicTrack treadmills. It's luxurious with an impressive 15″ TV and large touchscreen. Options for interval training include a 15% incline, a 3% decline and a max speed of 12 mph (plus personalized workouts from iFit Live). The Commercial 2950 also has RunnersFlex cushioning, so you can choose between training with joint-friendly cushioning and a harsher simulation of performing outdoors.
LifeSpan TR5000i Treadmill – Excellent Basics, Fewer Extras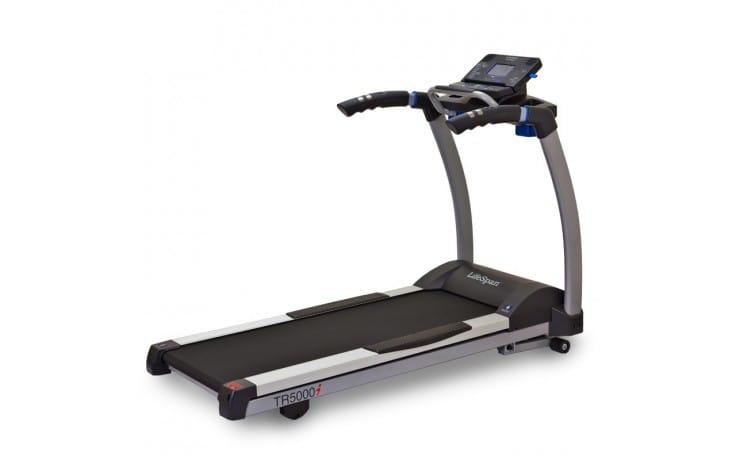 The high quality LifeSpan TR5000i is designed for use at home or in light commercial gyms. LifeSpan treadmills are popular for their track cushioning, power, and durability. They don't have "luxury" extras such as TVs and immersive video, but they do have USB ports for saving and charting your exercise data.
With the LifeSpan TR5000i you'll get a full 60″ track. The thick orthopedic belt has satisfying cushioning and its textured surface provides enough traction for intense interval trainers. It can incline up to 15 levels and has a top speed of 11 mph.
This unit includes 17 workouts, some of which use MyZone Heart Rate Control. You can customize two programs for your interval training workouts.
Nordic Track X11i Incline Trainer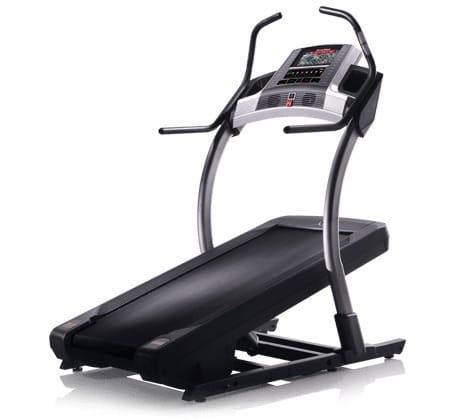 Get the steepest slope on the market! Praised as "the fastest way to lose weight" by celeb personal trainer Jillian Michaels, the NordicTrack Incline Trainer X11i is a unique treadmill-style trainer with 40% max incline, 6% max decline and a 4.25 CHP motor. It has 44 built-in workout routines and can also be used with iFit Live.
Through iFit Live, you'll get a new personalized workout every day. You can specify an interval training workout one day and an easier walk the next.
iFit also lets you map routes in Google Maps to walk around the world from the comfort of your home gym.
A Tip about Treadmill Warranties
Regardless of the treadmill you choose, always check the warranty package. Your interval treadmill workouts might push the machine to its limits, so you'll want an especially durable product. The three fitness machines described above have at least five-year parts warranties.
For more tips about buying a treadmill, see our article about How to Buy a Treadmill article or consult our Treadmill Finder.