BladeZ T500i Review
With a 60″ track and a 3.5 HP motor,The BladeZ T500i Treadmill is just right for the majority of runners (The other treadmill in this series is the
T300i
, a walker's treadmill with a shorter track and smaller drive). The T500i is a good value if bought on sale, but at full price there should be an even longer warranty.
A highlight of this unit is the i.Concept console. It arrives with 16 workout modes and a body fat calculator. Using the Bluetooth connection, you can download additional programs for an almost endless list of workouts. The BladeZ exercise apps offer a mixture of traditional treadmill workouts and motivational games.
Owners get lifetime protection on the frame and motor. Parts are protected for the first three years. Free labor is provided during the first year of ownership.
What We Like:

Console: The BladeZ T500i's i.Concept console uses the same technology found on more expensive treadmills by BH Fitness, but without the touch-screen. Here you'll get a very user-friendly console with LED. You can choose from 16 programs, including three that use heart rate control and four that are customizable. Most programs have ten challenge levels. There's also a body fat calculator. You can access new training apps by using the T500i with your iPhone, iPad or Android device.
Motor: The 3.5 HP track motor provides ample power for most runners. It is virtually silent, skip-free, and has a lifetime guarantee.
Speed: Run at up to 12 mph, which is an impressive top speed for a folding treadmill.
Full Track: This treadmill can fold, yet is still full size with a standard 20″ x 60″ track. The track is long enough for almost any runner to take full strides.
Advanced Cushioning: Active-Flex cushioning meets two needs at once. It's excellent for shock absorption thanks to cushioning in the landing zone and also helps improve a runner's efficiency with a firmer push-off area.
Incline: Incline training helps burn calories quickly and targets different muscle groups. Here a 12% maximum incline is divided into 15 increments. Your stride will naturally change as the incline increases, automatically recruiting different muscles. Exercising on an incline also shifts your posture to relieve stress on the knees.
MP3 Player Port: Speakers and a USB power port are provided for MP3 players.
Folding: Some folding treadmills are flimsy and unreliable, but the BladeZ T500i is a solid and relatively durable product. Folding is easy despite the machine's weight since shock-assist does most of the work. Folding the track into a vertical position, frees up nearly two feet of floor space. The folded dimensions of this unit are about 56″ x 35″. Unfolded, the footprint is about 77″ x 35″.
Wireless Heart Rate Compatible: The T500i treadmill is compatible with a Polar wireless chest pulse strap. The wireless system sends a continuous heart rate reading to the console, helping you stay in the optimal training zone for efficient results. You can also use wireless monitoring with the three built-in Heart Rate Control (HRC) programs. HRC programs adjust their demand to suit your heart rate data. The compatible chest strap is sold separately, but contact heart rate grips are included as backup.
Extras: The T500i Treadmill includes a cooling fan, a beverage holder, and an accessory rack for a tablet or smartphone.
Capacity: This machine has a maximum user weight capacity of 350 pounds.
Safety Key: A removable safety key can be used to lock or quickly stop the treadmill.
Warranty: This unit is sold with lifetime coverage on the frame and motor, three years of coverage for parts and wear items, and a year of labor. The warranty is alright if you buy this treadmill on sale, but disappointing at full price.
What We Don't Like:
Track Longevity: The treadmill track runs over 2.4″ rollers, which will wear down over time. Other treadmills made by BH Fitness (the BladeZ parent company) use larger rollers to promote longevity.
Unique Value: This treadmill has appeal, but there is quite a bit  of competition in this price range. If you'd happily pay the full MSRP, then also consider similar yet superior treadmills from BH Fitness.
Our Verdict:
This treadmill is a good buy on sale, but a bit of a rip off at full price. You'll get great workout variety, an incline, orthopedic cushioning, and the option to stream your music. A pretty decent line up of features, but not enough to get us excited. You might find even better treadmills from the parent company BH Fitness for a similar MSRP. Shop around before committing to the BladeZ T500i to avoid disappointment.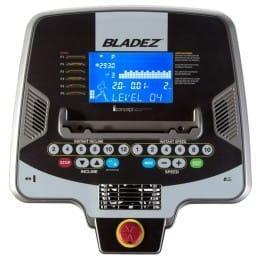 You can find this BladeZ Treadmill at Amazon
Other Bladez Treadmill Reviews: