Bowflex BXT216 Review
Update:
This model has been discontinued. To find a suitable replacement, check out our
treadmill finder here
.
Designed to surpass expectations, the Bowflex Results BXT216 was once a mighty tempting treadmill. No longer produced by Bowflex, it remains available at select online retailers and as a used model. If found, give it a solid look. This top-of-the-line machine is designed with power in mind and can please the most serious runner. Yet it's versatile enough to satisfy the average active family. Bowflex Results treadmills offer high-end features from top to bottom: maintenance-free workout belts, variable cushioning, full-color workout screens, advanced calorie burn calculators, wireless heart rate monitoring, Bluetooth connectivity, and so much more. This particular model allows extra elbow room and can support up to 400 pounds.
It's a bit surprising that this model has a foldable frame. Generally speaking, that home-friendly feature comes at the expense of some another desirable quality. But with this treadmill, all the components seem to be top-notch. Folding and unfolding the BXT216 is also made easy thanks to shock-assist. When folded, the treadmill measures 52.5″ x 38.5″ x 67″ for easy storage, compared to a family-friendly 84.5″ x 38.5″ x 54.7″ when in use. Reviewers consistently report that this unit is easy to assemble, a real plus given the fact that it's designed to fold.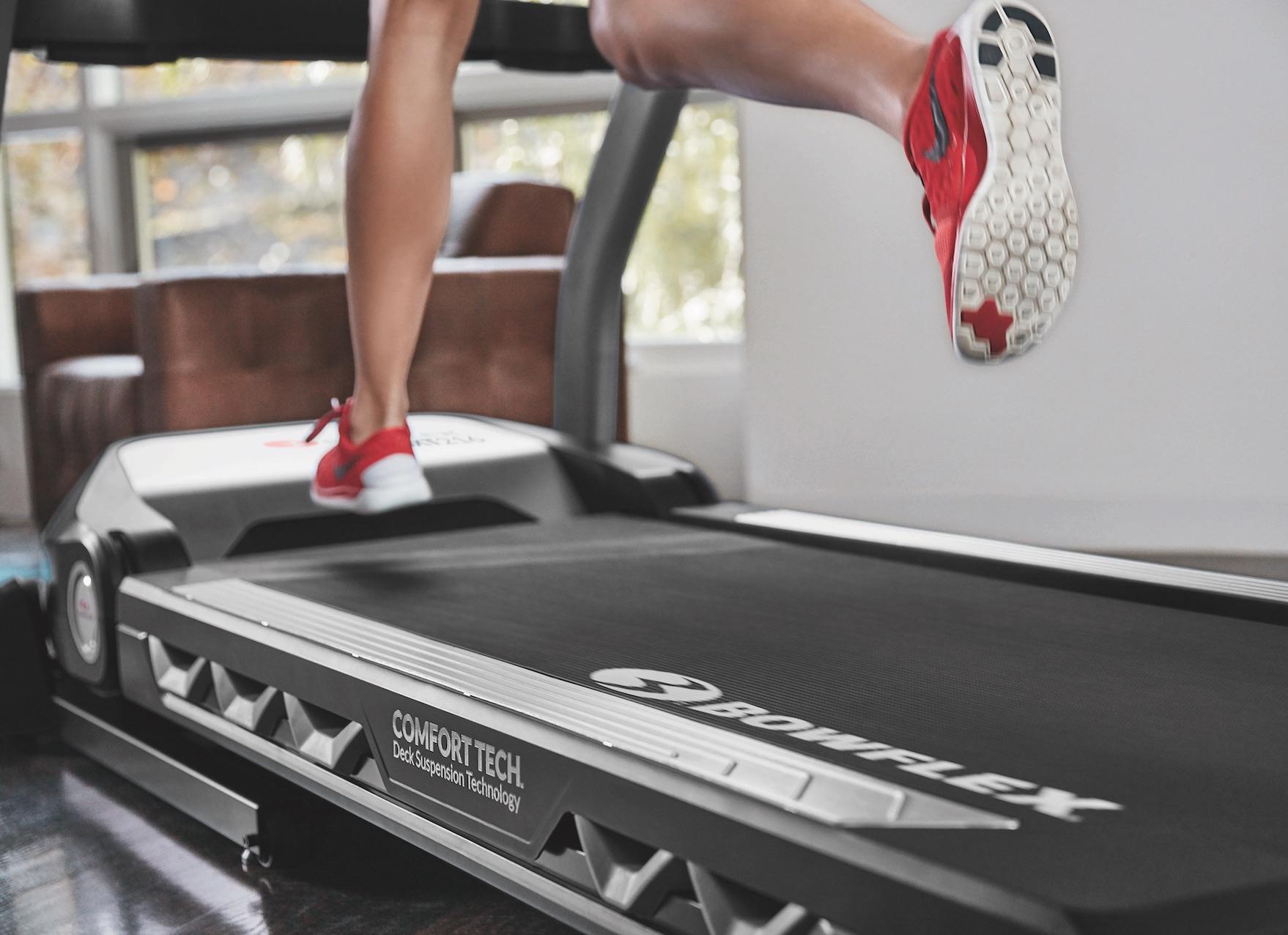 What We Like:

Horsepower: Ready for heavy traffic, BXT216 Treadmill is equipped with a 4.0 CHP belt motor. That's right – four whole horses! The norm on home treadmills is 3.0 CHP. This peak horsepower virtually guarantees that the machine will smoothly handle multiple workout sessions per day, as well as marathon training sessions and/or an especially large user.
Belt Size & Quality: The BXT216 has the biggest workout belt surface in the new series. It measure 22″ wide x 60″ long. Unlike many home treadmill models, those from Bowflex Results have three-ply maintenance-free workout belts. This means you won't need to wax the belt, and you won't need to recalibrate it due to stretching.
Safety Features: In addition to large red "Stop" button, the treadmill also features a tether which can stop the unit if pulled due to a user stepping off.
Belt Rollers: Besides the belt itself being high grade, it runs over 2.75″ diameter rollers. This helps explain why the treadmill is especially durable for its price range. The roller diameter is wide for the home treadmill industry, and the size helps minimize wear on the belt as well as the motor. (For comparison, very cheap treadmills tend to have 1.9″ rollers. Health club treadmills have rollers sized 2.75″ and up.)
Burn Rate Console: "Results" is in the brand name and there's substance to the claim. The Burn Rate data console is a great example. It's named for its unique feature of displaying per-minute calorie burn. Other fitness machines obviously show calorie burn, but only your cumulative total for the session. Getting more precise calorie burn data can encourage you to train harder.
Heart Rate Monitoring: BX Results treadmills are packaged with chest straps for "hospital accurate" wireless heart rate monitoring.
Bluetooth: Bluetooth connectivity on the Burn Rate console makes it easy to export your fitness stats. The treadmill can sync with the manufacturer's new Results mobile app and more widely used fitness tracking apps like MyFitnessPal and FitBit. This feature allows users to play their own music from their phone or other device while running.
Color Display: Built-in workout programs are shown in full color on a 9″-wide screen.
Device Holder & Charger: A media shelf with USB charging port is built into the Burn Rate console.
Built-In Workouts: Eleven training programs are built into the BXT216 Burn Rate console. These offer good variety with choices optimized for weight loss, speed performance, heart rate zone training and more. Workouts can be customized in real time and also feature cool-down programs.
Folding Frame: The BXT216 is a folding treadmill. Folding and unfolding is made safe and easy with hydraulic assist.
Automatic 3-Speed Fan: Runners can feel the feel a breeze at various levels while exercising on the treadmill.
Warranty: The Bowflex Results treadmill warranty is a decent deal with 15 years on the Frame, Drive and Motor, 5 years on for Mechanical, and 2 years coverage on Parts, Electronics and Labor.
Bowflex BXT216 Treadmill - Key Specs:
| | |
| --- | --- |
| Star Rating: | 4.35-stars |
| Motor: | 4.0 HP |
| Incline: | 0 - 15% |
| Running Area: | 22" x 60" |
| Folding: | Yes |
| Top Speed: | 12 MPH |
| Weight Capacity: | 400 LBS |
| Dimensions: | n/a |
| Built-In Programs: | 11 |
What We Don't Like:
Discontinued Model: If purchasing used, make sure to check the condition of the machine.
Noise Level: Not terribly distracting, but the Bowflex BXT216 does present a moderate level of noise relative to other models.
See the Bowflex BXT216 Promotional Video
Our Verdict:
The BXT216 has all the traits of a light commercial cardio trainer, but it's priced for home use (and somehow foldable!). If you find it as a used model, give it a good look. Brands routinely upgrade their lineups just like cars. Whether you prioritize comfort, durability, electronics, or high performance, this machine will deliver the goods. With so many home treadmills competing for attention on the marketplace these days, this model strives to be the complete package. It doesn't disappoint. If you've been tempted by this machine, take the plunge without fear.
Recent Updates
July 13, 2021: Added some FAQs to the page.
November 1, 2022: Updated the machine's status as discontinued but available as a used model.
Bowflex BXT216 FAQs
Are Bowflex treadmills any good?
Bowflex is a pioneer in home fitness equipment and continues to be a leading provider of innovative and top quality exercise machines. Bowflex treadmills are optimized for exercising with minimal harsh impact and achieving rapid results.
How do I connect my Bluetooth to my Bowflex BXT6 treadmill?
This machine is equipped with Bluetooth connectivity using the Bowflex Results Series Fitness App. Download the free Software App, named the "Bowflex Results Series Fitness App" from the App store on iOs devices or Google Play Store. Once you've done this, you can follow the connection instructions on the app. Your machine has a Bluetooth connection display on the top of the console that lights up when the app is connected.
What is the weight capacity of the Bowflex BXT216? I am on the heavier side, is this a good treadmill for me?
The weight capacity of this machine is 400 lbs. This is one of the highest weight capacities of any treadmill making it a great option for those on the heavier side.
Why should I consider a discontinued model?
They're often a bargain if found in good condition. You might find a treadmill someone bought and only used a few times.
Is the Bowflex BXT 216 difficult to assemble?
It's not complicated, but you'll need help. The unit is large and can be tough to handle alone.