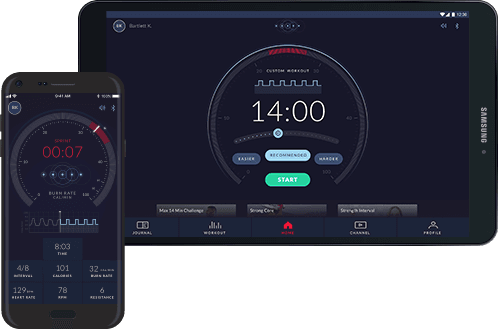 Bowflex Max Intelligence™ App monitors your workout and assesses your fitness level and progress, then creates a unique workout for you – like a personal trainer would do. Only there is no person, human that is, it works through an artificial intelligence platform. So no need to feel intimidated or judged! Videos are available on demand, loaded with instructors, exercise tips and recommendations to motivate users. It has been launched with the new Bowflex Max trainer models M6 and M8, preloaded on a Samsung tablet.  Oh and yes, it is compatible with both Android and Apple devices.
Workouts
Customized
Each workout is new and customized especially for you – Bowflex Max, monitors every workout and makes sure that you are always challenged and working towards your personal goals. Max analyzes your fitness capabilities whether beginner or advanced levels. Test
Video
Motivation comes in different ways and one is having a voice or trainer push and motivate you through. So never be alone, your virtual trainers are on video (on demand) to properly prepare and get you to  your personal best through instructional classes and tips.
Subscription
Bowflex Max Intelligence™ App is accessible with a subscription for an annual rate of $149 and a month to month for $14.95. It is within the average price of fitness Apps.
What We Like
The artificial intelligence capability is great. The fact that it can monitor your workout, assess the stats and then create the next challenging workout that works specifically with your needs is pretty awesome.  Bowflex Max shows you tangible results through in depth analysis and tracking and will also reward you on your accomplishments! It doesn't get more motivating than that, to see your achievements, no matter how small.
Our Verdict
Most equipment manufactured today, has an App. whether it is through the use of google offering the virtual outdoor training or live streaming classes. The Bowflex Max Intelligence™ App is competing with this myriad of options. Brands such as Echelon and Peloton have their live and direct classes streaming in to home gyms, changing the home workout experience forever. Bowflex Max doesn't offer live classes but it does offer videos on demand. However, its standout feature is the artificial intelligence platform, analyzing and predicting at each of your workouts how you are doing and when to move on to the next level of intensity and challenge.
Currently it is being offered with the new Max Trainer M6 and M8 models, preloaded on a Samsung tablet. We suspect moving forward it will be a standard part of the Bowflex offerings; at least we hope it will be.