Humans, as it stands today, are not made to order. Parents can't choose how short or tall their child will be, nor can they pick their hair color. Doctors can't yet program an unborn son or daughter to excel in athletic or academic pursuits. These dreams today may eventually be the future or a plotline examined in Hollywood movies, but there's no such thing as an on-demand body. The same goes for dating and finding a significant other. There might be one or two "must-haves," such as a beautiful smile or washboard abs, and few features we're willing to overlook, like a potbelly or a few stray grays. If we could build a mate with the perfect body, what would he or she look like? We asked 1,000 Americans to share their ideal body types based on the gender they are most attracted to and constructed 3-D models based on their answers. Read on to learn about today's definition of a perfect body.
THE IDEAL MALE AND FEMALE BODY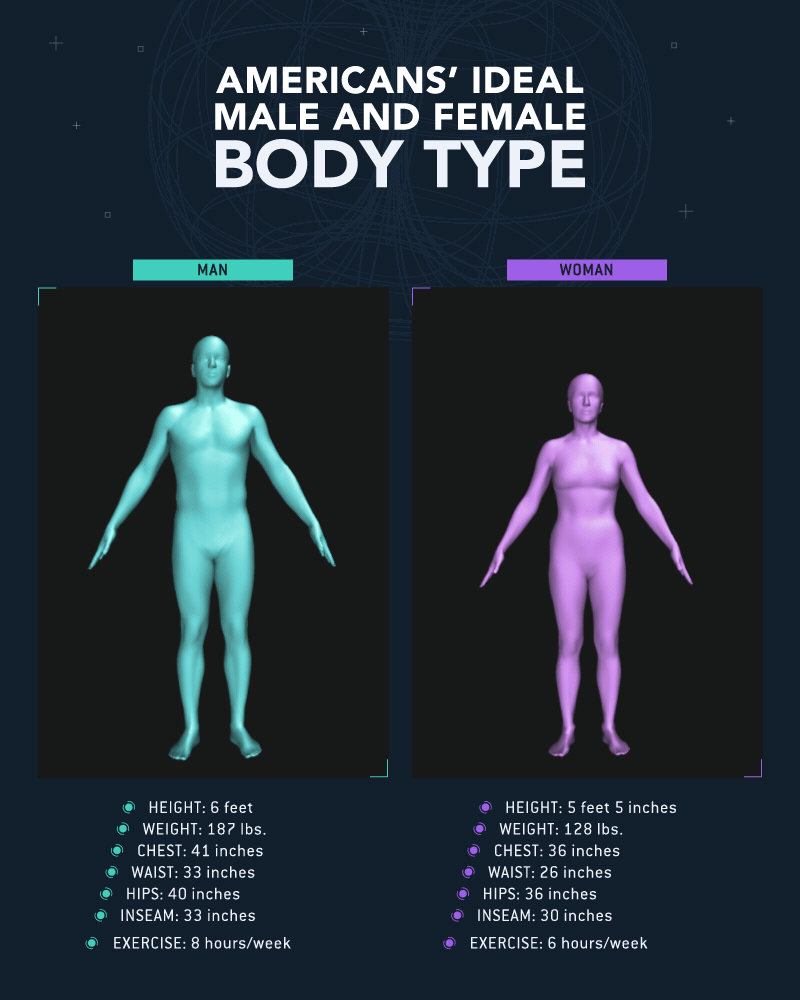 Based on Americans' answers, the ideal man would be just over 6 feet tall and weigh 187 pounds.However, according to the National Institutes of Health, this man would still technically be overweight. Perhaps this indicates that being overweight has become a new normal in America. Interestingly, the ideal man would also work out eight hours per week and would therefore probably not be overweight after all, so long as he maintained a healthy diet.  Exercising does not have to be intense; walking and running seem to be popular choices. There are several popular brands of treadmills that can meet your specific needs, whether you need a high weight capacity treadmill or safety features that make suitable treadmills for seniors.  You can find the suitable home treadmill that fits your needs, depending on what features are most important to you and size of treadmill that fits your home; you can choose from a foldable treadmill, walking treadmill, or running treadmill. If ultimately, you don't want to spend much on a treadmill but still want to exercise from home, you can consider looking at cheap treadmills.
The ideal woman would be nearly 5 feet, 5 inches tall and weigh under 130 pounds, with a 26-inch waist. While this is the ideal female body type, finding a significant other with these proportions might be a challenge. When looking at a group of over 5,000 women in the U.S., it was uncovered that the average waist size for women today is almost 38 inches.
GENERATIONAL BODY DIVIDE
When looking at millennials', Gen Xers', and baby boomers' ideal man and woman, there were a lot of similarities. Those attracted to men shared they wanted a man who was around 6 feet tall – something Americans born in 1946 and 1997 can agree on! However, millennials want their ideal man to weigh 4 to 6 pounds less and exercise one to two hours more each week. Millennials attracted to women preferred them to weigh less than Gen Xers' ideal woman, but more than baby boomers'. Interestingly, though, she would exercise more than baby boomers' ideal woman.
OTHER DESIRABLE BODY TRAITS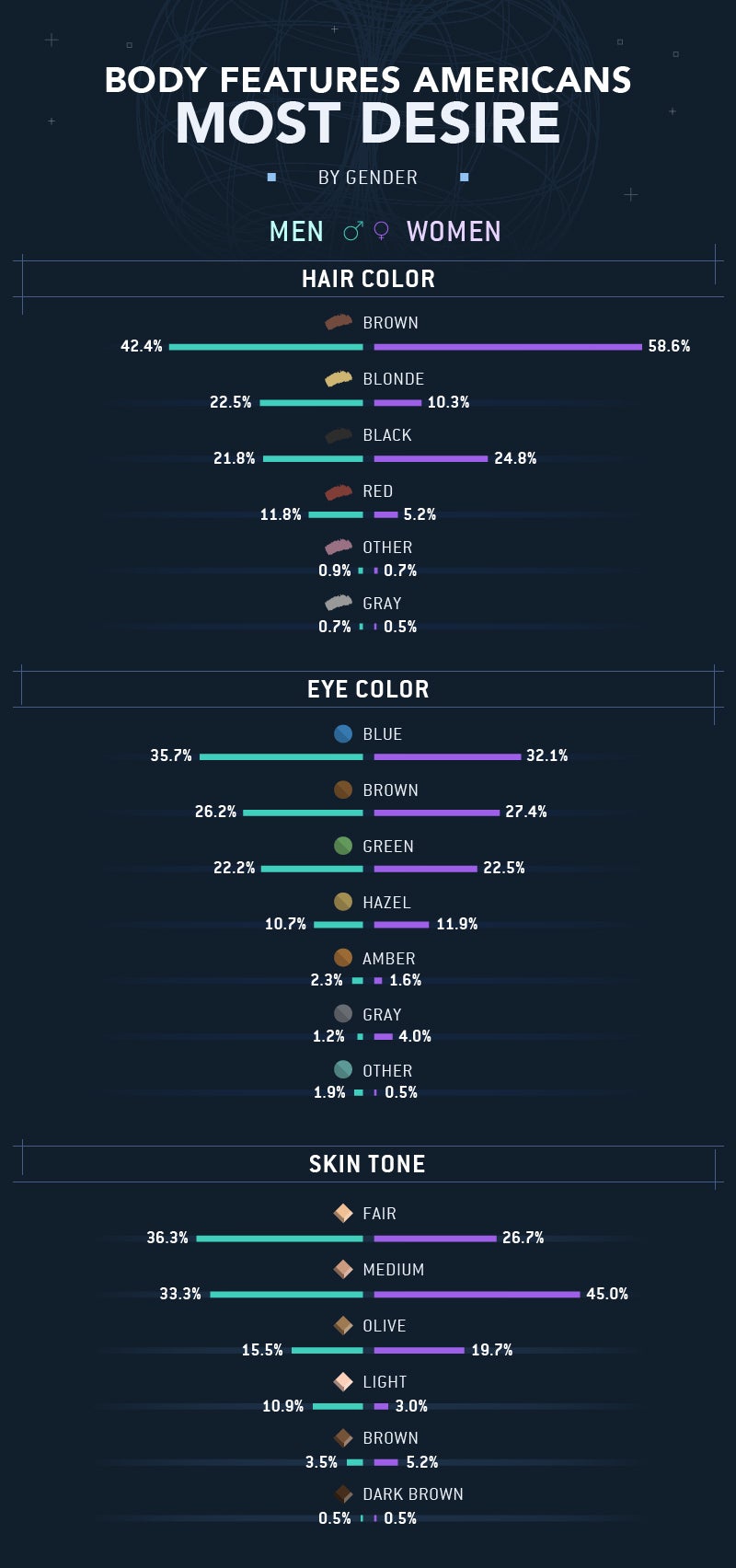 In the above graphic, the teal bar indicates features desired by men, while the purple bar shows features desired by women. When it comes to the most appealing hair color, men and women most desire brown. Over 20 percent of each gender felt black hair was just as attractive. However, men preferred blonde and red hair more so than women – who have a thing for chestnut, chocolate, cocoa, coffee, or walnut-brown locks.
Men and women are also in lockstep with eye color, with over 32 percent each going gaga over blue.Brown (over 26 percent each) and green (around 22 percent each) rounded out the top three. Notably, though, men and women are little less aligned when it comes to complexion. Almost 45 percent of women prefer a medium complexion, while men most desire fair skin (36 percent).
MOST ATTRACTIVE BODY PARTS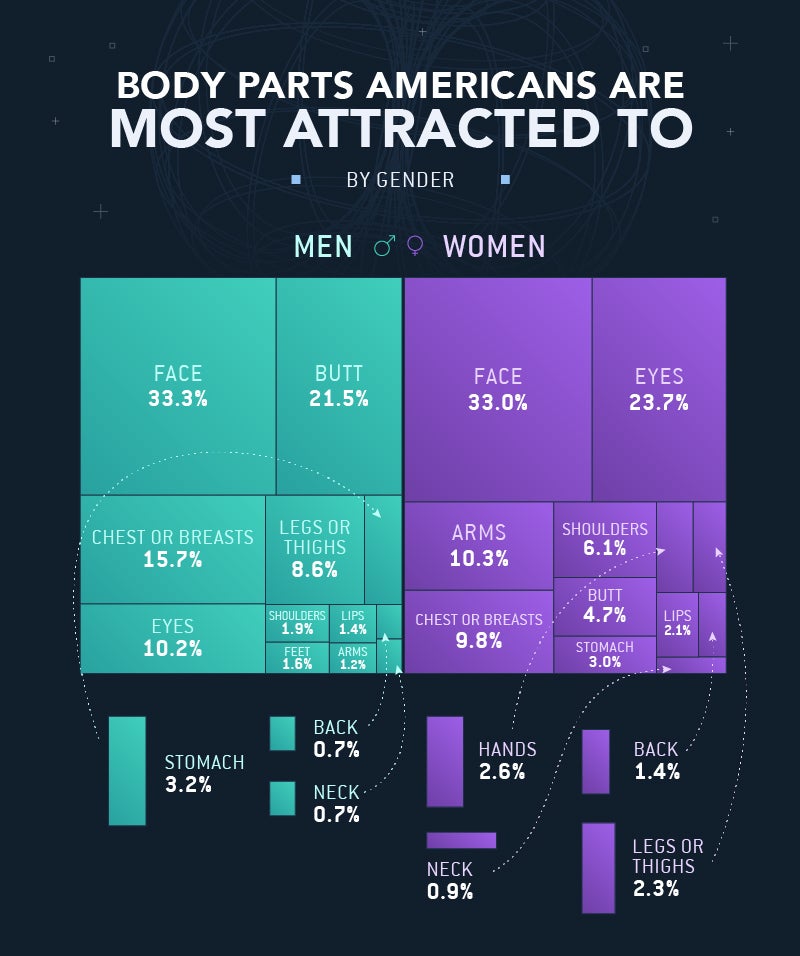 Again, we asked respondents to rate the most attractive body parts based on their preferred gender. Men and women (33 percent each) agreed the most attractive physical feature was the face.However, while over 20 percent of women most desired eyes next, men were more captivated by the butt. What's more, 26 percent of women are most attracted to the upper body – arms, chests, and shoulders – compared with 18 percent of men, of which nearly 16 percent are drawn to the chest.
DATING CLOSE TO PERFECTION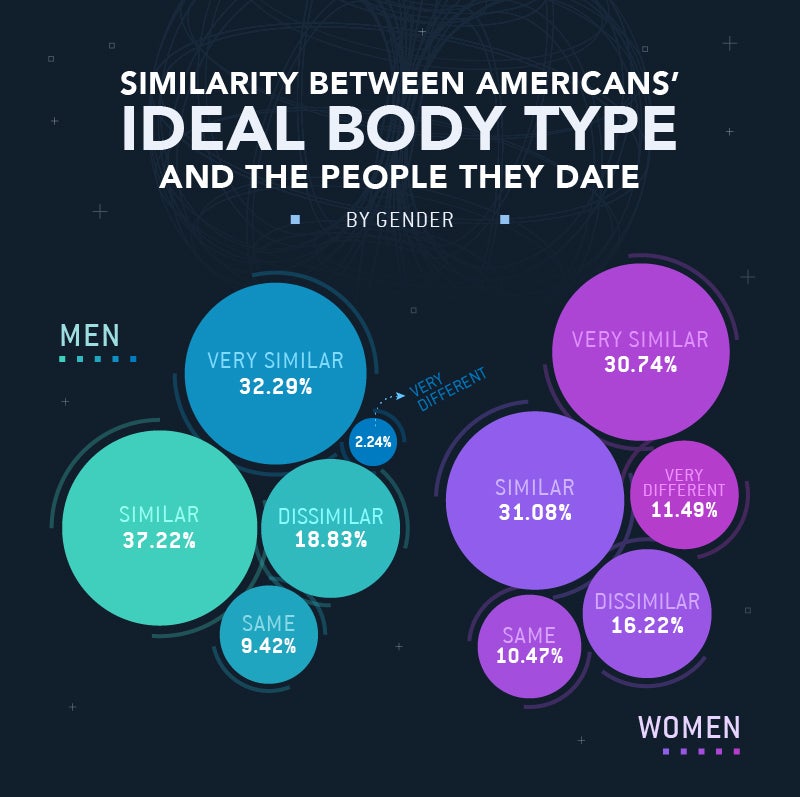 Next, it was worth understanding if those surveyed dated people who had their ideal body type. Close to 10 percent of men and just over 10 percent of women date people who have their ideal body traits. At the same time, nearly 70 percent of men date people who have bodies either similar or very similar to their ideal body type, while close to 62 percent of women do the same.
However, about 21 percent of men and almost 28 percent of women deemed their dates to be dissimilar to their ideal mate.
PROCESSING IDEAL PARTNER COMPLETE
Is our ideal body type a reality or just a fantasy? It turns out, you might date someone who completely matches or is similar to your preferred look. Depending on how old you are, the definition of perfection might involve a smaller waist or a bigger chest. Overall, faces are the most attractive feature for men and women.
About TreadmillReviews
Purchasing a treadmill doesn't have to be a headache when you have trusted treadmill experts from TreadmillReviews providing honest advice on everything you need to know about the top performing brands like Peloton Tread+, NordicTrack and Horizon, just to name a few. Our experts also provide insights on everything from treadmill workouts to treadmill maintenance, and everything in-between.
METHODOLOGY
We asked 1,000 Americans the sex they were more attracted to. People interested in women were directed to https://www.bodyvisualizer.com/, while those interested in men were directed to https://www.bodyvisualizer.com/male.html. Participants were asked to use this site to craft their "ideal" body type. However, participants who did not finish, or incorrectly submitted results, were omitted. We collected demographic information so we could segment results by generation.