Where do the buffest people in America live? To find out, we analyzed more than 800,000 geotagged Instagram posts between January and April 2015 featuring popular bodybuilding hashtags: #gains, #shredded, #ripped, #swole, and #buff.
We documented which states focus most on sculpting and bulking up and which appear to be least interested. We also examined other hashtags and words included in posts to explore posters' general outlooks on physical fitness. The results offer a glimpse into everything from fitness buffs' most mentioned body parts to their varied levels of enthusiasm.
Which State Has the Most #gains?
With 141.5 posts per 100,000 residents, Nevada won the #gains competition. California was close behind with 137.6, New Jersey claimed third place with 101.1, and Florida was out of the money with 99.4. New York, Washington, D.C., Rhode Island, New Hampshire, and Texas all scored in the 90s or 80s.
Montana and Wyoming trailed in #gains mentions, scoring 7.2 and 11.5 respectively. Do they have fewer gyms? Fewer bodybuilders? Fewer Instagram users? Less connectivity?  Are they more likely to jump on a treadclimber or max trainer? We're not sure.
Bodybuilding Posts Come From California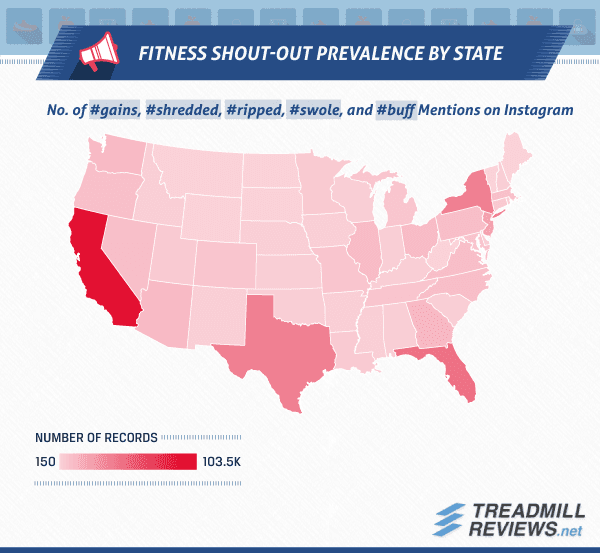 Of the 800,000-plus posts analyzed, 103,595 – more than 20% – originated from California. No other state came close to this level of fitness fixation, which is consistent with what we see in those researching the best treadmill. California (104,000) had more than twice the number of fitness shout-outs than Florida (48,000), New York (41,000), and Texas (40,000). Wyoming and Montana again brought up the rear.
Which Hashtag Dominates?
We collected bodybuilding posts on Instagram, siphoned off common hashtags, and ran counts to gauge popularity. Our conclusion: The hashtags #gains, #shredded, #ripped, #swole, and #buff were key to our analysis.
Based on the posts we reviewed, #gains was the most commonly used hashtag, comprising 40% of the 801,377 posts we examined. #shredded and #ripped, more traditional bodybuilder terms that probably cannibalize some volume from each other, came in at 28% and 19% respectively. #swole (12%) is a relative newcomer with hip-hop music origins, but its usage appears interchangeable with #shredded and #ripped – in fact, all three were commonly used together. If we considered them as one, #shredded, #ripped, and #swole would account for 59%. #buff trailed at 1%, apparently losing audience with age.
Based on original Instagram counts and scrapped file sizes, we expected #shredded to be larger than #gains. But once we limited the data to 2015 geocoded records within the lower 48 states, #gains took the lead. We surmised that #shredded must enjoy more international popularity that #gains has not yet won.
#gains vs. #shredded: What's the Difference?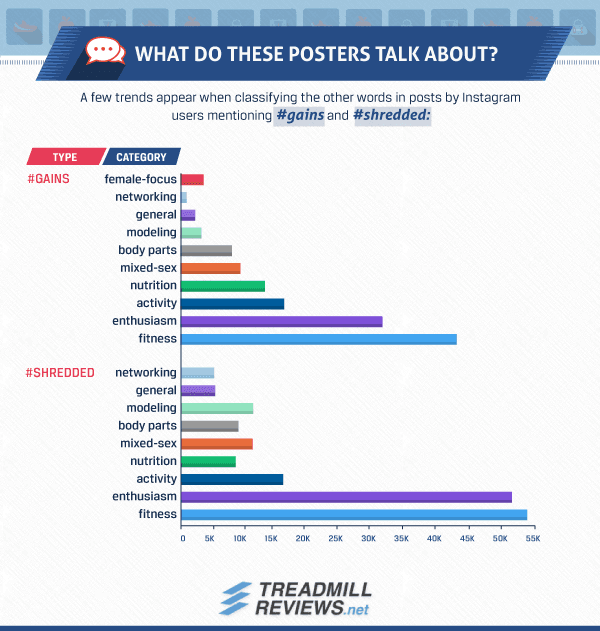 We reviewed commonly used words included in #gains and #shredded posts and sorted them into categories:
Female-focused: girlswholift, girlswithmuscles, fitgirls, fitchicks
Networking: follow, tagsforlikes
General: healthy, health, npc, life, athlete, morning, thanks
Modeling: flex, physique, mensphysique, model, photooftheday, picoftheday, selfie
Body parts: muscle, abs, body, sixpack, legs, chest, biceps, shoulders
Mixed-sex: aesthetics, fitfam, fitspo
Nutrition: protein, nutrition, eatclean, food, diet
Fitness: fitness, gym, training, workout
Activity: bodybuilding, squats, weights, lift, cardio, crossfit
Enthusiasm: motivation, dedication, beastmode, inspiration
Fitness and enthusiasm were the hottest topics among both #gains and #shredded posters. Female focus didn't make an appearance on the #shredded list. Beyond that, the least common topic for both types of posters was networking.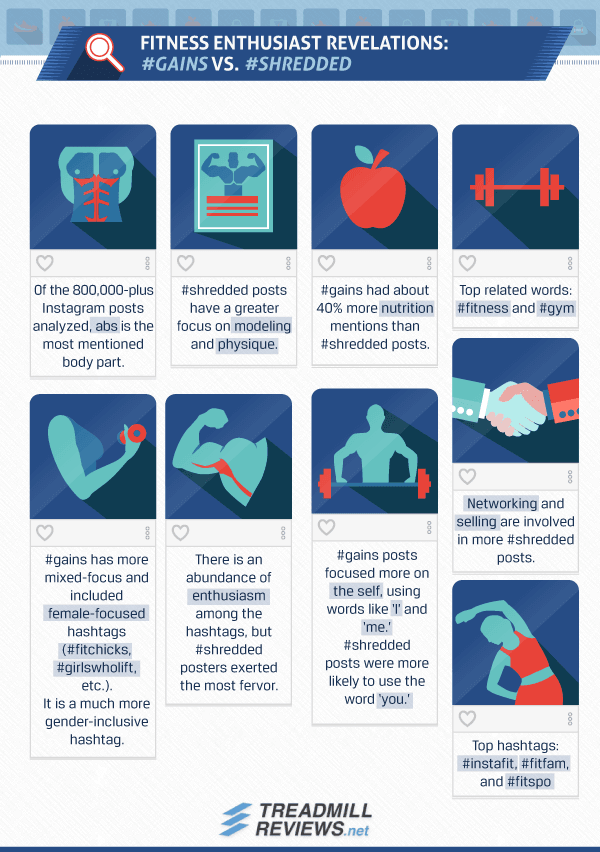 After using specific hashtags for analyzing the posts and geocodes for mapping them to states, similar to the study we did with Nordictrack years back, we dug deeper into the words people used in their Instagram posts: What did they talk about? What did they care about? And did any of this differ among hashtags?
One of the most fundamental revelations was that #gains posters and #shredded posters were different: They discussed different topics and had different priorities.
Abs was the most mentioned body part, with 3,860 mentions in #shredded posts and 1,564 mentions in #gains posts. Legs came in second place with 1,283 mentions from #gains posters and 810 mentions in #shredded posts.
#gains posters were mostly men, but women hashtagged #gains too, in contrast to #shredded. Bodybuilding was still the focus, but nutrition was also a hot topic. It appears more beginners and/or casual users posted #gains compared with more hardcore lifters who posted #shredded.
Top terms for #gains users included "I," "protein," and "girlswholift"/"girlsthatlift." #shredded users made many mentions of "abs," "aesthetic"/"aesthetics," and "fitness model."
For all the #shredded posters' focus on modeling, physique, and networking and selling, comparatively they did not frequently mention "I" or "me" but rather "you." It appeared as though they assumed commanding or instructional roles. (More research is needed to validate that premise.)
The extra enthusiasm of #shredded posters manifested itself not only through greater use of traditional words, but also through references to unique terms: "pushpullgrind" (2,573) and "trainhard" (2,269).
Conclusion
Across the country, bodybuilding enthusiasts are sharing their results, priorities, and interests on Instagram via hashtagged posts. This study provided an intriguing glimpse into regional trends as well as the information various hashtags reveal.
We gleaned some intriguing info: California Instagrammers earn top fitness honors, though Nevada posters hashtag #gains more than any other state's users. #gains muscled its way into top hashtag position, and no one really says #buff anymore. Finally, #gains and #shredded posts reveal that their authors have surprisingly different interests.
Fair Use: Feel free to use any of the images found in this project. When doing so, please attribute the creators by linking to this project so your audience may learn about the methodology and access all assets that are available.