FreeMotion Reflex t7.7 Review
Update:
This model has been discontinued. To find a suitable replacement, check out our
treadmill finder here
.
For those with deep pockets, the Reflex t7.7 treadmill is a "basic" treadmill. Sure, it has a 10-inch color touchscreen – but compared with other treadmills in its price range, the t7.7's entertainment features are limited. You'll get an impressive
4.25 HP motor
, Reflex cushioning and 9 workout apps (plus iFit readiness). This machine also has a motorized incline and decline.
This is a treadmill for serious or semi-serious runners. You're paying extra for the powerful motor and Reflex cushioning. You're also paying for capacity: The tread belt is 22-inch wide whereas most are 20-inch wide, and the treadmill has a 400 pound user weight capacity.
The FreeMotion t7.7 is high quality but its so-so warranty doesn't suit the MSRP. Unless you need the extra weight capacity, we recommend the FreeMotion 790 instead. It costs much less yet includes 38 workouts, an Android browser and a 15-inch HDTV.
What We Like:

Motor: The t7.7 treadmill has a quiet yet powerful motor. With 4.25 horsepower, the motor is one of the strongest in the industry. It's sold with a lifetime guarantee.
Two heartrate monitors: Exercise within your target rate for more efficient workouts! Grip heartrate monitors and a more sensitive Polar® wireless heart-rate monitoring system are included.
Audio: An smartphone-compatible sound system is included.
iFit option: iFit is a factor behind many treadmill sales. If you have wireless Internet at home, you can download virtually unlimited personal training workouts, participate in online treadmill races, replicate outdoor running routes with Google Maps, and otherwise have an "interactive" experience.
Incline/Decline: The t7.7's track can incline up to 15% and decline by 3%. This shifts your body weight in a manner that relieves pressure on joints. Incline/decline training also helps stimulate different muscle fibers and boost your metabolism.
What We Don't Like:
Warranty: The color console is only protected for one year, which could be a red flag. For us it's a dealbreaker. The FreeMotion Fitness t7.7 treadmill is sold with a lifetime frame and motor warranty, a three-year parts warranty and a three-year labor warranty.
Workouts: Only nine workouts are included. Many customers spend more on their treadmills by adding iFit memberships.
Our Verdict:
The FreeMotion Fitness t7.7 Treadmill was designed with serious runners in mind. If you're not going to reach high speeds frequently, and if you're not a large person, this could be more machine than you need. Its best features are the smooth-running motor and impact-absorbing track.
Although this treadmill has excellent components, we're concerned about the short warranty on the color touchscreen console. A safer buy is the FreeMotion 790.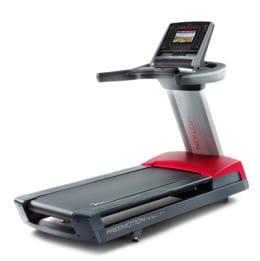 This treadmill is currently on sale!