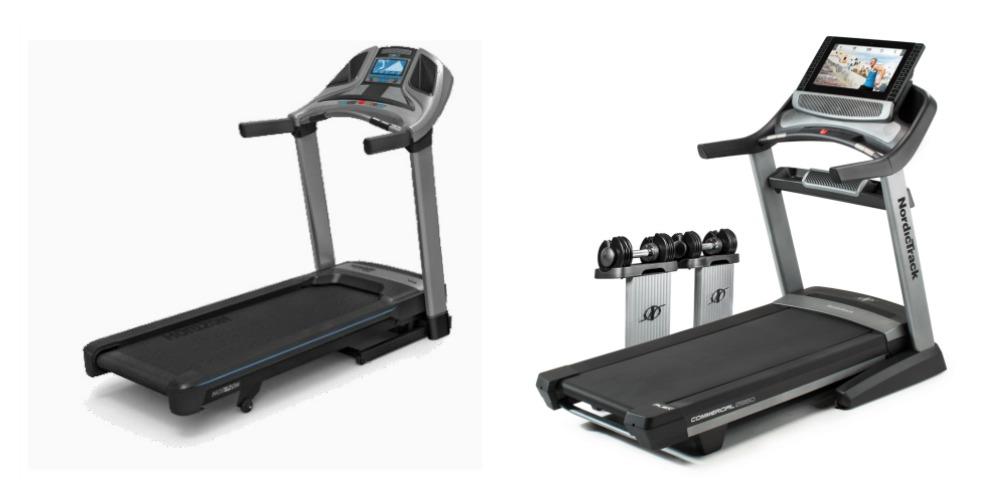 Horizon Treadmill vs. NordicTrack – what is the best option for you? Are you a serious runner or a walker? Do you run, jog or walk daily, or a few times a week? What is your budget? Once you answer these questions then you will be better able to make your choice. Both companies are top world-wide treadmill manufacturers; but your lifestyle and a few facts below will determine the best practical choice for you.  
A Brief Overview
| | | |
| --- | --- | --- |
| | NordicTrack | Horizon |
| Workout Programs | Ifit equipped, one year free membership | Passport Ready- videos |
| Models | 11 models – 6 traditional treadmills; 3 Commercial quality; 2  desk treadmills | 8 models – walkers and runners |
| Price range | $1599-$3599 (MSRP) | $999-$1999 |
Choosing a Treadmill
Choosing the correct treadmill for home use, is dependent on your goals,  lifestyle and budget. The important things to consider :
Are you a walker or a runner?

How often will you use it – daily, three times/week?

What's your budget?

How much space do you have?
Company Background
Horizon Fitness
Horizon Fitness, manufactures treadmills for home use. They are owned by Johnson Health Tech, who also make treadmills under the Matrix Fitness and Vision Fitness brands; Horizon is it's less expensive alternative. Johnson Health Tech is headquartered in Taiwan and is one of the top manufacturers of fitness equipment worldwide.
NordicTrack
NordicTrack was launched in Minnesota, they began with cross country ski machines and grew to manufacturing ellipticals, treadmills etc. They are now part of  ICON Health and Fitness who also make Proform treadmills, and is the largest treadmill manufacturer in the world. The headquarter is located in Logan, Utah. As trends and society's understanding of fitness and health evolves, so do the offerings of NordicTrack, evident in the expansion in the categories of machines: traditional treadmills, incline trainer treadmills and now treadmill desks. The brand has a good reputation for their workout machines however, the response from customers, on their customer service is a knock to the brand.
Models
Horizon Models
Their offering consists of  eight models, all foldable to fit in your home gym. They are a cheaper, economical brand, and best  for walkers and joggers.
T101 ( $699), Adventure 3 ($999), Adventure 5 ($1299), Elite T5 ($1199), Elite T7 ($1499),  Elite T9 ($1999), Elite T7-02 ($1599), Elite T9-02 ($1999).
NordicTrack Models
NordicTrack manufactures for various levels of activity, from walking to running. However the majority of their models are good for the more serious runner. The options include traditional treadmills, incline trainer treadmills and treadmill desks.
Incline Trainer Series (great for weight loss goals): Choose from three models (X22i, X11i and X9i) 40% incline, (MSRP $2499-$3999).  
Commercial: Choose from the following three models (Commercial 2950, Commercial 2450 and Commercial 1750), (MSRP $2299-$3599- but find them for 40-50% off)
Compact C Series (foldable, space saver design) Also has an option of three models to choose from (C700 (walkers), C1650 and C990) (MRSP $1599-$1999)
Desk Treadmills: Two models offered however the platinum version is the improved version of the Treadmill Desk.  Treadmill Desk and Treadmill Desk Platinum also fold to save space.
Workout Programs
Horizon
Most Horizon treadmills are Passport ready; a virtual reality workout that works with interactive videos on your T.V.  Videos offer various terrains from around the world from streets and mountains to coastlines and more. As your speed changes so will the video and audio.
NordicTrack
All recent models  have the option of using iFit Coach app (with a one year membership included) which allows you to virtually workout on terrains around the world along with workout programs that can be downloaded. Your speed and incline will automatically adjust to the elements of the area you are viewing on the app.
Costs/Horizon vs. NordicTrack
Horizon
Price range: $999-1,999
The Horizon's price range is lower and more affordable, however, because the majority of their motors are in the 2.0 range, the durability is best suited to walking and jogging.
NordicTrack
Price range – $1599 – $3999; however it is possible to purchase for 40-50% of the MSRP, through NordicTrack and other retailers. The prices compared to the Horizon options are higher however, the grade of most of their treadmills as far as power, are of commercial standard which means it's durable, making  it better for runners who are using on a frequent basis.
Motors/Horizon vs. NordicTrack
Treadmill power is measured in horsepower (HP) and continuous horsepower (CHP). CHP means the amount of power it can generate continuously not just at peak performance. The rule of thumb when choosing a treadmill for power and activities are as follows (for individual up to 200 lbs. ): Walking – 2.0 CHP or higher; jogging 2.5 CHP or higher; running 3.0 or higher.
Horizon
Horizon Fitness's  continuous horsepowers (CHP) are predominantly 2.25 and 2.75 in most of its models with the exception of two,  the Horizon Elite T7-02 (3.0) and Horizon Elite T9-02 (3.25). Therefore based on the rule of thumb above, the majority of Horizon treadmills are made for walkers and joggers.  
NordicTrack
The least continuous horsepower is 2.6 CHP (Treadmill Desk) and 3.0 CHP (Platinum Treadmill Desk); while the rest range up to 4.25, commercial grade. Consequently, the NordicTrack treadmills are targeted at regular, serious  runners – the least being the desk treadmill and the higher CHP on the more traditional and incline machines – making for a more durable machine.
Warranties/Horizon vs. NordicTrack
Horizon Fitness
Warranties range and are dependent on the model chosen. The options include:
Lifetime on frame and motor

Two, three, five years on parts

One to two years on labor
NordicTrack
The warranties also range on the NordicTrack selections.
Lifetime on frame and motor

One, three, five, six years on parts and electronics

One, two, three years on labor

30-day money back guarantee
Top Sellers
Horizon Fitness
Horizon Elite T7
Horizon T101
Horizon Adventure 5
NordicTrack
NordicTrack Commercial 2950
NordicTrack Commercial 1750
X9i
Conclusion
NordicTrack vs. Horizon Fitness – what is best for you? Clearly what is best for you will depend on your needs and fitness goals. Both companies are leading fitness equipment manufacturers; however, as far as treadmill superiority, the award would go to NordicTrack. Most of the motors are commercial grade which means it's durable and made for multiple, continued use. However having said that the Horizon Fitness treadmills are perfectly equipped for walkers or joggers, lighter usage; and more affordable. You really cannot go wrong with either choice.