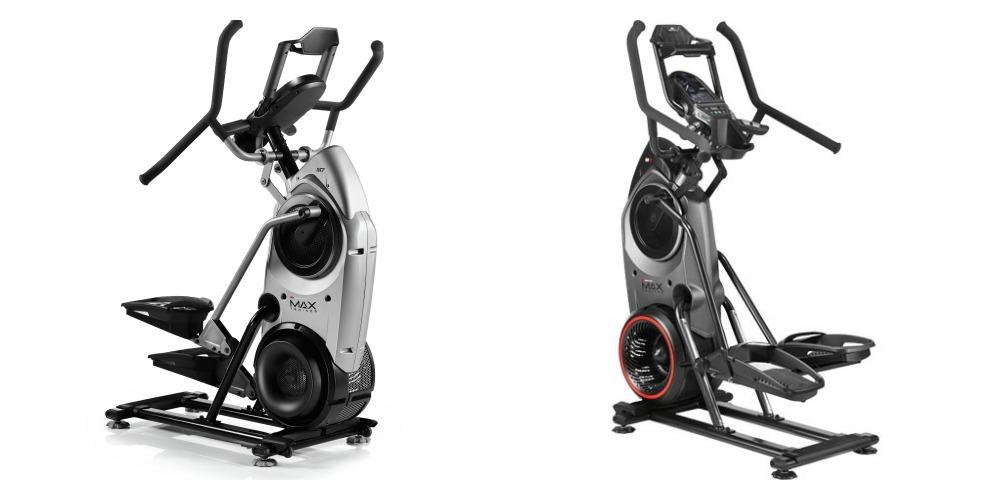 Getting ready to buy a new piece of fitness equipment? Congrats on making that decision. Getting started with a new workout routine is one of the best things you can do for your health and is sure to take your progress up a notch. This said, it can be a challenge to figure out which machine to use and which is going to deliver you the results you're looking for.
Two of the higher end Bowflex machines that you may consider is the M7 and M8. Bowflex Max Trainers are very highly regarded as they provide a time efficient way to get in a great workout while working both the upper and lower body at the same time.
Did we mention they are non-impact?
That's right. They are so easy on your joints, even those with the ricketiest knees will feel comfortable while using them.
This makes them a very popular choice among many, which is why understanding the differences between the machines will be critical to choosing one that you enjoy using.
Here is a quick comparison chart between the M7 and M8.
| | | |
| --- | --- | --- |
|   | M7 | M8 |
| Price | $2249 | $2299 |
| Dimensions | 49" L x 30.5" W x 65.5" H | 49" L x 30.5" W x 65.5" H |
| User Height | User height + 15" | User height + 15" |
| Max Weight | 300 lbs. | 300 lbs. |
| Warranty | 3 Years | 3 years |
| Resistance Levels | 20 | 20 |
| Connectivity | Up to 4 users | Up to 4 users |
| Program Features | 11 program options to challenge your workout session  – including Max 14 interval, power interval, calorie goal, steady pace, fat burn, calorie burn, stairs, manual, and fitness test | 11 program options to challenge your workout session  – including Max 14 interval, power interval, calorie goal, steady pace, fat burn, calorie burn, stairs, manual, and fitness test |
| Heart Rate Monitor | Integrated hand grips coupled with chest strap if preferred | Integrated handlebars coupled with chest strap if preferred |
| Handles | Multi-grip dynamic handles | Gym Quality, sculpted  handlebars with aero bar upgrade |
| Max Intelligence | No | Yes |
| Availability | In Stores | Online |
Now that you have this information ready, let's look at some of these specs further so you can see what they really entail.
Price Point
First let's consider price point. Both of these machines are definitely at the higher end of the price point coming in at over $2000. This means that they will rule out many buyers on price alone as some people are just not looking to spend over $2000 on a piece of exercise equipment.
If your budget is closer to the $1000-1800 range, not to worry, Bowflex has many other models that come in with this price point that you can look at. While they won't be as advanced as these models, they are still great machines and can get the job done for most people, especially those at basic fitness levels.
This said, if you do want to spend a bit more, you're only looking at a $50 jump in price point going up to the M8 on the machine itself. So it's not a huge difference, but the long-term cost will change. Details to come.
Warranty
Next let's consider warranty. The warranty on both machines is set to three years, which is excellent coverage. This gives you the peace of mind that the machine is going to be working as it should for at least three years. When you then break it down into a per use cost, you're only really looking at just over $60 a month for these machines, or $2 a day.
Considering most gyms cost $10-20 for a drop in fee or you will pay upwards of $40 a month for a membership, it really isn't that much more and you are exercising in the comfort of your own home.
This also assumes the machine will only last 3 years and then be replaced. Many people will find their Bowflex Max Trainer lasting 4-5 years or even longer, thus bringing the price down further. At that point though, if you get dinged with a repair bill, you may find it's a better investment to just purchase a new machine with another warranty.
Connectivity
The connectivity of both machines is set to 4 users, so these are perfect for family settings. 4 different family members can all store their data in the machines, so it's all ready for them to go as needed.
Program Features
The program features of these machines are very nice as well. You'll 11 different pre-programmed options that feature a wide variety of different workouts, all aimed at helping you see optimal success.
There should never be a reason to be bored on one of these machines. These programs are great because they can be used on those who are beginners all the way up to more advanced trainees, so there should be something for everyone.
And like almost any cardio machine out there, there is also a manual program mode, so if you wish to just create your own workout session you can certainly do that as well.
Heart Rate Monitor
Both of these machines do offer heart rate monitoring capacities. This is great because keeping track of your heart rate will tell you how hard you're working in each and every session you do and can also be a way to measure fitness progress. The lower your heart rate is at a given intensity, the fitter you are, so if you can bring your heart rate down, that's a good sign.
The machines offer a chest strap for those who feel more comfortable using that and then also offer integrated hand grips as well on the handles so you can just keep track of your heart rate during your entire workout session.
Some people do find that the chest strap does produce more reliable, accurate results, so keep that in mind as you use the machine and decide what to do.
Max Intelligence
Which brings us to the next point and the key point of difference between the M7 and M8, Max Intelligence.
What you are paying $50 extra for is a built in personal trainer that will learn your body and deliver you a fresh new workout every single day that will help challenge your body and ensure you aren't experiencing boredom or hitting a progress plateau.
This said, the app does come with monthly fees, so this needs to be taken into account. So earlier when we said that the machines were right around the $60 a month mark, if you add Max Intelligence to it, then it will be higher. And if you don't add Max Intelligence, you should have just gone with the M7 to begin with and saved the $50 off the start.
Availability
Finally, when looking at availability, the M8 is only available online, while the M7 is only available in stores. This isn't an issue for most people, but it's worth noting.
So there you have the key differences between the Bowflex M7 and M8. Overall they are both great machines and you will be well served by choosing either to complete your workout goals.