LifeSpan TR800-DT3 Treadmill Base Review
Best Buy Award(s):
For Walkers
The LifeSpan TR800-DT3 is a treadmill base sized for most under-desk areas. Set it beneath your desk and drop pounds while working! The motor can run at low speeds for up to three hours straight. Bluetooth-enabled, this unit can track your workout data for online viewing.
We like this product for entry-level use. It's just right for those seeking to walk a few hours at a time. However, the track is rather small. The most popular LifeSpan treadmill desk base is an upgrade to this one, the TR1200-DT3. It's more popular for two main reasons: It has a larger workout area and a longer running time. Other treadmill desk models that LifeSpan has is the TR1200-DT5, the TR800-DT5 and the TR800-DT7.
Included with purchase is one membership in the online LifeSpan Fitness Club. This can be used to track your health data and workout information.
Note: The TR800 base is about 5″ high. Add 5″ to your height when calculating how tall your treadmill desk should be.
What We Like:

Here are the LifeSpan TR800-DT3's top selling points:
No Assembly: Setting up a treadmill can be a hassle. This unit arrives ready to go! It weighs 120 pounds. If you'd rather not move it yourself during delivery, you can pay to have the treadmill placed in any room. Standard delivery is included in the sale price.
Good Motor: Virtual silence is important when you're taking business calls. LifeSpan treadmill desk motors are quiet enough for you to use a speakerphone. The TR800's motor will run for three hours straight, and it will stop running after 20 seconds if you step away. It has a three-year warranty.
High Speed: Most people using treadmill desks walk about one or two miles per hour. Even so, the TR800-DT3 treadmill lets you walk up to four mph! The lowest speed is 0.4 mph.
Shock Absorption: Tracks for all LifeSpan desk treadmills absorb impact at six points.
Soft Armrests: Avoid carpal tunnel syndrome! Foam-injected armrests use smart ergonomics.
Heavy Console: The TR800-DT3 console is heavier than it appears. This bodes well for stability. It displays calories burned, number of steps taken, time and distance.
Bluetooth Integration: LifeSpan treadmill desks are Bluetooth-enabled. You can wirelessly track and sync your activity data by using a free fitness app and the online LifeSpan Fitness Club. Membership in the club is included with purchase of the treadmill.
Pedometer: People like to know how many steps they've taken. The console's Intelli-Step feature lets you know. Distance, time and calories are shown too.
Safety Stop: The Intelli-Guard safety feature will pause the treadmill automatically if you stop stepping for 20 seconds. This feature also helps extend motor life.
High Capacity: The maximum user weight is 300 pounds.
Satisfaction Guarantee: LifeSpan gives you 60 days to decide. You'll need to pay for return shipping, but you can get a refund if wanted.
Fair Warranty: The basic warranty is pretty good considering the product's low price. It includes lifetime protection for the frame, three years for the motor, and one year for parts. The first year of labor is free. Extended parts warranties are available for three years and for five years.
What We Don't Like:
Maintenance Required: Owners need to lubricate the treadmill track to keep it running smoothly. This is also the case with the TR1200. If you choose the TR5000 though, no maintenance is needed.
Track Size: The TR800-DT3 has a two-ply track, but it's only 18″ x 52″. This is shorter and narrower than treadmills you'd see in a health club. The length might not be a problem; strides are short at low speeds. However, the narrow width could be a problem for some.
Three Hour Limit: Are you a walkaholic? Three hours might not be enough motor time. Other LifeSpan desk treadmills can run for six or 10 hours.
No Guard Rails: Guard rails can be important for safety. The LifeSpan treadmills sold with desks have side rails included.
Our Verdict:
We like this product. Choosing between three stars and four stars wasn't easy. If you buy this treadmill desk you can sometimes find it on sale for about $800, which is a very good value. (Paying the MSRP is questionable considering the machine's simplicity.) Customer reviews are enthusiastic.
For an upgrade, the TR-1200 is worth considering. It doesn't cost much more but gives you double the workout time per day. The cream of the crop is the LifeSpan TR5000-DT3. It can operate for ten hours straight and is more spacious than the entry-level treadmill desk in this review.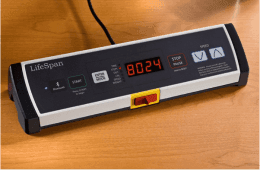 This treadmill base is currently on sale