Reebok 710 Treadmill Review
Reebok Fitness has made great strides since our last round of Reebok treadmill reviews. However, we're most excited about other models for 2014 – not the Reebok 710 Treadmill reviewed here. We recommend spending just a bit more to get lots more value. We have lots more confidence in
the 1410
, for example, to deliver reliable workouts for a reasonable period of time. (Plus, it has Internet!)
The Reebok 710 has a 2.75 HP motor, 22 built-in workouts, and iFit compatibility. Grip heart rate sensors are on the handlebars.
What We Like:

Workout Programs: The 22 built-in training programs address a variety of fitness goals, so there's something for everyone. Additional workouts that are customized to your personal stats and goals can be downloaded daily if you add an iFit module and membership. (Once you figure in these costs though, you'd be better off just buying a not-so-cheap treadmill with better features and a longer warrranty.)
iFit Option: iFit makes treadmills interactive in many ways. Here are just a few: 1) You can map a route with Google Maps and then travel it on your treadmill! The automatic incline/decline will mimic the rise and fall of the actual terrain. 2) You can compete with Facebook friends in online races. 3) You can download customized treadmill workouts daily.
Motor: The 2.75 HP motor is powerful enough for frequent power walks. If you run though, definitely step up to the 910, 1410 or 1910.
Track: The 58" track is long enough for most trainees, keeping in mind that this treadmill is made more for walking than for running. ZigZag cushioning deflects shock from your body, helping you perform better and require less recovery time between workouts.
Incline: Get more from each workout by using the power incline! Training at an up to 12% slope, you'll burn calories more quickly and get even better muscle definition.
6" Display: The 6 inch display is pretty nice considering that low-cost treadmills just a few years ago only had 1″ displays for stats. It provides crisp readouts for workout data. We should point out though that the 1410 has a 7" touchscreen with Android browser, and the Reebok 1910 Treadmill has a 10″ touchscreen with Android browser.
Foldable: Get floor space back after exercise sessions! The SpaceSaver design with shock assist makes it easy to fold this treadmill vertically.
Capacity: Although it's a folding treadmill, the 710 can support up to 325 pounds.
What We Don't Like:
Warranty: Given all the niceties above, why does the 710 get an average review? The short warranty is a big reason. Customers get only two years of parts protection, and we wouldn't be surprised if the treadbelt started wearing out before you got your money's worth.
Our Verdict:
Other models in this series get enthusiastic reviews, but we suspect that the Reebok 710 Treadmill is going to disappoint in the not-so-long run. Check out the Reebok 1410 and 1910 for much better warranties and truly enticing specs lists. Even with the 910 though, you'll get more power and reliability.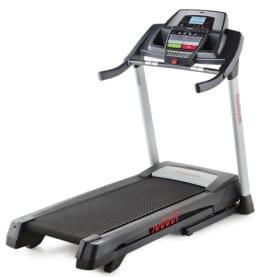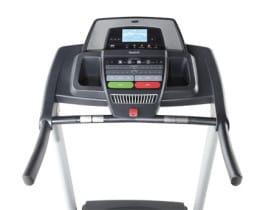 These treadmills are all currently on sale.