Sole F85 Review
Best Buy Award(s):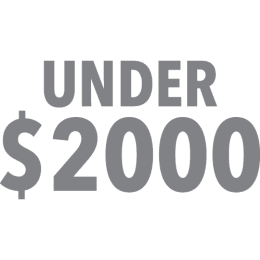 Under $2,000
Deal Alert! Sole New Year's Sale! Sole is offering $200 off the F85 treadmill. Click this box to check it out.
Sole Fitness describes their F85 as "The Best Folding Treadmill On the Planet." Sole's top-of-the-line folding treadmill is understandably a best seller year after year. It has everything a serious runner or power walker could expect for effective indoor training: a powerful motor, a spacious workout area, great cushioning, and an automated incline.
The F85 is the most advanced Sole folding treadmill in terms of tech as well. This model has a 10.1-inch graphic workout display, a secure tablet holder, and a Bluetooth connection that lets a tablet serve as the workout monitor and share session data through wireless apps. The Sole F85's sale price includes a best-in-class lifetime warranty on the motor and five-years on parts and electronics, making it a best buy under $2,000.
What We Like:

High quality parts: The F85 is Sole's highest quality folding treadmill. Patterned after a Sole treadmill made for elite hotels, it's more than capable of meeting the cardio training needs of any home gym for many years.
Motor: The Sole F85 has a quiet 4.0 CHP motor that smoothly supports sprints of up to 12 mph and a maximum user weight of 400 pounds.
Track: All Sole treadmills have two-ply tracks that require little maintenance. The F85 also has some of the largest track rollers in the industry at 2.75 inches in diameter, which promote quiet operation and machine longevity.
Deck: CushionFlex Whisper Deck technology can reduce joint impact by up to 40% compared to outdoor training surfaces. It also exceeds the impact reduction offered by many other fitness brands. In addition to cushioning the impact of running, Sole's top treadmill deck muffles the sound of running to be more home-friendly.
Incline: The track has 30 levels of incline, topping out at an impressive 15% grade.
Console: Workout data is displayed on an easy-to-read 10.1-inch screen with graphic display and a white background. Six built-in programs and 12 custom templates are available to support cardio training, weight loss, and muscle toning. Two users can store profiles and save customized programs for quick-start convenience.
Pre-loaded apps: Netflix, YouTube, ESPN, CBC News, NBC News, and CNN News
Foldable: The F85 Treadmill can fold quickly to save space. Folding is made easy with hydraulic assist, and unfolding is gentle with a soft-drop system. In both positions the treadmill is securely locked for children's safety.
Heart Rate Monitoring: The F85 has a wireless heart rate monitor that has been deemed 99.9% accurate. It calculates target heart rate based on age, gender, and other variables. Touch pulse sensors are included as well.
Quiet Motor: The Sole F85 features a quiet motor. In fact, the sound of your feet hitting the running surface is louder than the machine.
Warranties: Sole warranties are among the best in the business. The sale price for the new F85 includes a lifetime warranty on the frame, motor, and deck. Customers also get a five-year warranty on electronics and parts, and two years of in-home labor.
Sole F85 Treadmill - Key Specs:
| | |
| --- | --- |
| Star Rating: | 4.9-stars |
| Motor: | 4.0 HP |
| Incline: | 0 to 15% |
| Running Area: | 22" x 60" |
| Folding: | Yes |
| Top Speed: | 12 MPH |
| Weight Capacity: | 400 LBS |
| Dimensions: | 82" L x 37" W x 66" H |
| Built-In Programs: | 6 built-in, 12 custom templates you can save |
What We Don't Like:
Limited Programming: All foldable Sole treadmills have a mere  six workout programs and 12 custom templates you can save
Size: This treadmill can fold, but certainly it isn't space-saving when in use. It's 80 inches long.
Short Siderails: The handrails provided for stability aren't as long as some runners would like.
Poor Customer Service: There's no chat option, and email response is very slow if you receive a response at all.
Check Out Our Video Review of the Sole F85 Treadmill (2015 Model)
Our Verdict:
Sole treadmills in general are highly recommended. Buyers get top-notch customer service and the peace of mind that comes with owning quality equipment. This particular model is the most advanced in the lineup, and Sole isn't overreaching when they claim it's the world's best folding treadmill. Still, not everybody requires 4.0 CHP for cardio training. Many shoppers would be just as happy with the cheaper F80. It all depends on your budget and workout standards.
New for 2022
10.1″ TFT-LCD touch panel + Android system
WiFi Phone or Tablet mirror capability
Seven new Fitness Tests and 12 Custom Workouts
Seven pre-loaded apps: Netflix, YouTube, ESPN, CBC News, NBC News, and CNN News
Recent Updates
October 5, 2022: Included additional FAQs, updated specifications to most current model.
July 13, 2021: Added some FAQs to the page
Sole F85 FAQs
What is the difference between the Sole F80 and F85?
The Sole F85 has a more powerful motor at 4.0 CHP while the Sole F80 has a 3.5 CHP motor. The Sole F85 also has a higher weight capacity at 400 lbs., whereas the Sole F80's weight capacity is 375 lbs.
How do you fold the Sole F85 treadmill?
The Sole F85 has a folding deck that you can simply raise up and latch into place. There is a lever that releases the deck to pull down. You can see a demonstration in our video above.
How much does the Sole F85 weigh?
The Sole F85 weighs 301 lbs. with a user weight capacity of up to 400 lbs.
What is the running surface of the Sole F85?
The running surface or track area of the Sole F85 is a spacious 22" x 60".
What kind of extra features does the Sole F85 have?
The Sole F85 treadmill has USB and Bluetooth compatibility, WiFi Technology and an integrated tablet holder to store your smart devices.