SportsArt Treadmill Review
SportsArt Fitness is a lesser-known company when compared with names like NordicTrack and BowFlex, but it makes high-quality treadmills. SportsArt has long manufactured a number of treadmill brands such as Tunturi. The SportsArt brand itself has been offered for more than 25 years and targets the upper end of the market. Products range from the entry-level T20 to the heavy-duty T630.
What We Like

Price: SportsArt treadmills are of exceptional quality but often cost less than comparable luxury models. MSRPs start at around $2100 for the TR20, which is the simplest model included in the company's line for 2010.
Consoles: SportsArt treadmill consoles are remarkably attractive. Their wide LCD screens feature color graphics against a blue backlight for easy reading.
Motors: With SportsArt home treadmills, customers get quiet and commercial-grade motors. The T630 has a powerful 4.0 HP motor that supports speeds up to 12 mph and users weighing up to 450 pounds.
Tracks: SportsArt tracks are expansive. For instance, the relatively simple TR20 has a 58"x20" track, and the top-of-the-line T630 has a large 61"x22" belt.
Workout programs: The built-in SportsArt workout programs provide a great variety of challenges to help keep owners interested in exercising. Some program examples include cardio tests by speed and incline, glute workouts, and interval training.
Warranties: SportsArt Fitness offers fantastic treadmill warranties. Owners get lifetime coverage on the frames, motors, and mechanical parts. The electronics come with 7-year warranties and one year of labor is included.
What We Don't Like

SportsArt treadmills get few complaints. The upper-end prices are prohibitive for some treadmill customers.
Our Verdict
The price tag is the only drawback to most SportsArt treadmills. However, they cost less than other luxury treadmills and offer good value. SportsArt home machines feature commercial-quality motors, roomy tracks, attractive consoles, and excellent warranties.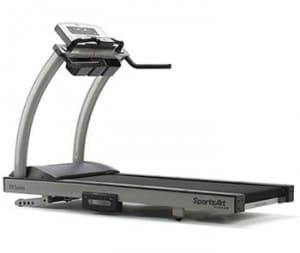 These treadmills are all on sale now.