Star Trac S-TRx Review
The S-TRx treadmill is the simplest of five luxury Star Trac models for 2014. Given its 3 horsepower motor, this machine is best for light commercial or residential settings. (Other
Star Trac treadmills
have 5HP.) The Star Trac S-TRx has thick Neoprene cushioning, a 15% incline and 12 excellent workout programs. Optional: 15″ HDTV with touchscreen.
What We Like:

Motor: The 3HP motor is powerful enough to meet the needs of most households and some small shared gyms, such as those at hotels. The motor and motor control board (MCB) are under warranty for five years.
Speed: This treadmill has a top belt speed of 12.5 mph. For comparison, most commercial treadmills have maximum speeds of 12 mph. (The E Series Star Tracs, however, can reach 15 mph!) Speed can be controlled in increments of 0.1 mph.
Incline: Thirty incline positions are available from .5% to 15%. A small incline lets users replicate the effect of wind resistance on training, and a bit more can noticeably relieve pressure on the knees. Working out at a 5% or greater grade can dramatically boost calorie burn and provide extra muscle definition.
Stability: The S-TRx treadmill weighs 514 pounds. It's officially sturdy enough to support up to 500 pounds (227 k).
Track: The belt is full size: 60″ long and 20″ wide. Cushioning is a dreamy triple-cell Neoprene. The deck is reversible for double the lifespan. Another feature for longevity is the track's 3″ roller system. (The larger the rollers, the better. Home treadmills tend to have smaller rollers than these.)
Workout programs: Twelve high quality programs are included. For example, "Firefighter Test" is based on the Gerkin protocol and "Dynamic Heart Control" makes the most of wireless monitoring by Polar. Wireless telemetry is included with the base price.
Optional TV: It's no secret that TV is a big draw to workout machines. Customers have the option of including a 15″ high-definition TV with touchscreen.
Overall feel: A Star Trac feels like a treadmill should. The ergonomics are great, the programming is intuitive to use, and conveniences such as fans and cup holders are included.
What We Don't Like:
Size: This treadmill's large size helps it achieve amazing stability. However, at 514 pounds, this is hardly a treadmill for people who frequently relocate or like to rearrange rooms. It also takes up lots of space, measuring 32" x 81".
Price: New Star Trac treadmills are expensive for individuals but manageable for businesses. Prices aren't published on the company's website, but typical selling prices for the Star Trac S-TRx treadmill range from $4000 to $4500. (Remember that the TV option bumps up the price.) A small family could get away with a less expensive treadmill and still be satisfied.
Warranty packages: Star Trac warranties are valid in Canada and the US. This model's warranties are fine for commercial or light commercial buyers. If you just want a treadmill for your home gym, then you could find a better warranty deal with another brand. (Smooth gives a lifetime parts warranty!) The Star Trac S-TRx warranty packages include: Commercial warranty: 2-year parts warranty, 1-year labor warranty, 5-year parts and labor warranty on the motor and motor control board; Light commercial warranty: 3-year warranty on parts and labor, 5-year parts and labor warranty on the motor and motor control board.
Our Verdict:
The S-TRx by Star Trac is a great option for light commercial gyms. It has a great-feeling track plus ample programming, incline options and speed range to meet everyone's needs. Beginners and elite athletes alike can get great cardio challenges. Besides that, the programming is intuitive to use.
As explained above, this isn't the best value for personal gyms — but we understand why the Star Trac S-TRx is a top choice for hotel fitness rooms!
How does it compare with the other S Series treadmill, the S-TRc? The main difference is the S-TRc's upgraded motor with 5 horsepower. The STR-c might also be easier to maintain; some literature states that the STR-x isn't self-waxing.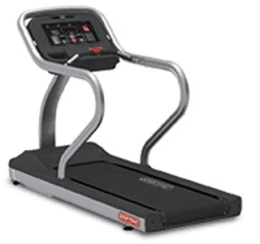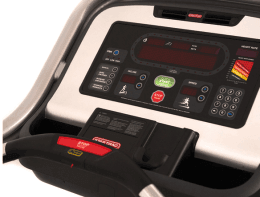 This treadmill is currently on sale
Other Star Trac Treadmill Reviews: