Best Treadmills For Sale – Find One Today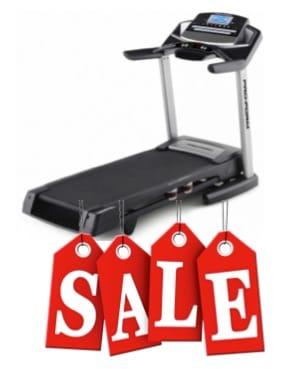 Treadmills are one of the most popular pieces of workout equipment for getting/staying fit in the comfort of your home, and their prices can range from modest to astronomical depending on the model and features you desire. Several factors affect the cost of a treadmill, including the strength of the drive system, the size of its display screen, the number of features built into its console, and even the length of its warranty coverage. As with any other categories, you'll also pay a bit more when shopping from an established brand when compared to a "no name" offering. While most brands offer entry, mid, and elite level treadmills at varying price points, more popular top-selling brands like NordicTrack and Precor offer a wide range of pricing depending on your fitness needs. Thankfully all of the major players in the category put their treadmills on sale throughout the year, ensuring you can get a treadmill that suits both your needs and your budget.
Unlike decades ago, the landscape has changed a fair bit when it comes to treadmill shopping. Though you can occasionally get a good deal by shopping through a larger fitness equipment center (especially when it comes to older and discontinued models), these days shopping online yields much better results. When you are ready to buy, there are always deals on treadmills available if you just know where to look. One quick tip is to always check manufacturer websites, since most of them offer lower pricing when buying direct. More often than not, manufacturers offer deals that other stores and online retailers simply can't afford to offer. If you've worked out which of our top rated treadmills is right for you, our list of the latest deals and treadmill coupons can be found here.
While there are regularly scheduled sales on most major holidays like Christmas and New Years, that doesn't mean that you can't find a deal any other time of year. For example, there are typically sales when the seasons change, when new models are released, and occasionally at times that are completely random and unpredictable. Even more "minor" holidays like back-to-school season, Columbus Day, or Valentine's Day can spur sals and promotions on top selling treadmills. No need to worry—if you're a bargain hunter, you won't have to wait long to find a good deal.
Finally—if you don't need the most up-to-date model—you could consider overstock websites that work as outlets for treadmills from certain retailers. These websites offer decent discounts if you aren't set on the latest model. That said, be aware that treadmill technology keeps improving year after year, and historically sticker prices have been on the decline. While you might think that 50% off of last year's $2499 MSRP model is a great deal, the latest model could very well be selling for cheaper right out of the gate. We see that quite often, so do your research (that's why we're here).
Finding the best price on the perfect treadmill can be cumbersome, time-consuming, and all-around frustrating. Fortunately, our site provides the latest deals, promotions, and sales on top machines—not to mention reviews on nearly all of the latest models—to help you make the whole process easier. We're here for you, so please click around the site and take advantage of our vast resources.