XTERRA TR 6.6 Review
This Treadmill Could Be For You If:
You want to use incline for an extra challenge

You want a quiet treadmill motor that can accommodate speeds of up to 12 mph

You want a treadmill that can protect your joints with cushioning 

You want an easily foldable treadmill

You want to use a wireless chest strap for heart-rate controlled workouts 
The TR 6.6 is often considered the best treadmill in the XTERRA family. It remains a popular daily workout machine for a wide variety of trainees because it builds endurance while keeping you comfortable. 
Stellar highlights include a lifetime frame and motor warranty, wireless heart-rate monitoring (with chest strap included), and a 15% incline to ramp up the challenge of your workouts.
See the XTERRA TR 6.6 treadmill in action in the video below:
What We Like:

Heavy-Duty Tread Belt:

The TR 6.6 offers a larger tread belt than its predecessors, measuring 20″ x 60″. It's also

2 ply, contributing to the machine's overall durability.

Challenging Incline:

When you're ready to ramp up the challenge, just work your way up through the TR 6.6's 15% incline

. The incline feature literally brings your workout to new heights, and provides some much-needed workout variety.

Motor:

The TR 6.6's quiet 3.0 HP motor is

rare for this price range. It allows you to enjoy light to moderate workouts, from walking to gentle running up to

12 mph

. The fact that it's backed by a lifetime warranty demonstrates XTERRA's confidence in its durability.

Display:

The TR 6.6's widescreen 7.5″ blue backlit display allows you to keep tabs on your essential workout information with ease. Data showed includes pulse, speed, distance, incline, time, and calories burned.

Heart-Rate Monitor:

A wireless heart-rate monitor is included so you can accurately keep tabs on your heart rate, and use this data in the heart-rate controlled programs. During this mode, the TR 6.6 will help you to stay in your target heart-rate zone, making your exercise sessions more effective and efficient. There's also

hand grip pulse sensors on the handlebars, although this data won't be as accurate as the chest strap data.

Heart-Rate Controlled Programs:

The TR 6.6 has just about enough programming variety to keep most trainees challenged and motivated. It includes: 7 preset programs, 2 custom programs, 2 heart-rate controlled programs, and manual mode. What's special is that you can use the chest strap included with the machine to enjoy the TR 6.6's heart-rate controlled programs.

Creature Comforts:

This treadmill comes with a cooling fan, water bottle holders, and an MP3 compatible audio jack and speakers for you to stream your favorite workout music.

Cushioning:

The TR 6.6's XTRASoft deck cushioning technology is kind to your joints. It provides multiple points of cushioning throughout the deck for maximum impact absorption to help you stay comfortable throughout your workout. It's also handy for reducing the noise of your workout.

Lift Assist/Safe Drop Folding Deck:

Lift Assist makes it easy to fold up your treadmill deck: no heavy lifting required. This is a great feature for if you plan to pack away your machine after each workout to save space. The TR 6.6's handy Safe Drop feature slowly and safely lowers the treadmill deck back into place when you want to work out.

Warranty:

The TR 6.6 comes with a lifetime warranty on the frame and motor, a five year warranty on the deck, two years on parts, and one year on in-home labor. XTERRA also offers a 30-day money-back guarantee on the TR 6.6, but keep in mind that you

will be responsible for paying return shipping costs.

Free Shipping:

If you live within the 48 contiguous US states, you can get your TR 6.6 shipped to you for free.
XTERRA TR 6.6 Treadmill - Key Specs:
| | |
| --- | --- |
| Star Rating: | 4-stars |
| Motor: | 3.0 HP |
| Incline: | 0 to 15% |
| Running Area: | 20" x 60" |
| Folding: | Yes |
| Top Speed: | 12 MPH |
| Weight Capacity: | 350 LBS |
| Dimensions: | 79.5" L x 35" W x 53" H |
| Built-In Programs: | 11 plus Manual |
What We Don't Like:

Labor Warranty:

Although we love the lifetime warranty on the frame and motor, we aren't too impressed with the 12-month in-home labor warranty. 

Program Variety:

While the programming is more varied than prior models and may be enough for many trainees, the options are still rather limited. You may find that you are bored of the workout options after a few months. If you need a large variety of programs to stay motivated, you may lose interest in the TR 6.6 rather quickly.
Our Verdict:
The TR 6.6 has progressively improved. The addition of heart-rate controlled programs is a huge bonus for this machine and only furthers XTERRA's already solid reputation for producing high-quality machines that move with the times. Although the workout programming itself is limited, if you use the chest strap alongside heart-rate controlled workouts, the TR 6.6 will allow you to monitor your progress, raise the bar progressively higher, and reach your fitness goals.
For those looking for more of a challenge, the TR 6.6's 15% incline is a big selling point. Prior models only climbed to 12%; more intense treadmill users will appreciate the difference that extra 3% makes.
Overall, the TR 6.6 remains a celebrated home treadmill. It's an attractive and effective machine considering its modest $999.99 price tag. 
XTERRA TR 6.6 FAQ's 
How much does the XTERRA TR 6.6 weigh?
The XTERRA TR 6.6 treadmill weighs 265 lbs.
What are the dimensions of the XTERRA TR 6.6?
The XTERRA TR 6.6 treadmill is 79.5" (L) x 35"(W) x 53" (H).
How long is the XTERRA TR 6.6 treadmill belt?
The XTERRA TR 6.6 treadmill's running surface is 20″ X 60″.
What is the maximum user weight capacity of the XTERRA TR 6.6?
The XTERRA TR 6.6 treadmill's maximum user weight capacity is 350 lbs.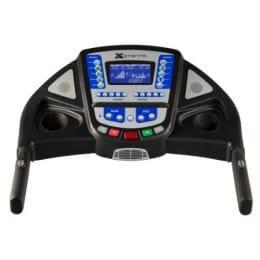 This treadmill is currently on sale