In a world where almost everyone has the power to be a food critic, it's easy to be overly analytical of the job your waiters and waitresses do attending to your table and serving your meals.
In fact, social media has made this amateur feedback some of the most important review material restaurants receive these days, which can sometimes make or break a business.
But what if waiters had a forum of their own about their experiences with patrons? For an inside peek at what it's like to be on the serving end of the restaurant business, we surveyed over 350 current restaurant staff members to get their take on the good, the bad, and the downright ugly about the people they've waited on. Want to know what your waiter thinks is worse than not paying for your meal or leaving a tip? Read on to find out.
Worthy of a Negative Review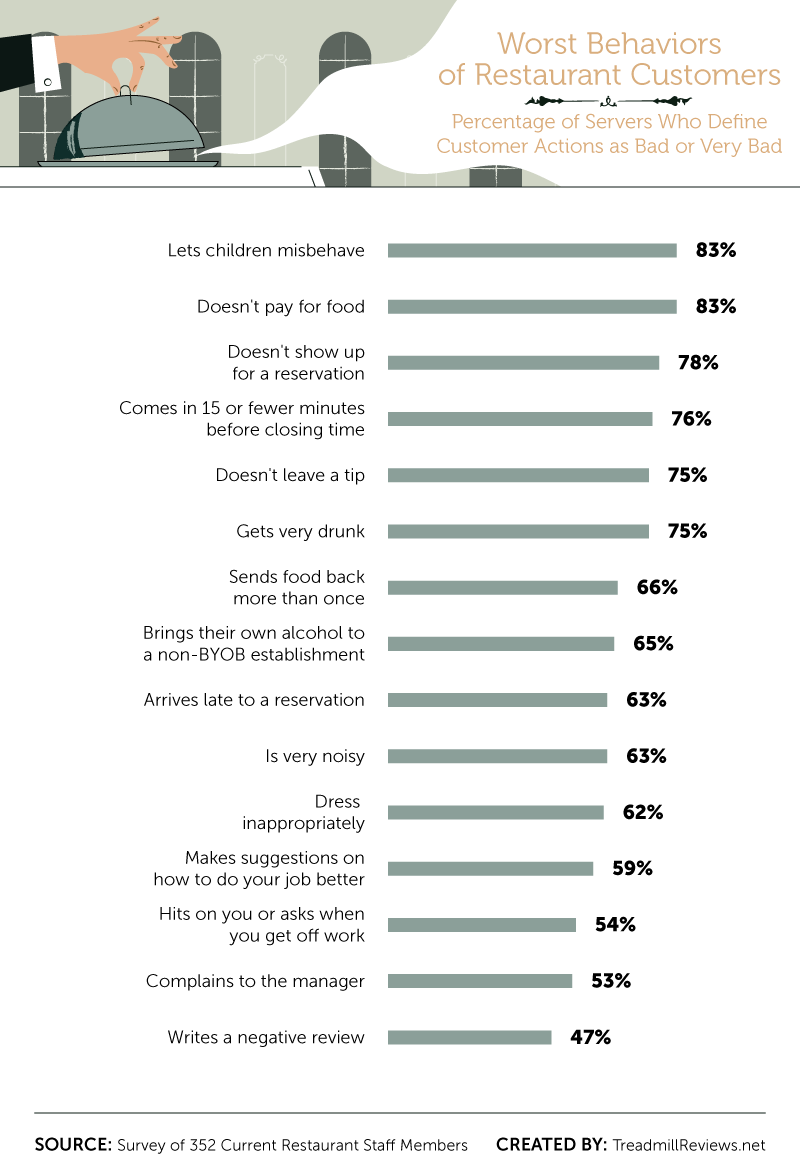 Given the importance of tips to a waitstaffs' livelihood, you might expect a customer who doesn't tip to be a server's biggest pet peeve – except that it isn't. Customers who let their children misbehave were given the worst rating of all.
In fact, even customers who ghosted on their reservations or came in to eat 15 minutes or fewer before the restaurant closed were given worse ratings than customers who didn't leave a tip for service. Additionally, customers who left a negative review of the restaurant weren't seen as being nearly as bad those who were noisy, got too drunk, or even sent their meals back to the kitchen more than once.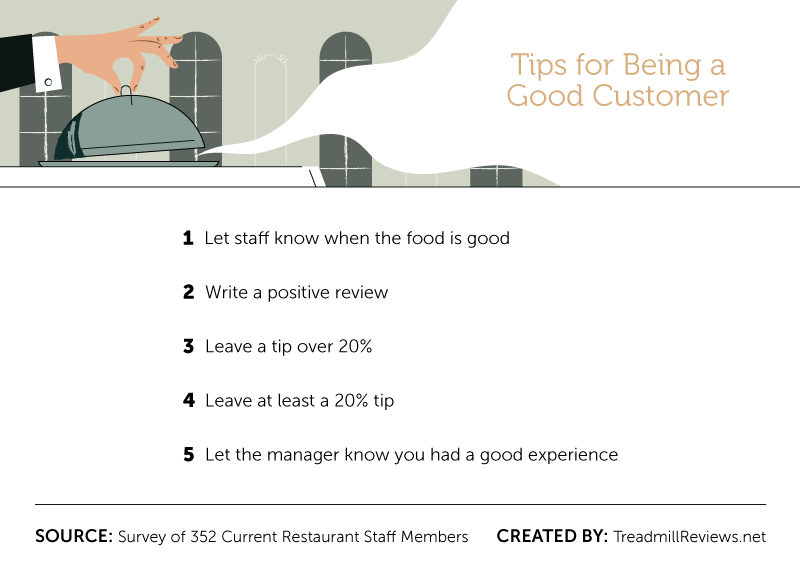 If you have never spent any time as a waiter or waitress, you might not realize how important gratuities and tips are to their bottom line. In most cases, servers are entitled to earn at least minimum wage according to their state laws.
That means their base pay and monthly tips are combined to ensure they're making the state-required minimum wage, regardless of how many hours they've put in. But getting over the minimum wage (to a living wage in some areas) is dependent entirely on the money they make in gratuity. So it's no surprise to see that tipping made up two out of the top five suggestions to being a good customer.
But as important as tipping may be, more staff said a good customer lets you know when the food is good and leaves a positive review.
No-Star Reviews
How servers rank their customers may also depend on the restaurant they work at. Letting your kids run wild when they should be eating was one of the worst behaviors according to waiters and waitresses in the industry, but it was especially bad behavior according to people working in high-end restaurants.
In cafes or smaller establishments, people who came in just as the restaurant was set to close were typically rated as worse customers than those who let their children misbehave, and in casual restaurants, that honor was saved for patrons who didn't pay for their meals at all. Fast-food employees ranked customers who didn't tip as the worst, outscoring the ones who were noisy or who left their tables messy after eating.
Irritable Interactions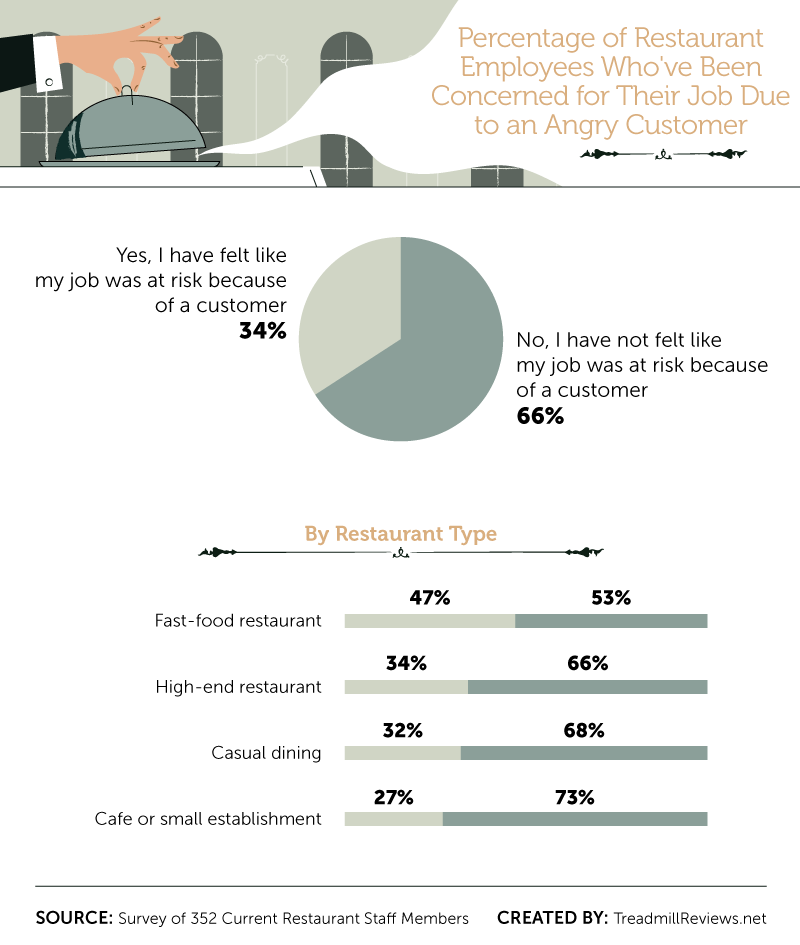 If negative online reviews are any indication, the interactions between servers and their customers can get pretty heated from time to time. Whether it's the feeling of being ignored or a meal that doesn't come out quite right, any unhappy customer can escalate into a sticky situation for the staff.
More than 1 in 3 people working the restaurant industry admitted they'd been scared that a customer could cost them their job. Forty-seven percent of servers at fast-food restaurants had run-ins with customers that left them fearful of their job security. More than 1 in 3 from high-end restaurants had similar experiences, followed by nearly as many from casual-dining establishments.
Impressions of the Staff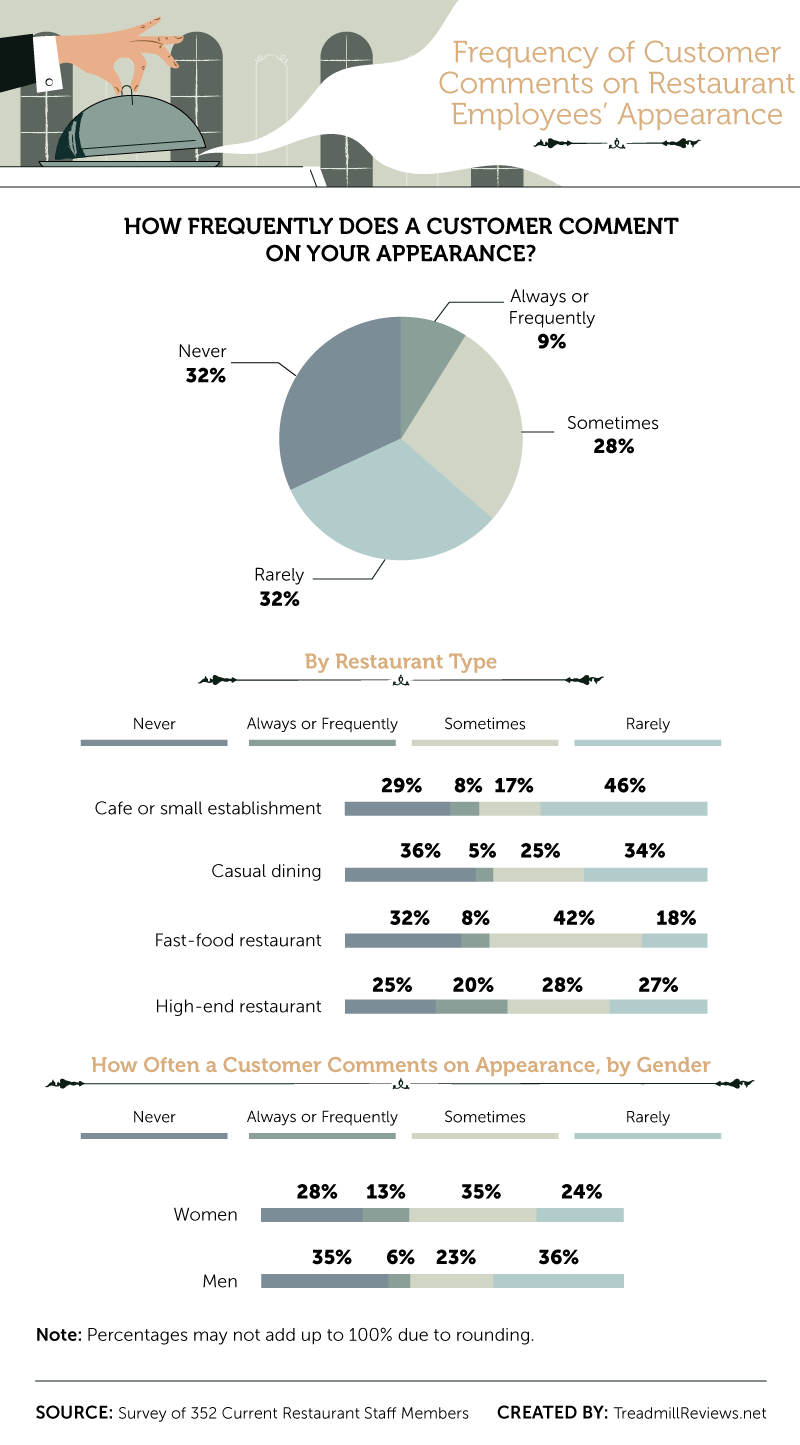 Some servers admitted customers thought it was appropriate to comment on their attire or physical appearance.
Sexism in the food industry has been getting even more attention lately, and female servers were over twice as likely as their male co-workers to have their appearance commented on by customers regularly. Thirty-five percent of women even said their appearance drew comments from customers "sometimes," compared to just 23 percent of men. Waiters and waitresses working at some of the most expensive restaurants were most likely to say they were always exposed to a customer's personal opinions on their physical appearance.
It Goes Both Ways
Men and women working in the restaurant business certainly had something to say when asked about customers with the worst behaviors, but it isn't your server who's most likely to be passing judgment: It's the cook staff.
More than 1 in 5 chefs and cooks admitted to "always" or "frequently" judging their customers. Whether it's special requests for food or sending things back to the kitchen, the teams preparing food had the most to say about bad customer interactions. Despite spending more time with the customers, servers were the least likely to pass constant judgment on their customers compared to managers, hosts, and other service staff.
Real-Life Reviews
Whether it's on Yelp, Google, or Facebook, almost everyone who sits down at a restaurant has the power to leave positive or negative reviews that can impact how successful an establishment is (or isn't). Even though they don't always get to do the same in return, your server has a pretty strong opinion about what classifies as good customer interactions and what ranks as the worst. And when you have a good experience at a restaurant, remember that positive feedback sometimes means even more to your server than how much money you leave behind as a tip.
Methodology
We surveyed 352 current restaurant staff members. The average age of respondents was 30.6 and ranged from 18 to 75. There was a standard deviation of 8.3.
The roles of our survey respondents were as follows:
Chef, 13 respondents
Cook, 56 respondents
General or Assistant Manager, 58 respondents
Host or Hostess, 45 respondents
Waiter or Waitress, 149 respondents
Other, 32 respondents
For this survey, we combined chefs and cooks and did not include "other" in our presentation of the data.
For actions of good and bad customers, a minimum of 26 respondents had to have witnessed each action previously. All options were presented to respondents in a preset list to choose from, and they were asked to say if they perceived that act to be one done by a very good customer, a good customer, neither a good nor bad customer, a bad customer, or a very bad customer. For our study, we combined very good and good to simply "a good customer" and very bad and bad for "a bad customer."
The findings here are for entertainment only and have not been statistically tested or proven to be significant.
About TreadmillReviews
If you've splurged on something delicious instead of sticking to healthy, wholesome foods, you don't want to have to worry about getting into the gym to work off last night's indulgences. At TreadmillReviews, our mission is to help you find the perfect cardio equipment from top performing brands like Horizon, True Fitness, and Xterra Fitness just to name a few, to enjoy working out from the comfort of your home. With reviews on every type of treadmill imaginable, from the compact folding treadmills, like Horizon 7.0 AT to the fastest treadmills for serious runners, like NordicTrack Freestride Trainer FS14i, our treadmill gurus will help you find the best solution for your space and budget. Visit us online today!
Fair Use Statement
Feel like leaving this study a five-star review? Feel free to share our findings for any noncommercial use. Instead of sharing the bill, we only ask that you include a link back to this page so that our contributors get credit for their work too.