Best Treadmill for Heavy People
It's a great irony indeed that treadmills rank among the best exercise machines around for weight loss, and yet so many sport a maximum user weight of 250 pounds. Definitions vary widely, and the fact is one doesn't have to be clinically obese per se to qualify as heavy. Users taller than 6'4″ typically need to consider the tread belt length when buying a machine, as do those with longer running strides in general. These larger built folks may also double as heavier people. The same is true for bodybuilders and powerlifters. But fear not. There are plenty of great, well-built treadmills with the motor size and frame sufficient to handle folks up to 500 pounds. We just need to check the weight limit and a few other factors.
Tired of having to thumb past great models in search of maximum user weight? Don't sweat it. We've rounded up the top five treadmills for heavy people and home use, which could be anyone up to 500 pounds. And some of these even qualify as a folding treadmill. Buyers won't have to sacrifice anything in terms of bells and whistles, and frankly these units are priced right. If you're looking to do a little research before the purchase, check out our review below. Also, we have more information yet here in terms of what to look for when shopping for a new home treadmill.
Top by Category
1. Best Overall Treadmill for Heavy People – Sole F80
Treadmill shoppers are no stranger to the Sole F80, which is consistently ranked a top buy across many categories. This is good news for heavier users who want a treadmill their friends and family can enjoy as well. Sporting a weight limit of 375 pounds, this machine also brings a rock-solid warranty and reputation for service. And believe it or not, it's a folding treadmill. Another big plus is the Cushion Flex Whisper Deck which reduces joint impact by 40%. The Sole F80 actually made the top spot on our list for best overall home treadmill of 2021.
Some of the Sole F80's stellar highlights include: a roomy 22″ by 60″ running deck suitable for all the family; a commercial-standard 3.5 HP motor which can support running as well as walking; and a power incline up to 15% to sculpt your lower body. For entertainment and workout stats tracking you will have a 9″ LCD display with 10 preset programs so you can diversify your training. True, this isn't among the larger screens out there, which is why the unit also has a built-in tablet holder to dock your device and Bluetooth connectivity for audio and stats tracking. Like to monitor your fitness progress? You can track your stats through the free Sole Fitness app and sync this workout data to your favorite fitness app like Fitbit, Record, or Apple Health. The F80 caters to a range of fitness abilities and types of training, so it's a solid option to bring home for all the family to enjoy. See our detailed review of the Sole F80.
Pros
Cons

375-pound User Weight Maximum
Deck Cushioning
Low Impact
Top Notch Warranty

Limited Workout Variety
Short Side Rails
Key Specs
| | |
| --- | --- |
| Motor | 3.5 HP |
| Incline | 0 — 15% |
| Running Area | 22″ x 60″ |
| Folding | Yes |
| Top Speed | 12 MPH |
| Weight Capacity | 375 LBS |
| Dimensions | 82″ L x 37″ W x 66″ H |
| Screen | 9″ LCD |
| Warranty | Lifetime Frame, Motor, Deck; 5 Years Electronics & Parts; 2 Years Labor |
2. Best Treadmill for Streaming Classes – Horizon 7.4 AT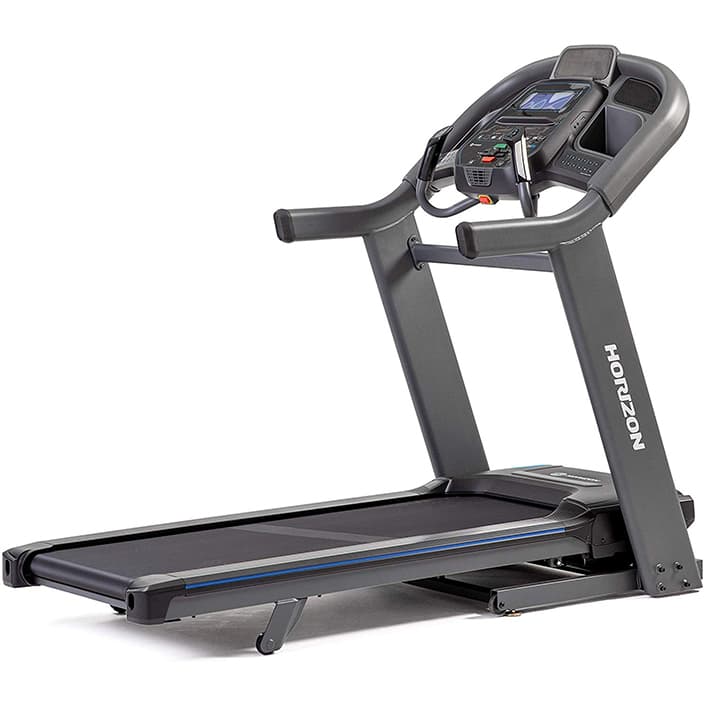 Proving that a bigger treadmill doesn't necessarily mean a bigger price, the Horizon 7.4 AT comes in online at budget friendly prices, chock full of great features. With a maximum user weight of 350 pounds, the machine sports 3-Zone Variable Response Cushioning which customizes the shock absorption to the front, middle, and the end of the belt to fit the individual runner. This is a great feature for people with obesity, or taller runners, whose stride is different than the average user. The Horizon 7.4 AT runs off a 3.5 CHP motor with a .08-inch thick deck, and .063-inch belt, all atop 2.36-inch/1.811-inch tapered rollers. Heavy people using a treadmill need that kind of support for sustained training as the overall load placed on the machine dictates a good deal of its life. Another big plus for the Horizon 7.4 AT is its outstanding lifetime warranty on the frame and motor.
And there's no fear that lower price means lower options here. This treadmill offers an unlimited number of interactive training options. This is great for families with different members hopping onto the machine tuning into different interactive training apps. Other treadmills we've reviewed are often tucked into one app or another, while this one allows great variety. One downside is this is what we refer to as a bring-your-own-tech treadmill. Built with a 8.25-inch LCD screen, it features a free phone/tablet app that allows users to connect their own devices to it, as many folks these days want bigger screens. So most people will be bringing their own devices as opposed to relying on the smaller LCD. This is actually a good call on Horizon's part when it comes to value and versatility. Not only does it keep the cost down as people use your own screen, but it also allows users to tune into any fitness app including Peloton using their own device. That makes for a great addition to the home gym.
As well as unlimited interactive streaming options (which Horizon offers discounts on), other highlights include: an easy-to-fold-frame; powerful 3.5 CHP motor which can keep pace with interval training; a roomy 60″ by 22″ track; Bluetooth heart-rate monitoring; and preset programs including Sprint 8 training program, a HIIT training program for runners. You get a lot of bang for your buck with the Horizon 7.4 AT, especially if you and the rest of your household members want to try a variety of interactive training apps. See our detailed review of the Horizon 7.4 AT.
Pros
Cons

350-pound user weight maximum
Great cushioning program
Built-in Sprint 8 training program

Users are expected to bring their own device
Key Specs
| | |
| --- | --- |
| Motor | 3.5 CHP |
| Incline | 0 – 15% |
| Running Area | 22″ x 60″ |
| Folding | Yes |
| Top Speed | 12 MPH |
| Weight Capacity | 350 LBS |
| Dimensions | 76″ x 37″ x 63″ |
| Screen | 16 Digit Alphanumeric LED & 8.25″ LCD Screen |
| Warranty | Lifetime Frame & Motor; 5 Years Parts; 2 Years Labor. |
3. Best Runner-Up Treadmill for Heavy People – NordicTrack 1750
If streaming training classes is a consideration for weight loss, treadmill fans will love the NordicTrack Commercial 1750. With a 300-pound weight max, this treadmill is iFit-enabled, meaning trainers can control the machine's incline and decline from remote locations. And yes, it's foldable. If unfamiliar with the iFit program and how it works, feel free to read our detailed review right here. One of the better treadmill apps on the market for those looking to lose weight, the NordicTrack family has been partnering with this program for a number of years with many of its machines.
More key features include a smooth and quiet 3.75 CHP motor which powers a 15% incline and 3% decline to tone your lower body. Again, for heavy users, that larger motor is a key point as they won't have to worry about slowing down the motor over time. Also, treadmills which offer both incline and decline offer a unique approach to weight loss. This unit also sports a 10-inch HD iFit-enabled touchscreen with a free 30-day iFit membership included for interactive training and stats tracking. If entertainment is needed to keep you moving on the workout, it has built-in speakers and Bluetooth audio for you to listen to all your favorite workout playlists. The Bluetooth feature can also be used in conjunct with heart rate monitors.
For those who've passed over this unit in years past, improved 2022 features include solid handrails and OneTouch Controls, a Quiet Drive Inline Technology which keeps the unit, another key point for those with families or roommates. This treadmill works for both walking or long-distance running, and it's built to include High Intensity Interval Training into the routine. For heavier people seeking a high-quality treadmill for all the family to enjoy, the NordicTrack Commercial 1750 makes for an excellent buy. See our in-depth review of the NordicTrack Commercial 1750.
Pros
Cons

15% incline and -3% decline
iFit-enabled for trainer control
Bluetooth-enabled

Limited programming due to being iFit-enabled
Key Specs
| | |
| --- | --- |
| Motor | 3.75 CHP |
| Incline | -3 — 15% |
| Running Area | 22″ x 60″ |
| Folding | Yes |
| Top Speed | 12 MPH |
| Weight Capacity | 300 LBS |
| Dimensions | 81.25″ L x 39.25″ W x 62.75″ H |
| Screen | 10″ Smart HD Touchscreen |
| Warranty | 10-Year Frame, 2-Year Parts, 1-Year Labor |
4. Best for the Heaviest Walkers – Landice L8
Check Price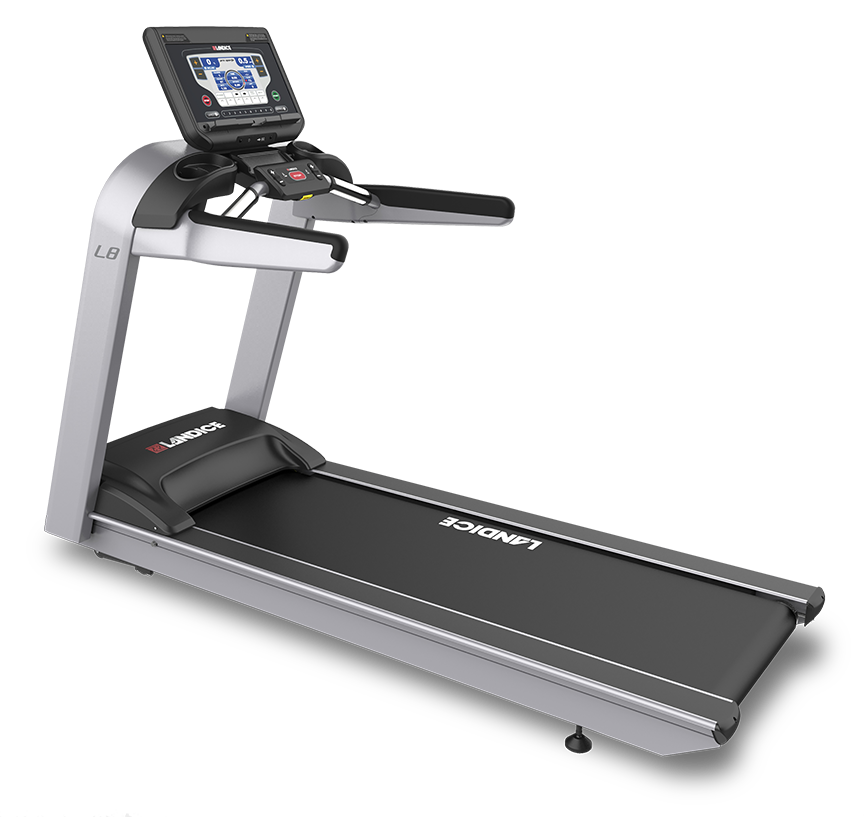 With a maximum user weight of 500 pounds, the Landice L8 certainly takes it to the limits. It's certainly a heavy-duty treadmill. While probably more than needed for most people overweight, this unit is a perfect match for those with severe weight-related limitations who will be walking their way to health. As one would expect, this treadmill has a powerful motor at 4.0 CHP which again is an important consideration for heavier folks. Plenty of horsepower. The frame itself is also considerably larger than its rivals at 83 inches x 35 inches x 61 inches, with a 22-inch x 63-inch running surface.
The biggest downside for most people right off the bat is price. In the $3,000-plus club, the machine is certainly pricier than alternatives. But for folks between 400 and 500 pounds looking for a walking treadmill to lose weight, this might be the best option for home fitness. And the buyer is getting quality here. With incline levels up to 15%, the L8 sports 1,000-pound thrust elevation style motor. The reversible deck is a full 1 inch thick and rides atop 3.5-inch diameter, 22-pound steel rollers. The L8 also comes with wireless heart rate monitoring and a lifetime warranty for the frame and motor.
Screen-wise, the treadmill comes with three different options for consoles: The Pro Sports Control Panel, Cardio Control Panel, and the Achieve. The machine also comes with a tablet bracket so users can bring their own device for personalized streaming. See our detailed review of the Landice L8.
Pros
Cons

500-pound Weight Max
Significantly larger frame and running area
Lifetime warranty
Key Specs
| | |
| --- | --- |
| Motor | 4.0 CHP |
| Incline | 0 — 15% |
| Running Area | 22″ X 63″ |
| Folding | No |
| Top Speed | 12 MPH |
| Weight Capacity | 500 LBS |
| Dimensions | 83″ L x 35″ W x 61″ H |
| Screen | Depends on Console |
| Warranty | Lifetime Frame, Motor and Parts; 5 Years on Console |
5. Best Home Treadmill for Incline Training –  Life Fitness Club Series+
One of best ways to increase intensity on a treadmill is the manipulation of its incline. The Life Fitness Club Series+ brings a great combination here for heavy users with a 400 lb weight capacity, a 15% incline, as well as a lifetime warranty on the frame and motor, as well as 10 years for electrical and mechanical parts, and one year for labor. Right off the bat, one downside is price, as the unit does come with a lot of features. In the $5,000-plus club, it's higher than some of its peers.
Measuring 82 inches x 36 inches x 56 inches, the treadmill belt features a 22-inch x 60-inch running surface. With a 4.0 HP motor, the machine can reach top speeds of 12 mph. That's great horsepower for larger users. This treadmill comes options for the console and handrails, with the SE3 featuring a large 21.5-inch 1080p touchscreen, the ST a 21.5-inch touchscreen, and the X console a 7-inch touchscreen, and the C console an LED screen. Built atop 3.5-inch steel rollers, other features include Bluetooth and easy access controls. This model also happens to come with one of the broadest selection of entertainment options, workout programs, and apps, including Lifescape and RunSocial, as well as ESPN, Newsy, YouTube, and Netflix. See our detailed review of the Life Fitness Club Series+.
Pros
Cons

400-pound User Weight Max
Console Options
Bluetooth-enabled
Key Specs
| | |
| --- | --- |
| Motor | 4.0 CHP |
| Incline | 15% |
| Running Area | 22" x 60" |
| Folding | No |
| Top Speed | 12 MPH |
| Weight Capacity | 400 LBS |
| Dimensions | 82" L x 36" W x 56" H |
| Screen | Depends on Console |
| Warranty | Lifetime on Frame/Motor, 10 Years Electrical/Mechanical, and 1 year Labor |
To fully contrast these models, check out our comparison tool. When using, check off any treadmill involved and look at in more detail and then click 'compare'. Learn more about what to look for when shopping for a new treadmill specifically for heavy people below.

Treadmills for Heavy People: Key Points to Consider
What Does it Mean to be Heavy?
It's a valid question and one we'd leave to the individual's discretion. But for beginners, the user weight maximum afforded by each machine should serve as a general guide. Treadmills, exercise bikes, and even rowers, all come with maximum user weights, and in some cases, we've found them to be quite ironic in that they're clearly designed for people who don't weigh over 250 pounds. But whether trying to lose a few inches around the belly for summer, or under a physician's directive to shed 100 pounds, these machines are certainly the tools to use.
According to the U.S. Centers for Disease Control and Prevention, the U.S. prevalence for obesity runs about 42.4%, up from 30.5% in the year 2000. The U.S. government defines "overweight" as having a Body Mass Index (BMI) between 25 and 30. Scores over 30 classify one as being obese. The BMI is a ratio based on one's height and weight using the formula: Weight in kilograms divided by height in meters squared: Weight/(Height)2. That means a 5'10" male weighing 200 pounds would have a BMI of 28.7. Meanwhile, the same man weighing 300 pounds would have a BMI of 43. The obvious downside to BMI is that it does not take into consideration one's lean muscle mass or bodyfat percentages. To that degree, one has to use their own judgement about what it means to be "heavy" with regards to a treadmill requiring high weight capacity. A good shock-absorbing cushioning system is certainly in order.
What Goals Do You Have?
We'd guess that most people in the overweight to obese categories are looking to lose weight and a good treadmill can help. The good news for big people budget treadmills are indeed out there. Whether walking, running, or engaging in HIIT, treadmills offer a relatively low-impact means of caloric burn. More good news, the heavier one is, the more calories they burn by moving. Whereas the average 155-pound person burns 298 calories in 30 minutes running a 12-minute mile pace, a 300-pound individual can burn 1,300 doing the same activity.
When setting goals, consider the time frame in which they're to be achieved. A 350-pound individual might want to lose 100 pounds, but doing this in a month is not only unrealistic, it can be unsafe. In addition to a medical professional's advice, another great tool that can come in handy is an app designed for runners. We've reviewed some of the best online programming around here, and heavy people in particular might find these apps useful. For those unfamiliar with exercise, or perhaps in need of extra motivation, these programs not only monitor progress and heart rate, but often hook users into a dynamic network of friends via social media style communities.
Whether looking to lose a few pounds, or strengthen one's cardiovascular system, treadmills are certainly a good choice to make. This is especially true for those which are foldable. But the longer the goal takes, the more important it is to consider a treadmill's warranty and overall build quality. Cheaper doesn't mean better when banging out the miles.
Additional Treadmill Resources
Frequently Asked Questions
How much weight does the average treadmill hold?
Given the wide range of treadmills, from desk units to commercial, it's difficult to establish an average. That said, 250 pounds seems the norm.
What happens if you put too much weight on a treadmill?
Too much weight on a treadmill stresses the motor and belt. This can cause the motor to overheat and potentially burn out more quickly. The same is true of the belt, and depending on how much weight and time are involved, the frame could become damaged.
Is running bad for your knees if overweight?
We always recommend consulting with a medical professional for an individual assessment as every case is different. But if an overweight person has no history of knee pain, then jogging and walking are great ways to reduce that weight. It's important for one to know their limits and if joint pain is cause for concern, start out slow.
How long should an obese person treadmill?
As a rule, experts advise 45 to 60 minutes of exercise per day. But if obesity is an issue, then starting out with 10-minute sessions and working up in terms of resistance is good. If joint health is a concern, consider increasing the incline and speed of the 10-minute session as you go instead of trying to walk for longer periods.
Are treadmills better than walking outdoors?
We all love a good walk outdoors, but let's face it, Mother Nature can be unkind. The upside to a treadmill is you can walk any time of the year, day or night.