Best Folding Treadmills 2020
Last Updated - January 02, 2020
Compact and reliable are two traits that don't always go hand-in-hand when it comes to folding treadmills. That's why our list of the best folding treadmills currently available contains durable models designed with innovative folding features and reliable, sturdy frames. They're ideal for in-home use where space is a concern, but just because they're easily foldable and compact doesn't mean they cut corners on reliability or stability.
Learn more about how to choose the right folding treadmill for you with our expert advice and handy list of the best folding treadmills on the market below.
2. Sole F80
Roomy and powerful are two words to describe Sole's new F80 folding treadmill. With a spacious 60" x 22" running area and 3.5 CHP motor, this model offers a very comfortable… Read More
See best price »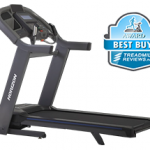 3. Horizon 7.8 AT
As part Horizon's ongoing push into more upmarket treadmills and other equipment, the new 7.8 AT treadmill has just been released (in October 2019), boasting a handful of improvements over the brand's prior models. That said, when compared to their new 7.4 AT treadmill, the 7.8 AT offers a few upgrades to justify its $300 price increase. The biggest upgrade at hand with the 7.8 AT treadmill is a new 9.3-inch full color display screen. Previously only ever seen with basic LCD screens, this new setup still cannot be used to watch interactive training programming, however it does display all... Read More
See best price »
Tips for Choosing a Folding Treadmill
You can now find folding treadmills at every price point, from under $1,000 to over $3,000, but they vary widely in quality across the price spectrum. The cheapest folding treadmills tend to be risky buys, but those priced at $799 and up are a great place to focus your search.
A good place to start is to ask yourself, is it most important that my treadmill is portable, long-lasting, powerful, quiet or feature-rich? If you can afford a treadmill in a 
higher price category
you can usually have it all, but you'll need to make some compromises with cheaper folding treadmills. Here are some of the most important qualities to consider when you're browsing machines.
Portability
For many shoppers, having a folding treadmill that can be used and stored in the same room is a top priority. Almost all folding treadmills have wheels, but some machines are more portable than others, mainly because of weight.
The exact weight and dimensions of each machine can be found on the manufacturers' websites and in our treadmill reviews. Some of the highest quality folding treadmills weigh over 200 pounds, so they're not exactly grab-and-go fitness equipment. Keep in mind that when you're calculating whether a machine will fit your workout area you should add several inches of clearance on the sides and about 8" or more at the back to be sure you have ample room to use the machine safely and comfortably.
Durability
Just like non-folding home treadmills, modern folding treadmills are built to a wide range of durability standards. You should always find out exactly what specs and customer protections a particular treadmill offers before purchasing, but below are a few tips which can help you judge roughly how long the model is likely to last. 
Usually the parts warranty is a good indicator of durability. While many folding treadmills have lifetime frame and motor warranties, the not-so-durable models have just one-year (or shorter) parts warranties.
The machine's user weight capacity is another clue about durability. The less durable folding treadmills tend to have maximum weight capacities of about 225 or 250 pounds. Others are akin to club-quality treadmills and can safely support up to 400 pounds.
The diameter of the treadmill's track rollers contributes a good deal to durability too. Roller size ranges from about 1.5" on super-cheap treadmills to 3" and larger on club-quality treadmills. Although some brands reduce roller size to make folding treadmills more compact, we don't like the trade-off! The smaller the rollers, the more quickly the tread belt will show signs of wear.
Horsepower
Motor power is a common area of compromise for cheaper folding treadmills. We recommend choosing a treadmill with at least
2.5 CHP for walking
. If you want a folding treadmill for running, then opt for one with at least 3.0 CHP. Motors with lower power might not perform smoothly, particularly when you change speeds during a workout.
Horsepower is a factor in treadmill durability too; cheap motors are prone to getting hot, emitting the smell of wiring being toasted, and then not working at all.
Quiet Operation
Most shoppers would of course prefer a quiet treadmill over a noisy treadmill. Generally the noise is reduced as the price goes up, with some treadmills even being described as "whisper quiet". Here are some of the most important qualities that influence quiet operation.
Track roller size

is a key contributor to a treadmill's noise level. When rollers are larger, treadmill belts can run more quietly.
A treadmill belt's material and thickness influence how quietly it moves with exercise.

Treadmill belts

or tracks are made from a variety of materials such as rubber, PVC and silicone. Some folding treadmills have belts comprised of cheap material and are rather thin at just one-ply, and others are made of high quality materials and are two-ply.
Deck cushioning

deflects shock from exercise. Besides absorbing impact on each landing, the deck can also absorb sound to help keep the peace at home. The best folding treadmills have the same sound absorbing capacity as non-folding treadmills.
Workout Programming and Special Features
The
best folding treadmills
today are equipped with the same workout programming and special features as their non-folding counterparts, but very cheap folding treadmills sometimes fall short of this. Here are some key points to keep in mind while shopping.
Depending on the brand and price tier, good folding treadmills can run anywhere from several

workout programs

to

infinite

workout routines, which is one of the key benefits of choosing a cardio machine with an app like iFit.
A favorite among the non-essential treadmill features is an

incline

, which adds challenge to exercise and helps simulate outdoor routes. A typical maximum incline setting for a folding treadmill is 10-15% and for extra-steep inclines (which are usually up to 40%), shoppers can opt for an

incline trainer

instead. These alternatives to treadmills aren't necessarily foldable, but they're relatively compact.
Other features you can expect on mid-level and better folding treadmills are Bluetooth speakers, USB charging ports, tablet holders, water bottle holders and cooling fans.
Best Folding Treadmills: The Rundown
The Takeaway
Shoppers on the lookout for a new folding treadmill need to remember that manufacturers sometimes make compromises when producing compact fitness machines. That said, these days you can find high-quality folding treadmills at every price point. If you keep these tips in mind and read some of our individual model treadmill reviews, you'll be well on your way to finding your perfect match.