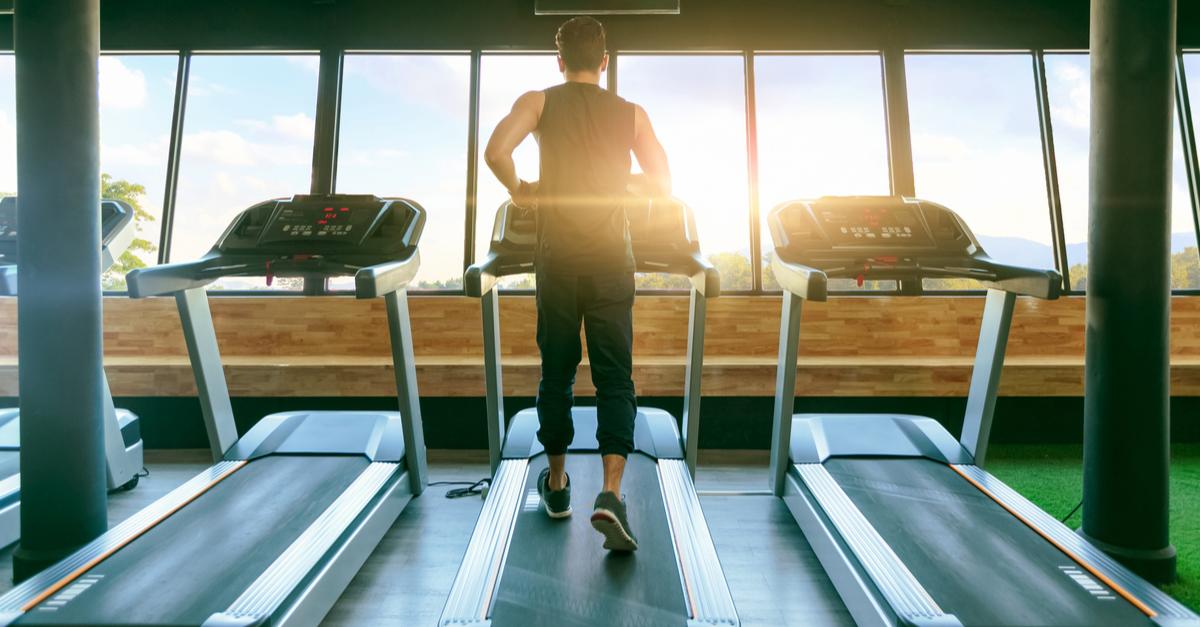 Whether you're training for a big race or just want to improve your endurance, a treadmill is the ideal workout partner to help you reach your unique fitness goals. That said, if you're a serious runner it's often tricky to find a treadmill that can keep up with you. Sound familiar? We're here to help!
Below you'll find our expert advice on how to choose the best treadmill for running, as well as a list of the top treadmills on the market designed specifically for runners. These models offer advanced shock absorption, spacious running areas, and impressive incline/decline options to simulate training on real terrain, as well as competitive warranties for their price points. You want a machine that you can depend on; not one you think might break down in the middle of an important training session. Read our tips below to find the right treadmill for your running stride. Prefer to do a bit more research before you shop? Scroll down to learn exactly what to look for when shopping for a treadmill for runners.
TOP BY CATEGORY
1. Best Overall Treadmill for Runners – Sole F80
Year after year, the Sole F80 has been coming up aces in runners' reviews. And now, the updated model is also our top pick in the category of best treadmill for runners as it's truly built to satiate your need for speed. This is definitely true if you're a heavier runner who needs a solid motor and lots of room. Roomier and more powerful than ever, it offers a plethora of new features. Among these are the newly upgraded 9-inch display and fully integrated tablet holder. The commercial 3.5 HP motor and power incline up to 15% works well with the impressive 22-inch x 60-inch running surface. Also worthy of note, the F80 is manufactured with a reversible deck, which both doubles the life of the unit and softens the noise factor up to 40% compared to outdoor training. Like the rest of the Sole line-up, the F80 brings 10 preset workout programs to the game, including a user-designed option. The workouts can either be viewed via the 9-inch LCD screen, smartphone, or tablet. Equipped with Bluetooth connectivity, the unit is also built to integrate with the Sole Fitness mobile app, compatible with most iOS and Android devices. The great thing about the app is it can be used anywhere, and syncs with FitBit, Apple Health, and other fitness software. And in terms of space efficiency, the F80 can be easily folded and stored after workouts.
Pros
Cons

Powerful Motor
Sole Fitness App
Easy Folding
Excellent Warranty
KEY SPECS
| | |
| --- | --- |
| Motor | 3.5 CHP |
| Incline | 0 — 15% |
| Running Area | 22″ x 60″ |
| Folding | Yes |
| Top Speed | 12 MPH |
| Weight Capacity | 375 LBS |
| Dimensions | 82″ L x 37″ W x 57″ H |
| Screen | 9″ LCD Touchscreen |
| Warranty | Lifetime Frame/Motor/Deck, 5 years electronics/parts, 2 years labor |
2. Best Home Treadmill Runner Up – Horizon 7.4 AT

Check Price
If you're training with a need for speed,  check out the Horizon 7.4 AT. As well as unlimited interactive streaming options (which Horizon offers discounts on), other highlights include: an easy-to-fold-frame; powerful 3.5 CHP motor which can keep pace with interval training; a roomy 60? by 22? track; Bluetooth heart-rate monitoring; and preset programs including Sprint 8 training program, a HIIT training program for runners. You get a lot of bang for your buck with the Horizon 7.4 AT, especially if you and the rest of your household members want to try a variety of interactive training apps. See our detailed review of the Horizon 7.4 AT. To unlock nearly unlimited interactive training options at the controls, the Horizon 7.4 AT does require you to bring your own screen, tablet, smartphone, to the treadmill. From there, the machine is designed to work with any on-demand fitness app, including the Peloton app, Daily Burn, or Aaptiv.
Pros
Cons

Bluetooth Enabled
Folds Easy
Built In Sprint 8 program
KEY SPECS
| | |
| --- | --- |
| Motor | 3.5 HP |
| Incline | 0 — 15% |
| Running Area | 22″ x 60″ |
| Folding | Yes |
| Top Speed | 12 MPH |
| Weight Capacity | 325 LBS |
| Dimensions | 76″" L x 37″" W x 63″ H |
| Screen | None |
| Warranty | Lifetime Frame, Motor; 3 Years Electronics & Parts; 1 Years Labor |
3. Best Budget Treadmill for Runners  – Lifespan TR55001

Check Price
Serious runners looking for a budget-friendly treadmill have a friend in the Lifespan TR55001. At $1,899, it might be considered a mid-range model, but the specs tell the story of a bargain. Right out the gate, serious runners will appreciate a top speed potential of 13.5 mph, compared to most models limit of 12. Workouts ramp up and down with 800 pounds of thrust, supported by 15 angles of incline training, two for decline and 13 for incline. The 22-inch x 60-inch deck can handle long strides, but the nearly 3-millimeter thick belt is a real bonus when it comes to longevity. Meanwhile, a 4.0 CHP motor offers sufficient power to prevent slogging down under long runs of any speed. Other perks include the 40 preset workout programs, Bluetooth connection and wireless heart rate receiver, USB port, and 6-inch LCD screen with back-lighting. Definitely a high-end machine for a low price, complete with a three-speed fan, tablet rack, and smartphone-compatible speakers.
Runners can also feel confident in the lifetime warranty coverage on both frame and motor. LifeSpan treadmills are sold with 30-day money back guarantee which is outstanding for a treadmill under $2,000. It includes five years on parts, two for labor, any money-back guarantees as well.
Pros
Cons

13.5 mph max speed
Incline and decline
4.0 CHP motor

Chest strap for heart rate receiver sold separately
KEY SPECS
| | |
| --- | --- |
| Motor | 4.0 CHP |
| Incline | -2 – 13% |
| Running Area | 22″ x 60″ |
| Folding | Yes |
| Top Speed | 13.5 MPH |
| Weight Capacity | 350 LBS |
| Dimensions | 73″ L x 34.5″ W x 55.5″ H |
| Screen | 6″ LCD Screen |
| Warranty | Lifetime Frame & Motor; 5 Years Parts; 2 Years Labor. |
4. Popular Treadmill with Runners – NordicTrack 1750
Runners chasing a top-flight treadmill with a quiet motor and lots of user-friendly options want to check out the NordicTrack 1750. Aside from the slightly shorter warranty period on parts and labor – 2 years instead of 5 – we'd say this is everything a top ranked unit should be. With a quiet 3.75 CHP motor that's terrific for runners, a power incline/decline option of -3% – 15%, a 10″ HD touch screen, iFit Coach workouts as well as built-in programs, the NordicTrack 1750 is in point of fact a very easy sell. Top running speed is 12 mph on a 22-inch x 60-inch deck, and the machine itself has a 300-pound user weight capacity. The unit also has a built-in tablet holder capable of incorporating anything from computers to books and magazines into the workout. Bluetooth audio capabilities allow users to listen to favorite workout playlists through 3-inch digitally amplified speakers wirelessly. Those same capacities afford users a heart rate system (although a chest strap is not included with purchase) as well as contact sensors on the handlebars. Dual AutoBreeze workout fans help runners keep their cool as they ramp up the heart rate and burn off calories.
Pros
Cons

3.75 CHP motor Incline and decline
Dual workout fans

Chest strap for heart rate receiver sold separately
Lesser warranty
| | |
| --- | --- |
| Motor | 3.75 CHP |
| Incline | -3 – 15% |
| Running Area | 22″ x 60″ |
| Folding | Yes |
| Top Speed | 12 MPH |
| Weight Capacity | 300 LBS |
| Dimensions | 78.8″ L x 39.2″ W x 63″ H |
| Screen | 10″ HD Screen |
| Warranty | 10-Year Frame Warranty; 2-Year Parts Warranty; 1-Year Labor Warranty |
5. Best Treadmill for Heavier Runners – Sole TT8

Check Price
Runners looking for a quality treadmill with lots of add-ons will definitely enjoy the Sole TT8, named for its 22-inch x 60-inch (Twenty-Two) self-lubricating deck featuring four layers including nylon, rubber and PVC, as opposed to cheaper single ply tracks. Operated off a 4.0 CHP motor with a lifetime warranty, the treadmill runs up to 12 mph with a maximum 15% incline. Equipped with a CushionFlex Whisper Deck, the Sole TT8 allows up to 400 pounds of user weight capacity. Exercise data can be interpreted through a 10.1-inch screen, including 10 preset programs including manual mode, and user-designed routines available to support cardio training, weight loss, and muscle toning. As a manufacturer, Sole Fitness leads the industry in warranty quality. With a lifetime guarantee on the frame, motor, and deck, the company also offers five years on parts coverage, and two years on in-home labor. Extras include an integrated tablet holder, Bluetooth audio speakers, and a USB charging port.
Pros
Cons

4.0 CHP motor
10.1″ screen

Chest strap for heart rate receiver sold separately
Large foot print
| | |
| --- | --- |
| Motor | 4.0 CHP |
| Incline | 0 – 15% |
| Running Area | 22″ x 60″ |
| Folding | No |
| Top Speed | 12 MPH |
| Weight Capacity | 400 LBS |
| Dimensions | 78″ L x 36″ W x 58″ H |
| Screen | 10.1″ HD Screen |
| Warranty | Lifetime motor, deck, frame; 5 years parts; Two years on in-home labor |
How to Choose the Best Treadmill for Running
When looking for a treadmill for running, keep in mind that running treadmills need to be held to higher standards than walking treadmills due to the greater impact of the exercise involved. Here are some of the main things to look out for when on the hunt for a new running treadmill.
The Need for Speed
First, decide on how fast you plan to run right now and in the future; think of your long-term fitness goals. Could you see yourself running at 9 mph? 10 mph? Don't forget to factor sprinting into the equation. The last thing you want to do is invest in a treadmill only to soon find out it's not going to support your workout efforts as you advance. A typical treadmill designed for running can go up to 12 mph, (whereas walking treadmills typically have a max speed of 10 mph). Keep in mind this is the max speed and not the speed it was designed to be used at for extended periods of time. So even if a walking treadmill is built to go up to 10 mph, that doesn't mean you can run on it continuously at 7 mph every day. If you are an ultra-fast runner, you might need to look at higher end treadmills for serious runners that can handle speeds up to 15 mph or more. Keep in mind that these higher end treadmills will come at a price, so if you don't need to go that fast you probably don't want to bump up to that level. Choosing a treadmill that can accommodate your top speeds will benefit you in both the short and long term; not only will it perform better for you on an everyday basis, it will also reduce the chances of having to carry out maintenance work on it too.
A Commercial Motor
The motor is not something you should cut corners on when you're looking for a new treadmill. You want your treadmill to have at least a 3.0 continuous horsepower (CHP) motor to ensure it can handle long-term use. That said, anything that puts additional strain on the treadmill such as running at faster speeds, using the incline, or being a heavier individual will increase your CHP needs. Some people may find that they need to go up to 4.0 CHP or even higher, so don't think that 3.0 is automatically sufficient. Another factor to keep in mind when thinking about the treadmill motor is how noisy it is and the cooling system it offers. CHP is not the only thing to consider; keep all these tips in mind when thinking about the right treadmill motor for your weight and workout needs.
Plush Cushioning
You know the feeling of running on pavement? That's precisely what you want to avoid when purchasing a treadmill. You're paying for the user experience, so why not make sure it's luxurious? Good deck cushioning is a must on any treadmill you're considering, especially for runners; they need to look for more deck cushioning than walkers. The good news is that treadmill training in general can help to minimize impact and keep your joints feeling comfortable and healthy. The best treadmills on the market all come with decks that reduce impact by up to 30% compared to running outside on grass or asphalt. The precise amount will depend on the particular brand, so if you're someone who regularly experiences joint issues, this is something you should look into. You can even find treadmills now that offer the ability to turn their cushioning system on or off. This is ideal for runners who are training for an outdoor event and want to mimic how it feels to run on the road; it allows you to build a competitive edge and ensure there's no nasty surprises on race day.
A Low-Maintenance Belt
It's also important to consider the belt on your treadmill. The belt has a huge influence on how it feels to run on any machine and how well it operates in the long term. Ideally, you want to look for a belt that's self-lubricating or requires very little lubrication so you aren't always having to tend to the belt. Cheap treadmills typically do require lubrication on a regular basis, so unless you are willing to commit to regular maintenance sessions, don't buy one of these treadmills. When a belt is described as 'prelubricated', this means it's infused with silicone and has been designed to be used for running on an ongoing basis. These are the belts that you can virtually forget about once purchased. Another thing to think about here is belt thickness. Generally, the thicker the belt, the better the treadmill, as it reduces total wear and tear and the possibility of having to replace it. If you opt for a commercial treadmill you'll usually get around 15,000 miles of training before requiring a new belt. Some top-of-the-range lines last about 150,000 miles before requiring a change; on an average of 3 miles per workout this means that the treadmill can be used 50,000 times before it requires a belt change. What's more, the best treadmills make changing out the belt a breeze, and will take around 20 minutes.
A Power Incline
Want an extra challenge and the chance to mix up your workouts? A power incline is a really useful feature to have on your treadmill. This allows you to raise your treadmill up on a 'hill', mimicking that of real life hill training quite effectively. Hill training offers many training advantages, from strengthening and conditioning benefits to the option of taking your calorie burn up a notch without forcing you into high impact running. Most experts recommend that you set the incline to one or two percent to mimic the wind resistance you'd experience outside and to help reduce the amount of impact on your body. Beyond that, you can always set the incline higher for an extra challenge. The best treadmills have incline capabilities up to 15 %, and may also offer the ability to simulate decline as well.
Monitoring the Ticker
Treadmills are also called cardio trainers, and the best treadmills make it easy to get accurate data about your cardiovascular performance. While treadmills in all price categories monitor pulse through grips on the handlebars, the best treadmills have wireless pulse receivers too. Wireless heart rate monitoring is more accurate than grip monitoring, especially at speeds above 4 mph. When purchasing a treadmill, note whether a wireless chest strap is included with your purchase as often these are sold separately.
Keeping a Profile
These days all treadmills are equipped with training programs regardless of the price point, from the cheapest machines to the most elite treadmills on the market. Yet only the best treadmills let users save their profiles. One huge benefit of having a profile is getting better data, especially in terms of estimated calorie burn. Another key advantage is the ability to save custom-made workout programs. In general, only higher-end treadmills support user profiles. However, treadmills with wireless iFit programming are sold at all price points. With an iFit family subscription, you can add up to four secondary users to your account, so this is something to look into if there will be more than one person using the machine.
Find Your Best Treadmill for Running
You can use the tips above to start searching for your new running treadmill; keep them in mind to know what to look for and what features are important.We've listed our favorite treadmills for runners to help kickstart your search, but they're not the only winners. For more options, see our lists of the best treadmills on the market categorized by price and treadmill type to find your perfect match.