Best Treadmills Under $2,000
We all have different training preferences and workout goals, but everyone can enjoy and benefit from treadmills in the $1,500 to $2,000 price category. The best treadmills under $2,000 cover all the bases with modern consoles, great program variety and high-performance components. Shown below are versatile favorites with power inclines, immersive 'round-the-world video workouts and other features for dynamic training.
These high quality home treadmills entice with 4.0 CHP motors, spacious workout surfaces, immersive video workouts and other high quality features. With a web price of $1,500 to $1,999, each cardio trainer on this list is a top value in its price class.
1. Sole F85
Rarely do you find a compact, folding treadmill that is made to withstand 400 pounds, but Sole has done it. Their F85 folding model is built with a powerful 4.0 CHP… Read More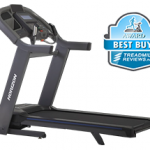 2. Horizon 7.8 AT
As part Horizon's ongoing push into more upmarket treadmills and other equipment, the new 7.8 AT treadmill was in October 2019, boasting a handful of improvements over the brand's prior models. That said, when compared to their new 7.4 AT treadmill, the 7.8 AT offers a few upgrades to justify its $400 price increase. The biggest upgrade at hand with the 7.8 AT treadmill is a new 9.3-inch full color display screen. Previously only ever seen with basic LCD screens, this new setup still cannot be used to watch interactive training programming, however it does display all of your essential running/workout... Read More
See best price »
Comparing Treadmills Under $2,000
If treadmills were cars, then one in the $1,500-to-$1,999 price category might be a Lexus. The best treadmills priced slightly under $2,000 are luxury rides even if they're not the most elite options on the market. Their motors bring smooth performance, their decks are well-cushioned to protect trainees' joints, and their consoles integrate the latest digital technologies. These treadmills approach light commercial quality and are the top designs made with at-home training in mind. Here are some notes to help you understand what's available in this price category.
Electronics on $1,500-to-$1,999 Treadmills
The best treadmills under $2,000 have eye-catching displays and excellent workout programming. Full-color touch screens are common in the $1,500-to-$1,999 category. These screens have controls for workouts and iPods/iPhones, plus some can show video and have web browsers and/or TV. Here are some features included on the models chosen for our list:
Large Screens: The leading fitness equipment makers typically provide 7" and 10" touch display screens on their treadmills priced $1,500 to $1,999. These high definition monitors are often the cream of the crop; many brands don't offer anything larger. Some of the touch screens have Android web browsers and can show video workouts.
Immersive Programming: Two types of immersive workout programming stand out on home treadmills: Virtual Active and iFit.
Virtual Active is virtual reality workout programming for people using treadmills, ellipticals and steppers. Virtual Active videos are shot in scenic destinations around the world and each video moves at the user's pace for a "just like being there" experience of the sights and sounds. Some of these workouts include guidance from a personal trainer and others let the trainee virtually explore on their own. Examples of destinations are Hawaiian beaches, the Rocky Mountains and San Francisco.
iFit is an all-in-one fitness app offering workout downloads in several formats including Google Maps with Street View. Google Maps workouts can show street-level views for countless paths that users set up, plus they can replicate the hills and valleys of any charted terrain. Customers' favorite treadmills have generous power inclines and declines to make the most of this technology.
Many preset workouts: Besides having high-tech workouts like those described above, the best treadmills under $2,000 also have excellent traditional workout programming. The selection is more varied than what's found on cheaper treadmills, plus each user can create and save new workouts.
Performance
Treadmills in this price class can meet and exceed most trainees' performance needs. Their motor power is ample and their tracks are spacious.
While the industry standard for home treadmill track motors this year is 3.0 CHP, the models featured on on our above list of "Best Treadmills Under $2,000" have 4.0 CHP track motors. They also have powerful incline motors. These cardio trainers can handle high speed training by large athletes without skipping a beat.
The industry standard for treadmill belt size is 20 inches wide and 60 inches long. Belts of this size are more than adequate for most trainees. Some high-end treadmills feature tracks with extra length and/or width. Choices with 22" wide and 62" long belts are included on our list.
Best Treadmill Warranties
Treadmills in this price class not only have enticing electronics and great power, they're also built to last. Components such as commercial quality wiring, large track rollers and thick tread belts let manufacturers provide especially generous warranties. Here's what to expect from warranties on
the best treadmills
priced from about $1,500 to $1,999:
Frame, Motor and Deck: Lifetime coverage
Parts: Three to five years
Electronics: Two to five years
Labor: One or two years
Best Treadmills Under $2,000: The Rundown
Best Treadmills Under $2,000 Summary
The best treadmills under $2,000 are high performance and have top-of-the-line electronics. Shoppers buying in this price class can expect high quality features and generous warranties.