Social media can be a double-edged sword. On the one hand, it provides endless entertainment, connection, and even real-time news for millions of users. On the other, it can be a tool for comparison and fuel body image issues. However, users both on the influencer and influenced side of social media are also utilizing online platforms for workout inspiration and progress tracking.
To get a better idea of how the social media and fitness worlds collide, we scraped over 446,000 Instagram posts that included the hashtag #workout along with related tags like #CrossFit, #fitness, and #training. Using these data from October to December 2018, we found which states were the most active on social media and when posts and likes peaked. Keep reading to find out more.
Top Tag

The most commonly used hashtag for fitness-related Instagram posts was #workout. Between October and December of 2018, 446,185 Instagram posts included the hashtag #workout. Scrolling through the tagged photos, you're most likely to see a mix of progress and transformation pictures or short videos giving a glimpse into users' workout routines, like a fullbody treadmill workout.
Strength in States
There is a lot more to health than hitting the gym and posting about it on Instagram, but some of the states with the most #workout posts are also considered the healthiest in America.
Nebraska topped the charts for #workout posts per capita with an average of 70.4 posts. New York wasn't too far behind with an average of 63.7 fitness posts per capita. Even though Virginia didn't make the top 5 fittest states with 30.4 posts per 100,000 residents. Arlington, Virginia actually ranked the fittest city in America in 2018.
Mississippi ranked the lowest with an average of only four #workout Instagram posts per capita, but this aligns with the state's overall healthiness. The state is ranked at No. 49 in terms of health when considering poverty, smoking, obesity, and both mental and physical distress.
Hitting the Like Button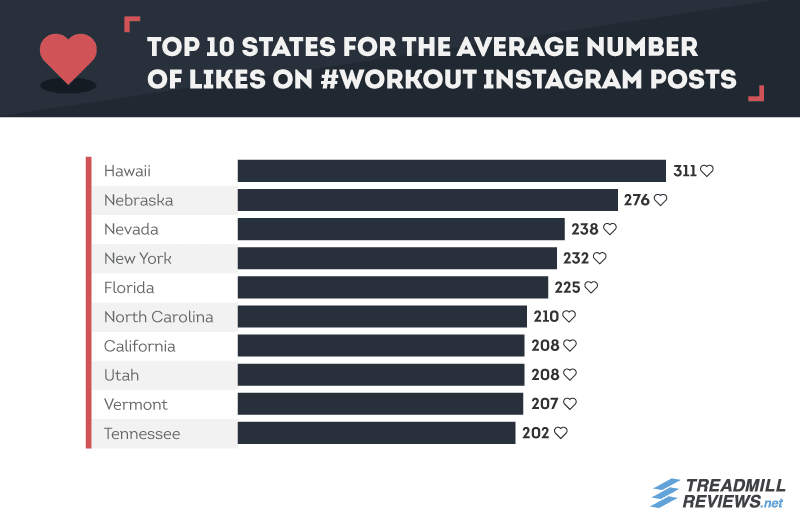 "Likes" on social media are completely arbitrary – just numbers that have no correlation to who you are as a person or your worth as an individual – yet, to some people, the amount of "likes" they get is a telltale sign of how important they are to the world. In the case of #workout Instagram posts, likes may be a sign of how important or popular fitness is in the user's state rather than something personal.
Hawaii was the state where #workout posts received the most likes, with an average of 311 likes per post. Hawaii also ranked as the healthiest state in 2018 and made the top 10 for overall #workout Instagram posts. Workout-tagged photos in Nebraska, Nevada, New York, and Florida all received over 220 likes per post, on average, with each of these states also ranking among the top 10 for the most #workout posts overall.
Most Likeable Months
The average number of likes per #workout Instagram post peaked during spring and summer, falling drastically as the winter months approached. April had the highest average number of likes, spiking to almost 320 likes before dropping closer to 250 in May. A slight spike occurred again in July, reaching an average of around 275 likes per #workout post. December had the lowest average number of likes, likely due to people putting workouts aside for the holidays or because of the unbearable cold. An alternative option to working out in the winter is working out indoors!  TreadmillReviews.net is home to a plethora of different types of treadmill reviews, like best treadmills for your home, folding treadmills for those living in a small space, and even treadmills for seniors with long handrails.
Time to Post
Unlike Instagram Stories, posts are not usually representative of what people are doing at that exact moment. Rather, users try to post pictures and videos at select times when engagement is highest. The same seems to occur for #workout posts. Studies have shown that one of the best times to post is around 5 p.m. when most people are ending their workday – and at 5 p.m., posts with the hashtag #workout peaked at almost 30,000 posts.
While mornings are a popular time for workouts, it's not a popular time to post about them. At 8 a.m., only 3,000 posts included the hashtag #workout. The number of fitness posts steadily increased after that and remained above 25,000 after 3 p.m. until the early morning hours, steadily declining around 2 a.m.
City Fitness
Breaking the data down by cities with populations over 100,000 residents, Florida topped the chart for Instagram posts with the hashtag #workout. Hollywood, Florida, was the top city, with nearly 2,029 hashtagged posts, followed by Miami, Fort Lauderdale, and Orlando – each bringing more than 1,200 #workout posts. Considering the drastic drop in posts around the winter months, Florida's warmer climate may contribute to the increased workout posts in its cities.
Tagging While Toning
While there is a running joke that those who do CrossFit can't stop talking about their workouts, photos tagged with #CrossFit are a lot less common than those including #workout. While Nebraska, New York, and Nevada were the top states using the hashtag, Nebraska only had an average of 5.3 posts per capita, while New York and Nevada both had an average of 3.4 posts per capita. In terms of cities, Miami Beach had the most #CrossFit posts, with an average of 77.3 posts per capita, followed by Las Vegas with 47.1 posts.
Tagging pictures with #cardio, #training, #bodybuilding, #crossfit, and #fitness was much more common and was popular in the same states. For all fitness related hashtags, Nebraska, New York, Nevada, and New Jersey remained in the top five states. While Florida didn't make the top five for #bodybuilding, the state topped the charts when looking at cities for each hashtag. At least one city in Florida was in the top five cities for each fitness-related hashtag. However, in all locations, #fitness was the most commonly used of related hashtags with 41.6 posts per 100K residents, likely because it covers a wide range of pictures.
Getting the Best #Workout
Whether people are sharing their workouts on Instagram to inspire others or are looking for public recognition for their hard work, using hashtags like #workout gives some insight into which states are the fittest. According to social media and hashtag use, Nebraska tops the charts. But taking pictures or videos and sharing them on social media doesn't lead to better workouts – having the right equipment, being motivated, and constantly being inspired by those that continuously post their workouts on social media can lead to the best results. Join the movement and the next time you workout feel free to contribute to the United States of Fitness.
Methodology
We scraped 446,185 Instagram posts that covered the hashtag "workout." We used Python to collect the data from October to December 2018. We recognize that there are other hashtags related to working out on Instagram, however using #workout is the best term to understand fitness in the United States. With that being said, we also used the associated/additional tags users mentioned in their captions to better understand the states and cities where the hashtags "fitness," "training," "bodybuilding," "cardio," and "CrossFit" were mentioned most.
About Treadmill Reviews
Purchasing a treadmill doesn't have to be a headache when you have trusted treadmill experts providing unbiased and honest advice on everything you need to know about the top performing treadmills like the True PS100 by True Fitness,  TRX 4500 by Xterra, and Vision Fitness T80 by Vision , just to name a few. Our experts also provide insights on everything from treadmill workouts to treadmill maintenance, and everything in-between.
Fair Use Statement
Do you know someone who loves to share his or her workouts on social media? If so, they may be interested in our findings. We grant permission to use the graphics and information from this project for noncommercial use. Just don't forget to link back to this page to give the authors proper credit.