NordicTrack T 5.7 (Folding)
This treadmill has been discontinued.
NordicTrack's
T 5.7 Treadmill
with iFit has been put on sale to make way for newer models. Do you need an upgrade or will the T 5.7 suffice? In our review this affordable treadmill is durable enough and entertaining enough to satisfy the vast majority of serious walkers and joggers. If you're tall or a runner though, move up to a treadmill with greater horsepower, thicker cushioning and a longer track.
What We Like:
iFit Live Wiring: This NordicTrack is wired for an iFit Live module. The module, which is sold separately for $99, adds significant value. It connects your treadmill to the Internet for interactive workouts and advice. You can download personalized routines, virtually exercise with the famous personal trainer Jillian Michaels, and virtually compete in 5K races with other real treadmill users.
Console & Quick-Start Programs: The console's 6" window is readable from any trainee's height and displays a constant stream of exercise data. Twenty workouts are included. These have preset speeds, time limits and distance goals and were designed by a certified personal trainer. You can focus on speed, intensity or incline training.
Space-Saving: The treadmill folds vertically to save space.
Motor: The T 5.7 has a 2.5 CHP DurX motor, which is equivalent to motors rated 2.75 HP. The motor has a 25-year guarantee and is spin-balanced to minimize noise.
iPod Audio: This treadmill has a port for iPods and other MP3 players. You'll also get two built-in speakers that are each 2" tall.
Motorized Incline: A 10% incline can be adjusted electronically at any time during workouts. Training at a 10% slope could triple your rate of calorie burn and help you burn stored fat instead of carbs during workouts.
Heart Rate Monitors: Stay in the right zone by monitoring your heart rate during workouts. Pulse sensors are built right into the handlebars. Additionally, the T 5.7 is compatible with wireless telemetry. Wireless heart rate chest straps are sold separately.
High Weight Capacity: The NordicTrack T 5.7 treadmill can safely accommodate up to 325 pounds.
Good Warranty: NordicTrack's warranty for this model includes a lifetime guarantee on the frame and 25 years on the motor. Customers also get one year of parts protection and 1 year of labor. We've seen better warranties, but this isn't bad considering the machine's new sale price and reliable components.
NordicTrack T 5.7 (Folding) - Key Specs:
| | |
| --- | --- |
| Star Rating: | 4.55-stars |
| Motor: | n/a |
| Incline: | 10 |
| Running Area: | 20" x 55" |
| Folding: | No |
| Top Speed: | n/a |
| Weight Capacity: | LBS |
| Dimensions: | n/a |
| Built-In Programs: | 20 |
What We Don't Like:
Shorter Track: The 20"x55" workout surface is long enough for most walkers, but some people will feel confined.
Cushioning: DualShox cushioning makes this NordicTrack about 20% bouncier than a road. That's pretty good, but for better joint protection, get a NordicTrack that's designed for runners.
More Review Features of the NordicTrack T 5.7 Folding Treadmill on video!
Our Verdict:
The NordicTrack T 5.7 treadmill is an enjoyable, affordable option for walkers and joggers at all fitness levels. Its combination of 20 built-in programs and the option to use iFit is very appealing. In our review the T 5.7 is a good buy for those who don't need an extra-roomy track or thicker-than-average treadmill cushioning.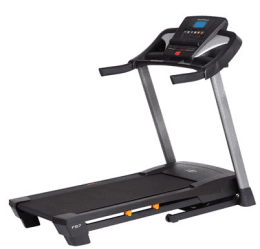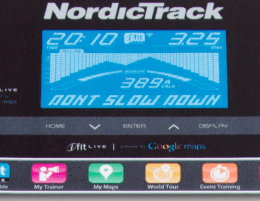 NordicTrack T 5.7 FAQs
What is the best alternative to the NordicTrack T 5.7 treadmill?
The best alternative is the NordicTrack T 8.5 S. This folding treadmill has everything you could need, such as a high power motor , incline feature, and iFit capability. Make sure you check out our full review of the NordicTrack T 8.5 S.