Horizon 7.8 AT Review
Best Buy Award(s):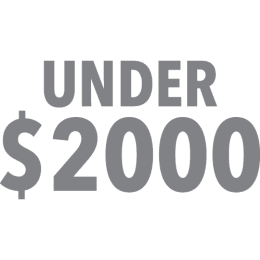 Under $2,000
This Treadmill Could Be Right If You Want:
An upper level treadmill with lots of features

A 4.0 CHP motor with a lifetime warranty

A treadmill designed for use with lots of free fitness apps and 10 built-in programs

A treadmill that lets you bring your own screen

A 15% incline and top speeds of 12 mph

Bluetooth heart rate chest strap included
Check Price
As part Horizon's ongoing push into more upmarket treadmills and other equipment, the new 7.8 AT treadmill was born in October 2019, boasting a handful of improvements over the brand's prior models. That said, when compared to their new 7.4 AT treadmill, the 7.8 AT offers a few upgrades to justify its $1,999 price.
The biggest upgrade at hand with the 7.8 AT treadmill is a new 9.3-inch full color display screen. Previously only ever seen with basic LCD screens, this new setup still cannot be used to watch interactive training programming, however it does display all of your essential running/workout data in a crisp and clear manner that's superior to its siblings. Much like the 7.4 AT, there is a ledge above its display for users to rest their smartphones or tablets, should they want to follow along with video training program.
What We Like:

Bright and legible screen — The updated 9.3-inch LED/TFT display screen is a huge improvement over what has been available on previous versions.
Quick-access roller style speed and incline controls — We love these quick controls fitted on the 7.8 AT treadmill. Without even thinking about it, you can quickly tweak your belt speed and incline on the fly easier than you can with grip-mounted buttons. The 7.8AT, 7.0 AT, and 7.4 AT are rare among the treadmill world to include this style of incline and speed controls.
Extra large running track — Measuring 60 inches long and 22 inches wide, the running belt on the 7.8 AT treadmill is two inches wider than that of the 7.0 AT. This is great for taller and heavier runners.
Powerful motor with "Rapid Sync" — Designed especially for HIIT, the motor of the 7.8 AT treadmill accelerates and decelerates noticeably faster than most of the competition.
Bluetooth heart rate monitoring — Horizon Fitness includes a Bluetooth wireless chest strap with the purchase of the 7.8 AT treadmill.
Built-in Sprint 8 training program — High intensity interval training (HIIT) is all over the fitness space these days, and Horizon is one of few treadmill manufacturers integrating HIIT-specific training programs into their equipment. The Sprint 8 program is one of the more common HIIT training programs for runners.
Discounted training app rates — As part of their push for compatibility with a wide range of programs, Horizon is able to get its owners discounted rates on a variety of fitness training apps, upwards of 30% off in some cases. This treadmill also provides a great level of external third party app compatibility and syncs well with numerous programs.
Warranty – The lifetime frame and motor warranty is great, plus there's a 5-year parts and 2-year labor guarantee.
Horizon 7.8 AT Treadmill - Key Specs:
| | |
| --- | --- |
| Star Rating: | 4.85-stars |
| Motor: | 4.0 HP |
| Incline: | 0-15% |
| Running Area: | 22" x 60" |
| Folding: | Yes |
| Top Speed: | 12 MPH |
| Weight Capacity: | 375 LBS |
| Dimensions: | 76" L x 37" W x 64" H |
| Built-In Programs: | 10 |
What We Don't Like:
Still requires a tablet — To take advantage of its clever app integration, you'll have to use your own iPad or tablet rather than a screen integrated into the console.
Stiff competition —  At this price point, the NordicTrack Commercial 1750 and others deliver more features for less money.
On one hand, basically everything we love about the new 7.4 AT carries forward to the Horizon 7.8 AT treadmill. Looking at it strictly from a running standpoint, it ticks all the boxes. It has a larger-than-standard running deck, which is great for high intensity training, although not necessary for those looking to walk or jog. A top speed of 12 mph and a max incline of 15 degrees is plenty sufficient to keep you at a brisk pace and burning plenty of calories along the way. While this unit does benefit from an upgrade to a 4.0 CHP (continuous-duty horsepower motor), its output remains untouched.
Aside from this motor improvement, the screen change is the real stand-out change to the 7.8 AT when compared to its more affordable sibling. Using and LED/TFT screen makes for a big improvement in legibility with its white counters being easy to read, and its green/yellow/red graphed indications easily stand out, making the display very easy to read at a quick glance. On its own, this is great, but once you consider the competition in the near-$2k price range it all falls pretty flat. Just about everyone else in this price bracket is offering a full-color high definition touchscreen display. Sure, throw your tablet on the built-in shelf and the display screen doesn't really matter any more, but you really shouldn't be needing to use your own device once you get up to this price point.
As noted above, the grip-mounted roller controls for speed and incline are very practical and effective, regardless of whether you're running intervals or just want to change up your pace and incline on the fly. After a few uses you'll quickly realize how intuitive these controls really are.
Keep in mind, the treadmill itself weighs 330 lbs, which means some assistance will be required during set up. We do really like the 3-Zone Variable Response Cushioning system which has been demonstrated to significantly reduce impact on joints and spine. This system provides unique support at the front, middle, and end, zones of the running surface so as to adapt to a runner's stride. The FeatherLight Folding system provides a safe and easy way to lock and unlock the treadmill while stored away. In terms of comfort, the treadmill is built with a single fan system. This might not be sufficient for some users, particularly those over 6′ tall as it's placed low and isn't particularly strong.
The Horizon 7.8 AT is truly one of the quietest units out there, generating about 65 decibels at 3 mph, which is equivalent to normal conversation. The NordicTrack 2450 does come in at only 58.7 though, even at top speeds, but both units are among the best on the market when it comes to noise.
About Sprint 8 Training:
Sprint 8 in its simplest form is a proprietary variation of HIIT derived by Johnson Health Tech—the parent company of Horizon Fitness. The 20-minute workout takes its users through a warm-up phase, followed by intense 30-second sprints broken up by 90-second active recovery periods before a final 2.5 minute cool-down. The brand claims that significant body fat loss can be achieved in as little as 8 weeks, based on running the Sprint 8 program three times per week. You can get more details here.
Our Verdict:
Looking at the 7.8 AT treadmill when compared to the competition, and when compared to Horizon's new 7.4 AT treadmill, we think it's a very solid choice. If you want to keep up with Peloton classes without a Peloton price, you're in good hands with the 7.8AT. Alternatively, you could either spend less money and get the well-spec'd 7.4 AT,  or consider other offerings near the $2k price point from our list of runners treadmills found here.
Crush your fitness goals with Horizon's most powerful treadmill, the Horizon 7.8AT. Connect directly to your favorite workout apps, such as Zwift or Peloton, or use the integrated Sprint 8 HIIT programming. Does this sound like the perfect addition to your home gym? Well, you're in luck. We're giving a Horizon 7.8AT away to one lucky reader! Fill out the form below to enter our giveaway today.
Update: Congratulations to Bijan A. of California, the winner of our Horizon 7.8AT Giveaway!
Recent Updates
July 13, 2021: Added some FAQs to the page.
July 28, 2021: Updated the specs to include new offers and features.
November 23, 2022: Updated specs and pricing
Horizon 7.8 AT FAQs
Is the Horizon 7.8 AT easy to assemble?
Yes, the Horizon 7.8 AT is easy to assemble. Assembly can be done with one or two people. Horizon does offer an in-home assembly service at an additional cost.
Can you use the Horizon 7.8 AT with the peloton app or any other fitness app?
Yes, you can stream any on-demand fitness classes and track your heart rate with advanced Bluetooth connectivity and integrated speakers. Some of the apps that work with this treadmill are Studio, Peloton, and AFG.
Does the Horizon 7.8 AT come with built in workout programs?
Yes, the Horizon 7.8 AT comes with 10 built-in workout programs.
Does the Horizon 7.8 AT have wheels?
Yes, the Horizon 7.8 AT has wheels affixed to the bottom so it rolls easily when folded.
Is the Horizon 7.8 AT treadmill easy to move around once it's assembled?
With a machine weight of 330 lbs, the unit can be a bit of a beast depending on one's strength levels. That said, it does fold up easily enough and can be rolled.
Is it difficult to assemble the Horizon 7.8 AT treadmill?
Not at all. We've found it to be quite simple in spite the unit's size and weight.
What are the main differences between the Horizon 7.4 AT and Horizon 7.8 AT treadmills?
The 7.8 AT features a 9.3" LED/TFT screen, whereas the 7.4 AT has an 8.25" LCD screen. The 7.8 AT also features a 4.0 HP motor versus the 3.5 HP motor on the 7.4 AT.