HealthRider H80t Review
The HealthRider H80t Treadmill is designed for both running and walking. With its
3.0 CHP
motor, this folding treadmill can handle long exercise sessions better than the competition – for as long as it works. The H80t isn't durable although its parts are under warranty for three years. It has a sale price of about $1200 and an MSRP of $1999.
Features include a 60″ track, a maximum 15% incline, 20 workouts and iFit Live compatibility.To use iFit with the HealthRider H80t Treadmill, you'll need to spend an extra $100 or so on a special module. You'll also need a yearly subscription, which is sometimes included with the module's total price.
Overall, this definitely isn't HealthRider's best treadmill. Some of its components are made from flimsy plastic, and getting repairs or replacement parts tends to take a while. Better HealthRider treadmills are the H190t and H110t.
What We Like:

Long Track: This folding treadmill has a 20″ wide x 60″ long track. It is roomy enough for running at your top speed.
Built-In Workouts: Twenty workouts with adjustable intensity level are included. Choose from four goal categories: performance, weight loss, distance and racing.
iFit Compatible: Besides having 20 built-in workout apps, the H80t is iFit Live compatible. The iFit wireless kit sells for about $100 and you'll also need a yearly subscription. With iFit Live, you can download new treadmill workouts every day! These will be customized to your goals and fitness level. You can also virtually experience Google Maps routes, compete against Facebook friends, and conveniently track your fitness progress. iFit can also deliver personalized nutrition tips.
Automatic Incline: The H80t Treadmill has a maximum incline of 15%. Training at even a 5% grade is an excellent way to raise your metabolic rate and develop great muscle tone. Here you can adjust the incline with a button or let the treadmill programs control the rise and fall. If you invest in iFit Live, the treadmill will simulate the slope of real-life terrain that you map with Google Maps.
7″ Screen: A 7″ screen shows speed, time, distance, pulse and calories burned. It's nothing fancy but it's easy to use. Some treadmills have smaller screens. Some have larger screens and/or touch screens.
Good Motor: This unit's 3.0 CHP Endura motor is pretty powerful. It is one of HealthRider's quietest motors, and it has a lifetime warranty for residential use.
High Speed: The H80t Treadmill has a top speed of 12 mph. You can adjust the speed with the one-touch control.
Sound System: The H80t has 2″ speakers by Intermix Acoustics. You can stream MP3s using the USB power port for smartphones.
High Capacity: The user weight limit is 325 pounds.
Folding: This treadmill can easily be folded to save floor space.
Warranty: Lifetime warranties are given for the H80t's frame and motor. Parts are covered for three years. Repairs are free for the first year. However, customer service for this product is reportedly slow.
What We Don't Like:
The HealthRider H80t Treadmill has some drawbacks. Most seriously, many customers have complained about broken plastic parts that render the machine useless. Sometimes the parts are already broken upon arrival. Here are some details to support our two-star treadmill rating.

Cheap Heart Rate Monitoring: A grip system is included to measure your heart rate. Customers have complained that the pulse readouts are inaccurate. This is often the case with discount treadmills. Of course, some people don't mind. They would happily buy a separate heart rate monitoring device and save money on a treadmill.
So-So Cushioning: This unit gets SoftFlex cushioning. The cushioning is of course better than asphalt; it reduces the jarring impact of running by about 15%. However, this isn't the best cushioning available. The better HealthRider treadmills have adjustable FlexStrideMAX beneath their tracks.
iFit Expense: Some buyers feel cheated by the iFit situation; they didn't understand beforehand that iFit Live costs extra. It might be preferable to buy a treadmill that already has iFit set up and displays the unique programs on a bigger screen.
No Console Extras: This treadmill doesn't feel like a health club machine. The cushioning isn't exceptional, and you won't get the little conveniences such as a bottle holder, a shelf or an exercise fan.
Slow Customer Service: In many customer reviews, owners of the H80t are frustrated by customer service. They can't get their treadmills repaired in a timely manner.
Our Verdict:
The HealthRider H80t Treadmill is not recommended. You can buy it for a low price, but it might break down quickly. It might even be problematic from the start.
Much better treadmills are available for a bit more money. One to check out is the durable NordicTrack Commercial 1750. It has a strong motor, adjustable cushioning, an incline/decline, and a web-enabled 7″ color touchscreen! It's on sale for $1499.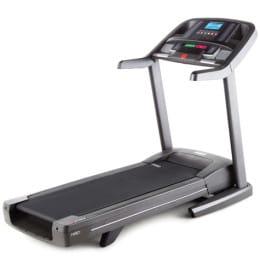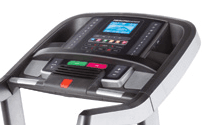 This treadmill is currently on sale
Other HealthRider Treadmill Reviews: