HealthRider H95t Review
The HealthRider H95t Treadmill sells for under $1000. It is full size with a
60″ track
. Some key features are a
2.75 CHP
motor, a maximum
12% incline
,
12 workout programs
and
iFit Live
compatibility
. The built-in workouts target weight loss and racing. There's also a built-in Competition Race Center that simulates races against various competitors.
The H95t is mid-quality for a HealthRider treadmill. It has a strong motor and some of the brand's most appealing features, but you'll notice a difference if you pay more for an upgrade. This unit has a short warranty.
Our treadmill rating of three stars is based on the sale price of about $849. We would assign a lower rating to this machine at full price; it's not worth $1999.
What We Like:

Long Track: This treadmill has a full 20″ wide x 60″ long track. It is spacious enough for walking or running at full speed.
Built-In Workouts: Twelve workouts with adjustable intensity level are included with purchase. Six of the workouts target weight loss. Six are designed to help you run long distances and train for races. Choose from one mile, 5k, five mile, 10k, 10 mile, and half marathon training programs. There's also a motivational built-in Competition Training Center that lets you race against virtual competitors.
iFit Compatible: Many trainees would be happy with 12 workout apps, but with the H95t Treadmill you have the option to go further. If you add an iFit Live™ wireless adapter, your treadmill will be online. iFit Live lets you download new personalized workouts every day! You can also virtually run along Google Maps routes, race against Facebook friends, and easily track your fitness progress at iFit.com. You can even sign up to receive customized nutrition tips.
Automatic Incline: Training on an incline is an efficient way to boost your metabolic rate and develop superior muscle tone. You can exercise muscles that you'd forgotten about! The HealthRider H95t Treadmill track can tilt by up to 12%. If you use it with iFit Live, the treadmill can approximate real-life terrain that you chart with Google Maps. You can always override the incline or speed with one-touch controls.
Touch Screen: A touch screen shows your speed, time, distance, pulse and calories burned. The touch feature is nice, but the screen is rather small. It's not the best screen for taking advantage of iFit Live.
Good Motor: This unit's 2.75 CHP Endura motor is comparable to other brands' 3.0 HP motors. It has a lifetime warranty for residential use.
High Speed: The H95t Treadmill has a top speed of 12 mph. You can easily adjust the speed with the touch of a button.
Sound System: The H95thas 3″ speakers by Intermix Acoustics. Cheaper treadmills usually have 2″ speakers, if any. Here you can stream MP3s using the USB power port for smartphones.
High Capacity: The user weight limit is 325 pounds or 147 kilograms.
What We Don't Like:
The HealthRider H95t has some nice features: audio, an incline, 12 workouts, a fun racing program and more. What's not to like? If you compare this treadmill with costlier models, you can tell that HealthRider has skimped on some specs.

Warranty: The short warranty is a red flag. Lifetime warranties are given for the frame and motor, but parts and labor are covered for just one year.
Cheap Heart Rate Monitoring: A grip system is included to measure your heart rate. Customers have complained that the pulse readouts are inaccurate. This is often the case with discount treadmills. Of course, some people don't mind. They would happily buy a separate heart rate monitoring device and save money on a treadmill.
No Console Extras: This treadmill doesn't feel like a health club machine. You won't get the little conveniences such as a bottle holder, a shelf or an exercise fan.
So-So Cushioning: This unit gets SoftFlex cushioning. The cushioning is of course better than asphalt; it reduces the jarring impact of running by about 15%. However, this isn't the best cushioning available. The better HealthRider treadmills have adjustable FlexStrideMAX beneath their tracks.
How does the H95t compare with
other HealthRider treadmills
?
 It's a big step above the H79t. The H79t lacks built-in programs, has a smaller motor, and has a shorter track.
 Our Verdict:
The HealthRider H95t Treadmill has appeal, but it might only be looking for a fling. We wouldn't recommend this product to somebody seeking a long-term relationship. Some nice features under warranty for just one year are a 12% incline, a touch screen, and a robust sound system with 3″ speakers.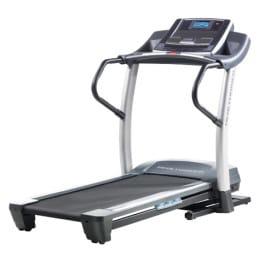 This treadmill is currently on sale
Other HealthRider Treadmill Reviews: