How to Fix Common Treadmill Problems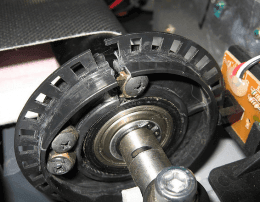 We all know treadmills are a great addition to a home gym. They provide an effective and relatively safe cardiovascular workout. Like most workout machines, a treadmill may occasionally malfunction, especially if you use it frequently. Treadmills come in a wide range of sizes, shapes, and features – but there are several key problems that pop up on most types of treadmill machines. Timeliness is key. You can minimize damage and downtime when you act quickly. Learn how to fix a treadmill with these effective tips for common treadmill repair.
Erratic Speed
There may be a problem with your machine if the speed varies as you're running. Begin by checking the owner's manual for the recommended speed setting. Set the machine to the recommended setting, but do not get on. Observe the treadmill for several minutes to see if there's hitching in the belt. This is often a sign that you need a new belt. If the machine shuts down, there may be a problem with the motor, or the machine may have a faulty circuit.
Slipping Belt
If you feel a slipping sensation when using your treadmill, it may be in need of minor treadmill repair. To fix treadmill problems associated with slippage, align and tighten the running belt. Belts can slip when there's too much friction or if the belt is over-tightened. To check if the belt is too tight, lift it in the center. There should be a gap of approximately two to three inches. If not, the belt is likely too tight.
No Display
When problems occur with the console display, the solution is usually relatively simple. To fix treadmill console displays, check the length of the power cord and visible wires. Worn batteries or crimped cords will need to be replaced. Treadmill repairs associated with a magnetic pickup on the flywheel will include a thorough examination. The magnet may have fallen off and will need to be replaced. If the console develops static, the circuit breaker may need to be reset. Unplug the power cord for 60 seconds to fix this problem.
Burning Smell
If you notice a burning smell from the treadmill, it could indicate something serious. Immediately turn off the treadmill, and unplug the power cord from the wall. Common causes of a burning smell from a treadmill include friction between the deck and back or a short in the wiring, electronics, or motor. These problems could potentially cause a fire, making immediate treadmill repair essential.
Non-Working Motor
Fixing a non-working treadmill motor can be one of the more costly treadmill repairs an owner will run into. The motor may need to be replaced if powered at full speed, cannot be adjusted, and continues not to work or works poorly. Treadmills that power on at a full speed often experience problems with failed circuits, leading to safety issues. Professional attention may be required to repair or replace the circuit or motor.
Heated Belt
Too much friction on the running belt can cause it to heat up and not run properly. Treadmills require lubrication to limit the amount of friction between the platform and belt. When the friction increases to a certain point, the machine is automatically set to power off. This may be the cause for the machine to stop working suddenly. Try lubricating the belt. Ultimately, it may need to be replaced.
It's common to run into some hangups when learning how to fix a treadmill. While the issues mentioned above are pretty common, the solution isn't always easy. Treadmill parts may need to be completely replaced before the machine can be used again. It's important to learn how to fix a treadmill the correct way to avoid injury to yourself and damage to the machine. Troubleshooting the treadmill can help determine the point of failure within the machine. This will also give you the opportunity to fix or replace the part yourself or with the help of a skilled repair technician.
Didn't find what you're looking for here? Check out Treadmill Buyers Guide for more useful information.
Common Treadmill Problems FAQs
Where can I get a replacement safety key for my treadmill?
You can get a replacement safety key directly from your treadmill manufacturer. Another option is to purchase a universal treadmill safety key from Amazon or any sporting goods store.
Where can I buy lubricant for my treadmill?
Check your user manual before purchasing treadmill lubricant as some treadmills require a special type. You can purchase treadmill lubricant directly from your treadmill manufacturer or from any sporting goods store.
How do I restart my treadmill?
The process of resetting your treadmill is quick, but it differs depending on your treadmill. There will typically be a reset button or hole somewhere on your console. Consult your user manual to reset your treadmill correctly.