Star Trac S-TRc Review
Five HP! The Star Trac S-TRc treadmill is a
powerful
and
user-friendly
fitness machine. With no need for waxing, it's designed for the unsupervised workout facility. This 500-pound steel machine has a 5 HP AC motor, a
20″ x 60″ belt
with excellent shock absorption, and a 15% incremented
incline
. It's equipped with Polar®
wireless telemetry
and is wired to work with the S Series PVS entertainment system. A 15″ high-definition television with touchscreen is optional.
What We Like:
Motor: Just a few years ago, a 3HP treadmill motor was tops. Now Star Trac's quiet 5HP motor leads the industry, and it ensures that trainees don't miss a beat – even when the speed keeps changing for interval training. The motor and motor control board are under warranty for five years.
Speed: Users can reach top speeds of 12.5 mph on the S-TRc. For comparison, most commercial treadmills have maximum speeds of 12 mph. (Those in the Star Trac E Series, however, can reach 15 mph!) Speed can be adjusted in increments as small as 0.1 mph.
Incline: Trainees can get a variety of benefits from this treadmill's thirty incline positions up to 15%. A small incline, say from .5% to 2%, can help replicate the effect of wind resistance that people get with outdoor training. Increasing the incline can relieve pressure on knee joints, dramatically boost metabolic rate, and stimulate different muscle fibers for even better definition.
Stability: This machine weighs 533 pounds. It's rated as sturdy enough to support 500 pounds (227 kilograms).
Track: The belt is full size to accommodate runners; it measures 60″ long and 20″ wide. Cushioning is a dreamy triple-cell Neoprene. The deck is reversible for double the lifespan. Another feature for treadmill longevity is the track's 3″ roller system. (The larger the rollers, the less wear on the track.)
Workout programs: Twelve high quality programs are included on the S-TRc. For example, "Firefighter Test" is based on the Gerkin protocol and "Constant Heart Control" takes advantage of wireless monitoring. (Wireless telemetry by Polar is included with the base price. Contact heart rate monitoring is included too.)
Optional TV: Club members love TV! Buyers have the option of integrating a 15″ HDTV with touchscreen.
Overall feel: Star Trac is synonymous with classic gym equipment. This treadmill's ergonomics are fantastic from the track to the handlebars, the console programming is intuitive to use, and conveniences such as user cooling fans and a water bottle holder are included. The machine looks great too in silver and black.
What We Don't Like:
Size: Size is both a benefit and a disadvantage. This treadmill's large size helps it achieve amazing stability. However, weighing in at 533 pounds, it's not easy to reposition. It also takes up lots of space, measuring 32″ x 81″. It is 58″ tall including a 7″ step-up.
Price: New and refurbished Star Trac treadmills are sold. The new ones are expensive for most individuals but manageable for businesses. The manufacturer's prices are unpublished but a new Star Trac S-TRc treadmill easily sells for $5000 plus delivery and optional TV.
Warranty packages: Star Trac warranties are valid in Canada and the US. This model has commercial and light commercial warranty packages, but nothing for residential customers. The light commercial warranty is only valid for facilities that don't charge dues. The Star Trac S-TRc warranty packages include: Commercial warranty: 2-year parts warranty, 1-year labor warranty, 5-year parts and labor warranty on the motor and motor control board; Light commercial warranty: 3-years on parts and labor, 5-year parts and labor warranty on the motor and motor control board.
Our Verdict:
Here's a great choice for your commercial gym! Trainees will return time and again for the cushy Neoprene track, the super-specific incline options, and great programming. Users at all skill levels – including marathon trainers – can get great cardio challenges. This unit is clearly more powerful than the other Star Trac S Series treadmill, the S-TRx (5HP versus 3HP). Overall it's a better buy for gyms with lots of traffic.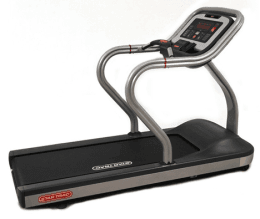 This treadmill is currently on sale
Other Star Trac Treadmill Reviews: