AFG 5.1AT Treadmill Review
This review of the AFG 5.1AT provides specs and helps you compare a few similar treadmill models from Advanced Fitness Group.
First, how do the AFG 5.0AT and 5.1AT treadmills differ? Both have 20″ x 60″ tracks, 3.0 CHP motors, speeds of .5 to 12 mph, inclines up to 12 degrees and MP3 jacks. The 5.1 adds these features: appealing new workouts (one being a golf program and others including heart rate control), a USB port for uploading workouts, and speakers. On the other hand, the 5.0 has a personal fan and a higher weight capacity (400 pounds versus 350 pounds).
The 5.1AT is also very similar to the 7.1AT. The main difference is that the 7.1 has a slightly more powerful motor, it doesn't fold, and it has a Passport Media Player.
What We Like:

Stability: Weighing 266 pounds, the 5.1AT can support a 350-lb. trainee. Cheaper treadmills top out at 250 pounds.
Long track: The 60" track can fit the full strides of runners.
Strong Motor: The 3.0 CHP motor will power through long runs. It can adjust quickly to changes in speed and isn't noisy.
Workout Variety: Target a variety of goals and keep every workout interesting with the 5.1AT's many programs. Some modes will even interact with your heart rate data. The presets include: Manual, Speed Intervals, Peak Intervals, Stamina Builder, Weight Loss, Golf Course, Foot Hills, Mountain Climb, HR Intervals, and THR Zone Custom 1 & 2.
USB Port: New workouts can be added via the USB port.
Incline: The 15 degree power incline increases in half-degree increments. It helps you train different muscles and expend calories more quickly.
Heart Rate Monitors: Wireless and grip heart rate monitoring systems are included.
MP3 Player Port & Speakers: This unit has an MP3 jack, shelf and premium speakers.
Warranty: Advanced Fitness Group's 5.1 treadmill has an excellent standard warranty. You'll get lifetime protection on the motor and frame, five years of parts coverage, and one year of labor. The warranty is the same for the 5.0 except that the parts warranty lasts three years.
What We Don't Like:
Size: This machine claims a lot of real estate. When unfolded it measures 84″ x 37″ x 56″. When folded vertically to save floor space, it measures 42″ x 37″ x 77″.
Shipping Cost: Since this unit is so bulky, it will cost a lot to ship if that's your only option. This could apply to your purchase, a return or labor arrangements. You might want to make sure that a laborer will visit your home if needed.
Our Verdict:
We prefer this model to the 5.0AT. That's because we personally don't need the extra weight capacity and like the heart rate control programs. These workouts are especially useful to people who are serious about cardiovascular health; they help make the most of each exercise session by keeping you challenged within a certain heart rate zone. Finally, the clear speaker system seals the deal on the 5.1AT treadmill's overall appeal.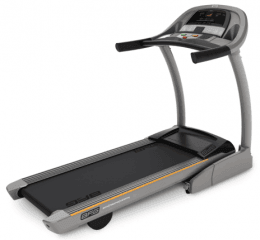 This Treadmill is currently on sale!
Other AFG Treadmill Reviews: