Best Cheap Treadmills
Looking for an inexpensive treadmill that will last? You won't find any 5-star treadmills at this price point, however these are the best for under $800 (we don't recommend spending anything less). Consider a few of these top brand name models that feature unique space saving technology, easy at-home assembly, and impressive built-in workout programs for top program variety.
Horizon T101
For under $800, you can get this model by Horizon. Featuring a folding design, 10% incline and more console features than most treadmills in this price range, the T101 model is… Read More
See best price »
NordicTrack C 700
Featuring a motorized power incline of 10%, a spacious 22"x 55" running area with adjustable cushioning, and a commercial grade 2.75 HP DurX motor, the NordicTrack C700 Treadmill is a cheap… Read More
See best price »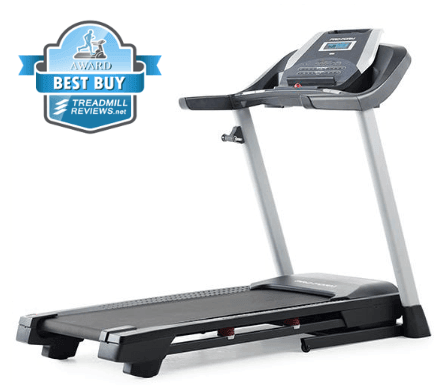 ProForm 505 CST
Compact and comfortable, the folding frame design 505 CST is the ideal treadmill for in-home use. And while it's very budget friendly, don't be fooled by the price tag. This treadmill… Read More
See best price »
Best Cheap Folding Treadmills
The best values on cheap folding treadmills aren't under $500; sub-$500 treadmills tend to break down ridiculously quickly. The best cheap folding treadmills cost around $799 when online discounts are applied. Full prices are around $1,299 and up. Shoppers can't "have it all" at this price, but they can get satisfactory combos of portability, performance and special features. The best cheap folding treadmills have
sturdy frames
, at least
2.5 CHP horsepower
and at least
two-year warranties
on parts and labor. Take a look at our
top folding treadmill picks
if you want you are interested in this option.
Best Cheap Treadmills for Walkers
Compared with runners, walkers can choose cheaper treadmills and still be satisfied. Here are several tips about motor power, track length and quality, inclines and console electronics.
Look for a treadmill with 2.5 continuous horsepower (CHP) and a motor that's under lifetime warranty. There's no need to choose a treadmill with greater CHP, which would cost more, unless you carry a lot of body weight.
Opt for a treadmill with track length of 55" instead of paying for one with a 60" track. The 60" tracks are meant to accommodate the long strides of runners. Besides saving money, by choosing a 55" track you can have a treadmill that takes up less floor space. Note though that the more you spend, the better the track is likely to be in terms of its durability and how quietly it moves.
Power inclines with maximum 10 percent settings are typical on the best cheap treadmills for walkers. Some of the inclines are even steeper. To make the most of incline training, ICON's treadmill brands provide iFit on units at all price points. Every trainee with an iFit membership and a treadmill with incline can virtually experience the rise and fall of real landscapes as charted in Google Maps.
Console electronics on the best cheap treadmills provide accurate readouts about calorie burn and heart rate. Ideally they support wireless heart rate monitoring, but cheap treadmills usually only have contact pulse sensors. The best cheap machines have backlit displays so that data can easily be seen at night. Most brands use small monitors on their lowest priced treadmills. Data monitor size and technology increase and improve with price. Cheap treadmills have small LEDs or LCD monitors. LED is the more advanced option in terms of clarity and is also less expensive to maintain. Better treadmills have larger screens and possibly full-color touch screens with web browsers and/or video display capability.
Best Cheap Treadmills for Runners
Runners seeking cheap home treadmills can generally be pleased with options that are sale priced around $999. These might have MSRPs of $1,499 or more. It's important to avoid skimping on horsepower for runners' treadmills. Look for a treadmill with
3.0 CHP or more
and a motor with lifetime warranty.
The upper end of motor power for home treadmills is about 4.0 CHP. Some high-end treadmills for marathon training reach 5.0 CHP and higher. This sort of horsepower isn't provided on cheap treadmills for this year.
Very cheap treadmills sometimes have motors with just 25-year warranties. These motors tend to have cheap wiring. They aren't likely to last as long as the warranties suggest. Even when you buy a very cheap treadmill for running, you can expect to get a motor with a lifetime guarantee.
Another area to avoid skimping is track size:
Treadmills meant for runners have longer tracks than those especially for walkers do. You might be fine with a 55" long track (the standard for walking) but many runners need a 58" or 60" track to run without feeling restricted.
Track width might also be important. Cheap treadmills and luxury treadmills alike generally have 20" wide tracks. It's rare to find a cheap treadmill for running that has the extra track width available at higher price points.
Best Cheap Treadmills: The Rundown
Find Your Cheap Match!
We've reviewed hundreds of treadmills here at
TreadmillReviews.net
. Some of our favorite cheap treadmills are featured above, but there are lots more to choose from. If this is still above your price range, we do list the
best treadmills under $500
(but overall not really recommended).  Other options if you haven't yet found your match is to browse our reviews to find a cheap treadmill that carries a good warranty and fits your needs for achieving fitness goals.