Horizon Fitness treadmills are produced by Johnson Health Tech, a world leader in fitness equipment manufacturing. Johnson Health Tech is headquartered in Taiwan and its Horizon Fitness subsidiary is based right outside of Madison, Wisconsin.
Horizon Fitness is one of Johnson's retail and consumer lines. For 2015 the Horizon treadmill prices for North American customers range from $649 to $2499 with delivery usually included. The collection includes the T101, Adventure 3, Adventure 5, Elite T7 and Elite T9. Online specials are common, making the cheapest Horizon treadmill (the T101) available for just $799. Parts warranties range from one to five years.
A few years ago Horizon Fitness treadmills earned poor ratings for overall quality. For example, track sizes were small and motors were weak. The brand has made big strides since then. All new Horizon treadmills have track lengths of 55″ or 60″ and motors of at least 2.25 CHP at a constant rating instead of peak rating like most manufacturers, so their rating is rather conservative. Each has an automated incline, advanced three-zone cushioning and lots of built-in workout programs. New for 2014-2015 are several Horizon Treadmills with immersive Passport video workouts. These are shown on your home television. The videos adjust to fit your pace and workout intensity, so you can virtually exercise at beautiful destinations worldwide! Horizon treadmills with Passport also have ViaFit Connect, which uses wifi for workout data sharing.
To get an idea of the product range, you can consider two of the Horizon treadmills. The cheapest treadmill, the T101-04, is the brand's and industry's best-seller with hundreds of thousands of them in circulation. It has a 2.25 CHP motor, a maximum incline of 10%, 30 programs and a small LCD screen. The most advanced treadmill by Horizon is the Elite T9 and one of our top rated best running treadmills. It has a 2.75 CHP drive, 44 workouts and a 10″ full-color touchscreen. This model also has Passport video technology and ViaFit Connect.
Check out our Horizon Fitness Comparison Chart!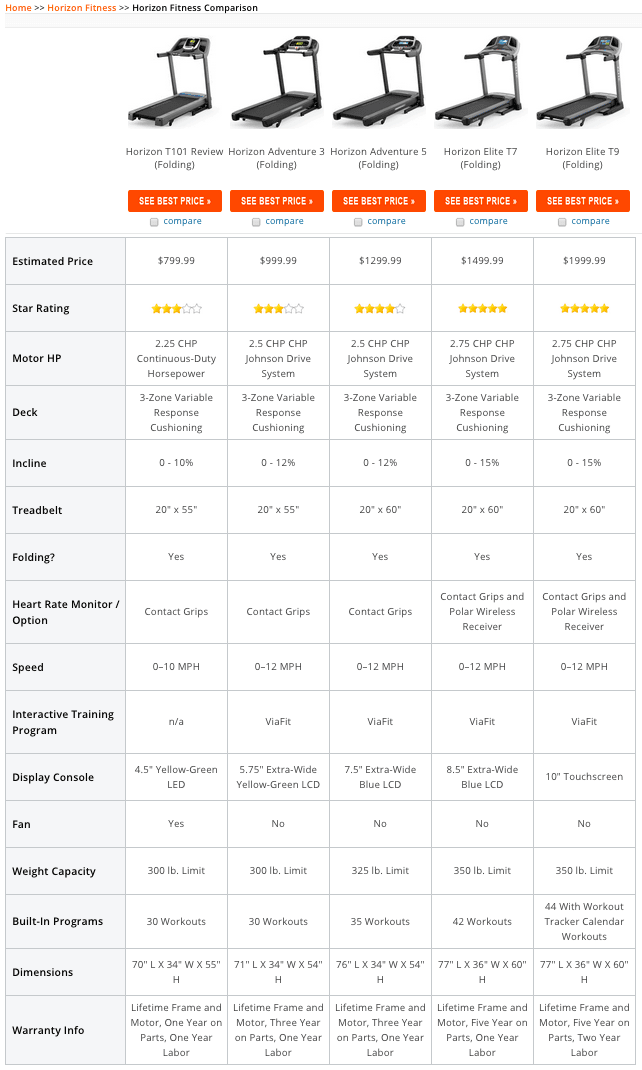 What We Like:

Price: Horizon treadmills are mostly priced for exercisers with smaller workout budgets. A good example is the Horizon Adventure 5, which has an introductory sale price of just $1299. You can get good value from an inexpensive Horizon treadmill. The Elite T7 and Elite T9 have great features.
Track size: The new Horizon treadmills have full tracks, meaning that they measure 55″ long on treadmills meant for only walking and 60" on treadmills for runners. They are 20″ wide. This is a big improvement over what Horizon used to offer; the Evolve SG (discontinued) has a ridiculously tiny 45″ x 17″ track.
Track cushioning: New Horizon treadmills have Variable Response Cushioning. It consists of three levels of firmness, with the softer section being up front where you land. The firmest section at the back is just right for push-off.
Track quality: The quality of Horizon treadmill tracks varies. The Elite T7 and T9 come with the best option: maintenance-free belts. These are injected with wax for lifelong durability. The cheaper tracks need to be lubricated by their owners to run smoothly and ensure maximum lifetime.
Incline: Climb a mountain at home! The new Horizon treadmills all have automated inclines. These range from a maximum 10% incline on the T101 to a maximum 15% on the Elite T9. The treadmills with Passport can be used with a simulated climb of the Canadian Rockies.
Consoles: Horizon consoles have extra touches such as music speakers, beverage holders and reading racks. Their screen sizes vary from a small LCD on the T101-04 to a 10" color touchscreen on the Elite T9.
Audio: Horizon treadmills have integrated speakers to play your MP3s.
Folding: All of the new Horizon Treadmills for 2014-2015 are foldable and have some of the smallest footprints on the market. They use a patented FeatherLight design that easily tilts the track upward, letting you save about two or three feet of floor space when exercise is through.
Stability: Horizon home treadmills would not be mistaken for club-quality machines, but they are pretty stable for the price. These machines have official weight capacities of up to 350 pounds, but 200 pounds might be a more accurate estimate.
Warranties: Horizon Fitness warranties are pretty good for the budget treadmills. For the most expensive units, the warranties are for the most part in line with competitors offers.
What We Don't Like:
Customer service: While Horizon's treadmill quality has improved, their customer service has a reputation for long wait times. Some customers have complained in the past that getting replacement parts can involve a long wait. Horizon has good reason, however, as they don't outsource their customer service and have a well-trained staff that has the opportunity to place their hands on the equipment while they are on the phone working with a customer. By the quality of their machines, we think they don't see a high volume of returns or equipment issues, so they don't staff a massive call center which may lead to longer than normal wait times during peak times. Given that most treadmills don't need a lot of maintenance, we don't see this being an issue.
Any drawbacks of particular Horizon Fitness treadmill models can be found in our individual reviews.
Our Verdict:
For buyers on a budget, Horizon's budget treadmill models for 2014-2015 could be good choices. The T101, Adventure 3 and Adventure 5 are packed with features. They are durable for light exercisers and have fair warranties for the price points.
If your budget allows for a higher end machine, then take a look at the award-winning Elite series T7 and T9.