The ProForm Power 995 treadmill is an all-around great value. It's earned plenty of Facebook "Likes" and is only getting better with age. Updated for 2012, this popular space-saving treadmill features a powerful motor, a well-cushioned track, 20 built-in workout apps and iFit Live compatibility. You'll also get an iPod port and high fidelity sound.
It is the best price all-around for what you get!
The ProForm 995 is the
top-of-the-line
treadmill in ProForm's Power Series. The full line includes the
690
, the
990
, and the 995.
What We Like:

Compact Design: The Power 995's SpaceSaver design has EasyLift technology. In other words, a shock assist system makes it easy to fold the treadmill vertically and gain floor space.
Motor: The 3.0 CHP motor is commercial quality. It runs smoothly for any type of workout – interval training, endurance runs or speed training. The top speed is 12 mph.
Track: This treadmill's long 60" x 20" tread belt lets just about anyone run with a full stride. Its ProShox cushioning absorbs impact at four isolator points to protect your joints and help you perform your best.
Workout Programs: Twenty workout programs are built into the console. Designed by a personal trainer, the programs efficiently target performance and calorie burning. The 995 can also be used with iFit Live, which is sold separately. This technology lets you download additional personal training workouts, compete in online races, virtually experience famous trails with Google Maps, and automatically track personal progress.
Heartrate Monitor: Heart rate sensors are built into the handlebars.
Audio: The Proform 995'siPod-compatible audio port and rich Intermix Acoustics 3.0 sound system help keep you entertained.
Warranty: This treadmill has a great warranty for the price. With the 995, customers get a lifetime frame warranty, a lifetime motor warranty, three years on parts and a year of labor.
More Review Features of the ProForm Power 995 Treadmill on video!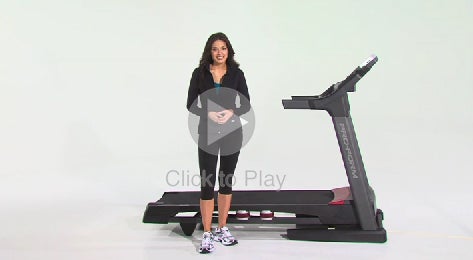 What We Don't Like:
It's not easy to find fault with the new Power 995. To save money, you could opt for the old Power 995 instead. You would get fewer workouts, less advanced cushioning and a shorter warranty – but you'd still get a great deal.
Our Verdict
Our overall treadmill review: The new Power 995 is a winner. It's made of high quality parts and includes excellent consumer protection. The twenty built-in programs are enough to get anyone into shape, and if you tire of those, you can upgrade to iFit Live and feel as if you've got a whole new treadmill. This is a great pick!
ProForm Power 995 (Folding) (Discontinued)
SKU
UPC
Model
The Treadmill itself is fine, just as a standard middle of the road one would be. The bad part, is having to deal with ProForm.My console arrived
Apr 01, 2014
by
A Concerned Buyer
The Treadmill itself is fine, just as a standard middle of the road one would be. The bad part, is having to deal with ProForm.

My console arrived with a cracked display on 03/18. I filled out a ticket with ProForm as requested. I started a ticket tracking conversation with Shari on 03/19, in which they asked for pictures of the damage. I provided the same day and she marked the ticket as 'sent console to cust' and closed the ticket. Then she came back to say that there were no consoles in stock and I would have to wait 6 weeks. I asked if there is any way they could take one out of one in the warehouse, she stated they didn't have any in stock. Odd, considering ProForm's website showed 'In Stock'. I asked her about this several times, finally she replies with 'denied as there was no good consoles in the warehouse'. I asked if they let people buy these online, then tell them they have to wait 6 weeks. She never replied to that.

It's now 04/01 and still no replacement. After 10 days of trying to get her to take action on my behalf, she said there was nothing further she could do and offered me a $25 maintenance kit for my inconvenience. Then tagged her entry with an advertisement to buy more ProForm items. Unbelievable.

That being said, I did contact my local Sports Authority and even though I didn't not buy from their store, they let me bring the console in and exchange it for one they had in stock. I understand this to be an individual store/manager option. So HUGE round of applause for SA-Omaha on 17021 Evans Plz. Steve was a life saver and I know I will be going in there more often to purchase items…. That aren't ProForm.

I won't say do not buy a ProForm item, but know that you'll be buying from a place that has worse customer survice than I've seen in third world countries. I DO NOT recommend buying on-line, since you would have to deal with ProForm on any issues. I DO recommend buying from Sports Authority, they're courteous, helpful and always looking out of the customer (especially if you're a SA League member). They do charge like $100 for delivery and assembly, but considering you could go through what I did, it's well worth it.

---
Click here to submit your review on this treadmill.
---
---
Update:
This treadmill has been discontinued. To find a suitable replacement, check out our
treadmill finder here
.