The ProForm treadmill brand is produced by ICON Health and Fitness, a Utah-based world leader in gym equipment manufacturing. Comparing one ProForm treadmill with another, you might see big differences in price, performance and durability. So what's the common thread? Whether it's a cheap treadmill for walkers or a high-end marathon trainer, any new ProForm is feature-rich compared with most alternatives in its class. (The biggest competition comes from
NordicTrack
, which is also owned by ICON and uses many of the same treadmill components.) ProForm treadmills for 2017 have
HD touchscreens with web browsers
,  iPod-compatible speakers,
iFit Coach
readiness, and other amenities to help keep you motivated to train regularly.
Below are overviews of the main ProForm treadmill series being sold in 2017. Retail prices range from $799 to $3,999, but online discounts of about 50% off are very common. First we describe the Boston Series, which is focused on marathon training for all skill levels. Next are the Pro Series and Power Series, which are priced and equipped to meet the typical shopper's needs. Last is the Performance Series of discount treadmills with shorter warranties.
ProForm also sells desk treadmills named the ProForm Thinline and the ProForm Thinline Pro. Unlike the average desk treadmill, these can support intense exercise when work time is through. They have spacious tracks, automated incline/decline, many workout apps, and the option to integrate iFit Coach.
Check out our ProForm Comparison Chart!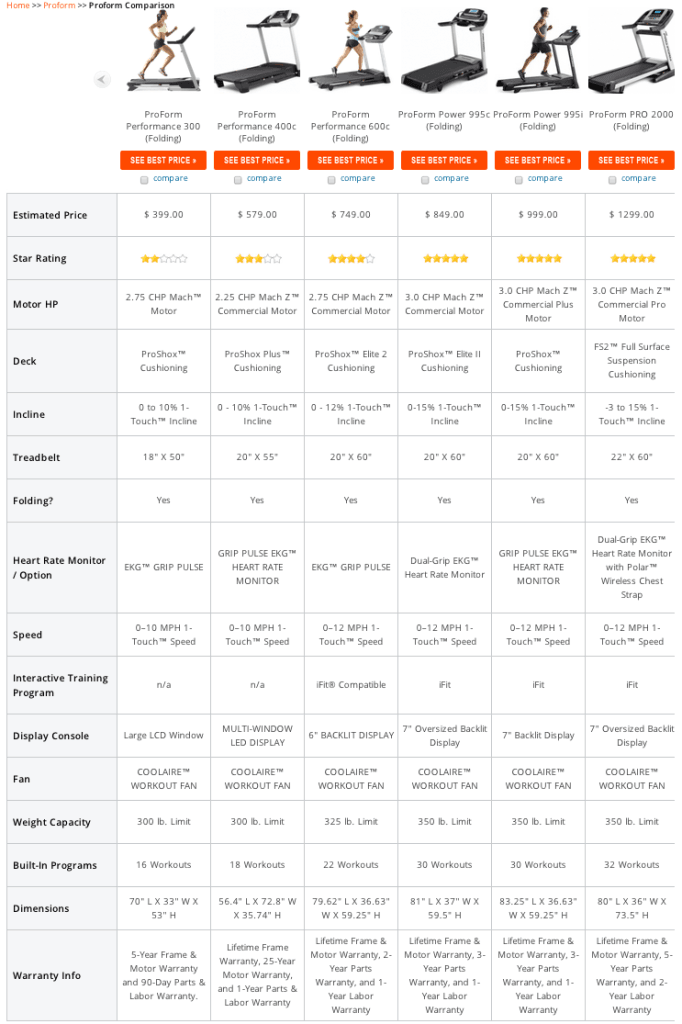 Pro Series
The ProForm Pro Series features the brand's top technologies outside of the Boston Series. The three treadmills in this lineup for 2017 are suitable for runners as well as walkers. Motor capacity ranges from 3.5 CHP on the Pro 2000 to 4.25 CHP on the 9000. Each Pro Series unit has a 60″ x 22″ track, which is especially spacious, and a power incline/decline from -3 to 15%.
The console screen choices are a 7″ LCD (Pro 2000), a 7″ HD touchscreen (Pro 5000) and a 10″ HD touchscreen (Pro 9000).
Power Series
The ProForm Power Series is a step down from the Pro Series, but we're fans of the treadmills' performance/price combos. Both Power Series machines have 20″ x 60″ tracks and 15% automated inclines. The 995i has a 3.0 CHP motor (great for walking and jogging) and the 1295i has a 3.5 CHP motor.
Besides the extra horsepower, the 1295i has the advantage of a 7″ HD touchscreen. The 995i has a simpler LED display.
Performance Series
The cheapest treadmills from ProForm Fitness are found in the Performance Series. Two models are for sale in 2017 and were last updated in late 2015. Neither has a touchscreen, but each has a tablet computer shelf so you can add iFit Coach and other apps to your workout.
The Performance 400i is an affordable option meant especially for walking. The 600i has a longer belt and a bit more power, so it's better suited for jogging as well. It even has a high speed of 12 mph although it will wear out rather quickly if you often train intensely. To boost your calorie burn these trainers have maximum 10% and 12% inclines, respectively.
These units carry 1-year and 2-year parts/electronics warranties, which are short compared with the three-year to six-year warranties accompanying all other options above.
What We Like:

Price Range: Factory-direct sale prices for ProForm treadmills in 2017 range from about $599 to $2,999 to meet a wide range of shoppers' needs. You can choose an entry-level treadmill with a simple display, or a more powerful model with HD screen and other upgrades.
Workout Programs: Many workout programs are included with every ProForm treadmill; even the low-budget 400i has 18 preset workouts. Each treadmill can be upgraded with iFit Coach (starting at $9/month) for simulated outdoor training with Google Maps, daily workout programs custom-made for you, and HD video workouts created with famous personal trainers.
Motors: ProForm provides competitive motor power at each price point. The Performance Series motors are the weakest and have shorter lifespans, but those for the other collections have lifetime warranties. The strongest motor is a highly rated 4.25 CHP drive for the the official Boston Marathon Treadmills and the Pro 9000.
Incline/Decline: An automated incline or automated incline/decline combination is included on all ProForm treadmills featured for 2017, except for one model of desk treadmill.
Cushioning: The brand's newer treadmill decks are well cushioned to deflect shock, with ProForm reporting up to 28% lower impact. Some of the treadmills have on/off cushioning to help simulate outdoor training too.
Compact Design: Most ProForm treadmills can be folded to save space. With shock-assist technology, you can easily push a treadmill deck upward for storage.
Audio: Each console has an iPod-compatible audio port and Intermix Acoustics speakers for playing MP3s. The newer models have 3″ speakers. The older models have 2″ speakers.
What We Don't Like:
Warranties: Some ProForm warranties are better than others. The highest quality ProForm treadmills have five and six years of parts protection, but the
cheapest models only have parts under warranty for a year.
Customer Service: Many customers have written that this brand's customer service is slow when treadmill repairs are needed.
Our Verdict:
ProForm's wide range of prices includes something for every budget. As the prices increase, so too do important qualities for performance and durability. At all price points though, ProForm treadmills are especially good choices for people seeking exercise equipment that helps keep them motivated with lots of workout program choices and support for digital media.
Because ProForm is so similar to NordicTrack, we recommend comparing treadmills from both brands to find the best deal.