NordicTrack was founded in 1975. Based in chilly Minnesota, the company was well-positioned to gain fame with its innovative cross-country ski machines. Today the NordicTrack brand is owned by ICON Health and Fitness, a global player in the treadmill business. ICON also manufactures HealthRider,
ProForm
and several other treadmill brands.
The NordicTrack treadmill collection for 2016 includes four series plus a treadmill desk. Their sticker prices range from $1,299 to $3,499, but some units sell for as low as $799 during NordicTrack promotions.
The most affordable NordicTrack treadmills are in the C Series, and these treadmills are best for walkers. More luxury and capacity is found with the Elite Series and the Commercial Series. A fourth series is the NordicTrack Incline Trainers, which are especially useful for weight loss. Incline trainers have 40% inclines and up to 6% declines.
The Commercial Series was designed with frequent or intense use in mind. These treadmills have strong motors and great warranties, and they've been identified as some of the best treadmills by professional reviewers. All new treadmills in this series have inclines, declines, iFit readiness, and extra-wide workout belts.
The Commercial 2950, NordicTrack's top Commercial Series treadmill for 2016, has an excellent specs lists. Some highlights are a quiet 4.25 CHP motor, a 10″ web-enabled touchscreen, and 40 built-in workout apps.
The most popular selling treadmills in the Commercial Series, The Commercial 1750 has a solid 3.8 CHP Motor, a 7″ web-enabled touchscreen and a bracket for your tablet computer.
Check out our NordicTrack Comparison Chart!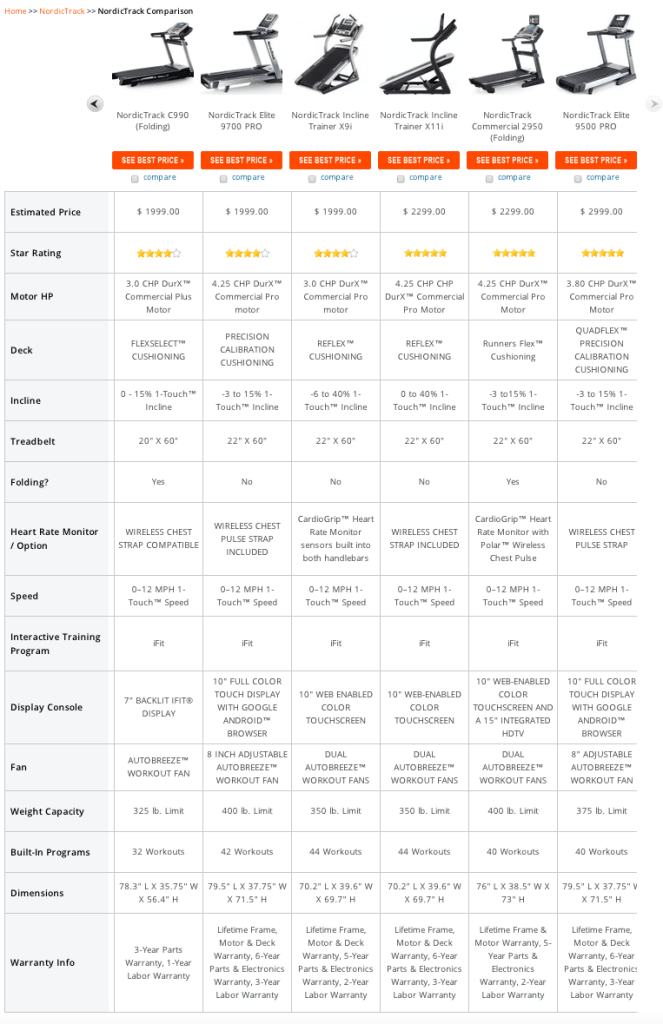 The C Series of NordicTrack treadmills is usually the most affordable. These treadmills might be the best bargains for walkers for two reasons. First, C Series treadmills have 3.0 CHP drives whereas other NordicTracks have up to 4.25 CHP for more intense training. Second, as a walker you can save money by choosing a treadmill with a 55" track instead of a 60″ track. The C Series has 55″ tracks and 60″ tracks.
The top C Series treadmill is the C 1630 PRO. It has a simple but relatively wide LED, a 60″ belt, and QuadFlex cushioning. It has a 15% incline and 3% decline.
The simplest treadmill in this collection is the C 600. It has a 55″ track, a 10% incline and no decline. This model sells for as low as $799 during NordicTrack website sales.
The Incline Series is fantastic for weight loss. Incline trainers have dramatic 40% maximum inclines and either 3% or 6% declines. These machines were designed with the knowledge that people burn calories much more quickly on an incline than when exercising at a 0% grade.
For 2016 these unique treadmills have 10″ web-enabled touch-screens and 10″ iFit displays.
What We Like:

Motors: NordicTrack treadmills tend to have more powerful motors than others in their price categories. For 2016 most have 3.0 CHP or greater commercial-grade motors.
Consoles: NordicTrack provides extras to help make exercising fun. Their treadmill consoles include luxuries such as Android browsers, flat screen televisions, audio ports and high-end speakers, and iFit compatibility. They also have smart basics such as self-adjusting fans and, on the simplest versions, extra-wide backlit displays.
Inclines: Incline training is an exercise craze for good reasons. It boosts metabolism, tones your leg muscles, helps your heart and has many other benefits. NordicTrack is leading the industry with its innovative Incline Trainers — plus they've included automated ramps on treadmills in each series. Even the NordicTrack Desk Treadmill has a 10% incline.
Tracks: Elite Series NordicTrack treadmills have adjustable cushioning, which we like best. The Commercial Series treadmills have on/off cushioning to help you simulate outdoor training. Most NordicTrack treadmill tracks are 60″ long. Extra width is now available too.
Warranties: This brand's premiere treadmill warranty includes a lifetime guarantee on the motor and frame. Customers also get up to six years of parts protection and up to three years of in-home labor.
What We Don't Like:

Overall size: Some NordicTrack treadmills have a larger-than-average footprint. The Commercial 2450, for instance, is about three feet wide and almost 7' long. However, NordicTrack also makes sturdy SpaceSaver treadmills that can be folded vertically.
Assembly: Assembling these units isn't described as "easy". It might be worth paying for assembly.
Our Verdict:
NordicTrack has established an enviable reputation in the treadmill industry. We highly recommend various treadmills from each series, from the simpler C models to the Incline Trainers to our Best Buy Pick, the Commercial 1750. They have powerful motors and almost all are backed with good warranties. The variety of price points, physical features and programming offers something for most shoppers.