NordicTrack was established in Minnesota, an often chilly place that leads residents to wonder, "Why not train inside?" NordicTrack's founder first designed indoor cross-country ski machines and expanded his brand in the 1980s to include treadmills, ellipticals and other cardio trainers. Today NordicTrack is a top international brand owned by ICON Health and Fitness, which also manufactures trainers by
ProForm
and several other brands.
The NordicTrack treadmill series for 2017 include traditional treadmills, incline trainer treadmills and treadmill desks. In each series (except for Desk Treadmills) one or more models have touchscreens with Android browsers. All choices can work with the iFit Coach app for unlimited downloads of workout programs — including scenic interactive workout programs built with Google Maps — along with customized training advice and automated logging of your fitness stats.
Full prices are up to $3,499 for the Commercial 2950 but with online discounts you can often save nearly 50%. Get details below with our 2017 NordicTrack comparison chart and descriptions of each treadmill line.
Check out our NordicTrack Comparison Chart!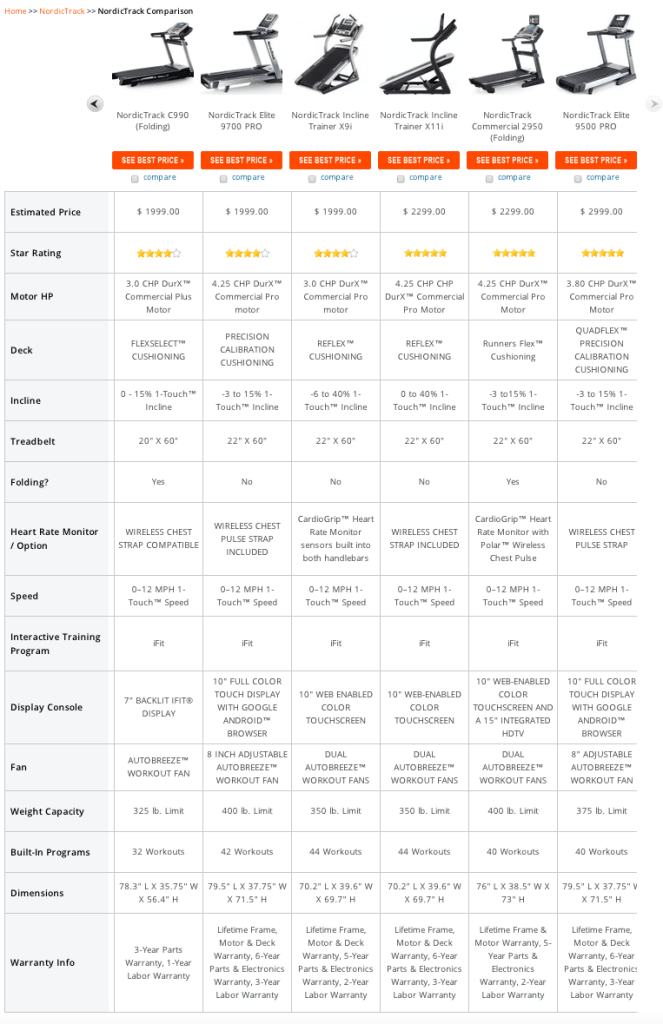 Traditional NordicTrack Treadmills
Traditional NordicTrack treadmills are in the lower-priced C Series and the premium Commercial Series. Both series include choices for runners as well as walkers, but Commercial Series treadmills feature extra-wide tracks, advanced cushioning, hardier components and quieter operation. Commercial Series treadmills also offer more incline settings to increase calorie burn, sculpt your muscles and simulate outdoor routes. Here are some main points:
All of the treadmills are foldable to help you maximize your living space.
Continuous horsepower for these machines ranges from 2.75 on the C 700 to 4.25 on the Commercial 2950. The C 700 is best reserved for walking and jogging, not running, but all the other NordicTrack treadmills on sale this year meet or exceed the industry standard for runners' treadmills.
The top C Series treadmill has a power incline range from zero to 12 percent. All Commercial Series treadmills for 2017 have power ramp settings from -3 to 15 degrees.
With the exception of the cheapest C Series treadmill (the C 700), all of these units are compatible with wireless heart rate transmitters.
All traditional NordicTrack treadmills are loaded with plenty of workout apps. As mentioned above, each can work with iFit for unlimited workout program downloads too.
As for display technology, the C 700 has a small display window but can use your own tablet computer as an iFit monitor. The top C Series treadmill (the C 1650) has a 10″ touchscreen with web browser. All Commercial Series treadmills have web-enabled touchscreens as well, either 7″ or 10″, and for 2017 all are high definition.
The top-of-the-line Commercial 2950 is the only NordicTrack treadmill with adjustable console height.
In each series the treadmills are covered by up to five-year warranties on parts and electronics plus two years of labor.
Incline Trainer Treadmills
When you train on an incline, your rate of calorie burn is high even if you move at low speed. This fact helps make NordicTrack Incline Trainers especially useful for weight loss. You can use them like ordinary treadmills for walking and jogging, but Incline Trainer treadmills also give you the option to train with a maximum 40% incline. Their decks can decline by up to 3 or 6 percent, depending on the model. Some other key points:
Continuous horsepower ratings for these units range from 2.75 to 3.0.
Just like the traditional NordicTrack treadmills, all three Incline Trainers for 2017 have preloaded workouts and can also be used with iFit Coach. They're especially fun to use with interactive iFit Google Maps workouts, which adjust to mapped topography and can include high-def Google Street Views of your route.
The entry-level model (the X7i) has a standard 7″ screen to show workouts but can use your own mobile device to show iFit. The X9i, the X11i and the all new X22i have integrated HD touchscreens that are enabled for iFit.
Each 2017 Incline Trainer is packaged with a chest strap for wireless heart rate monitoring.
These machines carry NordicTrack's most generous warranties with up to six years of parts/electronics protection and up to three years of labor.
Desk Treadmills
The NordicTrack Desk Treadmill Series combines large sturdy work surfaces with belts that are cushioned and can run for hours at a time. Each machine has a small stats monitor built into the desktop, plus these units can connect with iFit via your tablet computer so you can maximize your exercise experience with automatic stats tracking, a new personal training workout everyday, workouts built with Google Maps, and much more. (An iFit membership is required.) Each desktop has a USB charging port too.
Options are the Treadmill Desk and the Treadmill Desk Platinum. The Platinum model has a longer track and a higher top speed (8 mph instead of 6), so it can be used for jogging when your office work is through, and only the Platinum model has an incline. Compared with the standard Treadmill Desk it carries a longer parts/electronics warranty (two years instead of one).
NordicTrack Desk Treadmills are foldable to help you save floor space. Their desktops remain accessible when the machines are folded.
What We Like:

Motors: NordicTrack treadmills tend to have more powerful motors than others in their price categories. Most of the models updated for 2017 have commercial-grade motors with at least 3.0 continuous horsepower (CHP). The entry-level model in the Commercial Series, for example, has 3.6 CHP.
Consoles: NordicTrack provides extras to help keep you motivated to exercise. Their treadmill consoles include luxuries such as Android browsers, high definition touchscreens up to 10 inches wide, iPod-compatible sound systems and iFit readiness. The consoles also have self-adjusting fans and water bottle holders.
Inclines: Incline training is an exercise craze for good reasons. It boosts metabolism, tones your leg muscles, helps your heart and has many other benefits. NordicTrack is leading the industry with its innovative Incline Trainers, plus they've included automated ramps on treadmills in each series. Even the NordicTrack Platinum Desk Treadmill has a 10% incline.
Tracks: Commercial Series NordicTrack treadmills have extra-wide tracks (22″ wide x 60″ long). These and C Series treadmills have off/on cushioning to let you simulate outdoor training or exercise with superior joint protection. The Commercial Series tracks are made from especially high quality material to promote quiet operation and minimize maintenance needs.
Warranties: This brand's premiere treadmill warranty includes a lifetime guarantee on the motor and frame. Customers also get up to six years of parts protection and up to three years of labor.
What We Don't Like:

Assembly: Customers generally don't describe the assembly process as easy. Paying extra for professional set-up could be worth the extra cost.
Our Verdict:
NordicTrack has established an enviable reputation in the treadmill industry. We highly recommend treadmills from each series, from the desks and simpler C Series models to the Incline Trainers and our Best Treadmill Pick, the Commercial 1750. The wide variety of price points, physical features and programming from NordicTrack means that most shoppers can find a great match.