BladeZ T300i Review
The BladeZ T300i Treadmill is especially designed for walking in a home gym. It has a high quality
3.0 HP motor
and a
55″ x 20″ track
. One neat feature is the Muscle Engagement Display. This works with the automated incline to show you which body parts are getting extra toned! Sixteen workouts and a body fat calculator are pre-loaded.
This treadmill sells for about $1200 during promotions. That's a good value; it includes free indoor delivery, literally endless programming, and a three-year warranty on all parts.
The warranty on this treadmill is a good fit for the sale price. Customers get lifetime warranties for the frame and motor. Parts and wear items are protected for three years. Labor is provided for the first year.
What We Like:

Console: i.Concept is the Internet technology used on BladeZ and BH fitness treadmills. It helps keep your treadmill "always new" with free downloads. These downloads include standard workout programs and motivational exercise games such as races. They can be accessed by using the T300i's Bluetooth with your iPad, iPhone or Android device. Included from the start though are 16 programs, including seven that have 10 challenge levels each. You can save four programs that you design. There's also a body fat calculator and a Muscle Engagement Display.
Incline with Muscle Engagement Display: This unit is a nice example of a folding treadmill with incline. Unlike some others, it isn't too cheap! The incline is automated and has 15 levels. The maximum incline is a steep 12%. When you walk on an incline, you can benefit in several ways. First, incline training dramatically boosts metabolism. You can burn lots more calories when you walk at a 5% grade than at 0%. Second, incline training targets different muscle groups. Your stride naturally changes when you walk uphill, and this automatically recruits different muscles for better toning. A computer program on the T300i helps visualize this process. Third, exercising even on a slight incline will shift your posture to relieve stress on your knees and ankles. People training for outdoor races often use a 1% grade to help mimic the effect of wind that they'll face on race days.
Speed: Speedwalk! The T300i has a top speed of 10 mph. It can absolutely support jogging and running, but the shorter track makes this a walker's treadmill.
Motor: A 3.0 HP track motor provides more than enough power for most walkers and runners too. It is quiet, skip-free, and sold with a lifetime guarantee.
Orthopedic Cushioning: The BladeZ Active-Flex cushioning is designed for excellent shock absorption. At the front of the track, extra cushioning provides an impact-absorbing landing zone. At the back of the track, a firmer push-off area helps improve efficiency and endurance.
Music Port: Exercise is better with music. The BladeZ T300i Treadmill has speakers and a USB power port to use with your MP3 player.
Folding: Folding is easy with the Safe Drop system. It moves the treadmill track into a vertical position, freeing up nearly two feet of floor space. The folded dimensions of this treadmill are about 56″ x 35″. Unfolded, its footprint is about 72″ x 35″.
Heart Rate Monitoring: The T300i has contact grips to measure heart rate. It is also compatible with Polar® wireless telemetry. The chest strap is sold separately, but this high-end wireless system can send an accurate heart rate reading to the console throughout your exercise sessions. This can help you stay in your optimal training zone and get fit more quickly! The wireless monitoring is especially useful when used with the treadmill's Heart Rate Control (HRC) programs. HRC programs adjust in response to your heart rate data, yielding highly personalized workouts.
Extras: The T300i Treadmill includes a workout fan, a drink holder and an electronics accessory rack. Devices can be charged with the USB port.
Capacity: This fitness machine has a maximum capacity of 350 pounds.
Safety Key: A removable safety key is included. This is essentially a circuit breaker. It can help protect you in case you fall during exercise.
Warranty: This BladeZ treadmill is sold with a good warranty given the sale price. You'll get lifetime warranties for the frame and motor, three years of free replacement for parts and wear items, and a year of labor.
What We Don't Like:
Track Longevity: The treadmill track runs over 2.4″ rollers. Many other treadmills use larger rollers to promote longevity. This is more of a long-term concern, and it applies to people who will use the machine very frequently.
Our Verdict:
The BladeZ T300i Treadmill is a nice option for walkers seeking a folding treadmill. It has a low sale price but some high-quality parts and a pretty good warranty.
You'll get literally endless workout variety if you have Bluetooth. Other highlights are an incline, advanced cushioning, and an MP3 player port with speakers.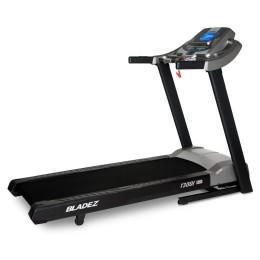 You can find the BladeZ Treadmills at Amazon
Other Bladez Treadmill Reviews: