BH Fitness Treadmill Review
BH Fitness is part of a well-established multinational company, BH Group. Headquartered in northern Spain for more than a century, BH Group is named for Beistegui Hermanos (Spanish for Beistegui Brothers). The brothers have been producing steel products for decades and eventually turned their focus to the fitness industry. Their BH Fitness division was established in the 1960s during the stationary bike craze.
BH now manufactures and distributes a full range of fitness equipment for homes and commercial settings in 65 countries worldwide. In addition to treadmills, they make products such as elliptical trainers, exercise bikes, and strength training equipment. The company has recruited top athletes to endorse its products and also provided the fitness equipment for the The Biggest Loser weight loss reality program in the UK.
BH Fitness treadmills and other products are manufactured in facilities worldwide (primarily in Spain, Portugal and Mexico).Quality control is well-managed, so both commercial and residential customers tend to be very pleased with BH products.
BH Treadmill Lines
BH Fitness manufactures light commercial, commercial, and residential treadmills. These machines fall into five series. In general order of expense, these are the SK Series, LK Series, Select Series, Signature Series and S1 Series.
There is a sixth category of BH Fitness machines forming in their treadmills that have i.Concept. i.Concept lets you integrate an iPad, iPhone, or Android device with the treadmill. These devices are used to expand your collection of treadmill workout apps.
Summaries of each BH treadmill series:
SK Series: This is the premium BH Fitness series, comprised of two commercial treadmills: the SK8900 and the SK8900TV. The latter unit has a television with 19″ touchscreen. The SK Series features 5.0 HP motors and spacious 63″ x 22″ running surfaces.
LK Series – Go green with the LK Series, designed for light commercial facilities. These treadmills require no external power source, but you can still count on their 4 HP motors to deliver smooth workouts. Like the treadmills in the SK Series, these light commercial treadmills have roomy 63″ x 22″ running surfaces.  The treadmills in this series include the LK500Ti, the LK700Ti, the LKT6 and the LKT8.
Select Series – The two treadmills in this light commercial collection are the T6 Sport and T8 Sport. Both are described by BH as "workhorses". They have 3.5 HP motors and 22″ x 60″ running surfaces.
Signature Series – Until recently, this was the most affordable of the BH Fitness treadmill collections. It includes the TS500i (an excellent non-folding treadmill) and two folding treadmills (the TS400i and the TS200i). These treadmills vary in terms of horsepower, track size, and other features. All offer orthopedic cushioning and i.Concept.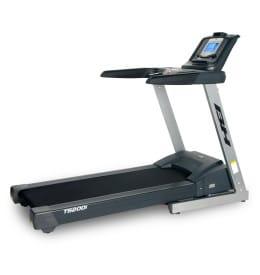 S1 Series – There is one treadmill in this group along with a rower, an elliptical, and other affordable equipment. The S1 Ti treadmill has 3.0 HP, 16 built-in programs, and i.Concept.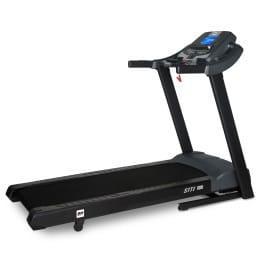 What We Like:

Motors: BH Fitness treadmills offer the right amount of power for anyone's workout needs, with horsepower ranging from 2.5 to 5.0.
Tracks: BH Fitness offers some of the industry's largest workout surfaces. Those in the SK and LK Series measure 63″ x 22″. Every track 0ffers orthopedic cushioning.
Consoles: A hallmark of new BH Fitness treadmills is the i.Concept console. This user-friendly technology makes it easy to access exercise programs and entertainment. Bluetooth compatibility also allows Apple and Android devices to deliver new exercise apps and let you surf the Internet during workouts.
Inclines: An automated incline is included on each unit with a maximum tilt of either 12% or 15%.
Folding: For residential customers with limited space, BH makes treadmills that fold vertically with the Safe Drop System. These are stable and available with long tracks.
Extras: Whether you choose a residential, light commercial, or commercial treadmill, these machines look like a health club product. BH Fitness treadmills include accessory racks, water bottle holders, and personal cooling fans. At the top of the line, there's even a television built in.
Safety Key: All BH units include a safety key to prevent pets and children from activating the treadmill.
Warranties: BH warranties typically are quite generous, which is a important sign of confidence in their products. All the treadmill frames and motors have lifetime warranties. Parts are protected for three to 10 years, depending on the model. Labor is provided for one or two years.
What We Don't Like:
All BH treadmills get above-average reviews, but we are the least excited about the S1 Ti. It is light weight (170 pounds) compared with other BH Fitness treadmills, which makes us a bit suspicious.
Our Verdict:
BH Fitness is a reputable brand. Their products are well-made, well-supported, and appropriately priced. The options range from inexpensive residential models to luxury health club machines with TVs. Obviously the lower end machines have the drawbacks that you have to expect from an entry level product (less durable and versatile, etc). However, BH Fitness should be commended for offering quality machines at every price point. We highly recommend almost any BH Fitness treadmill. This brand offers a great place to start for anyone building a home or commercial gym.