Best Fitness Equipment for the Hospitality Industry
Gym Planning Tips for Hotels, Resorts, Spas and Casinos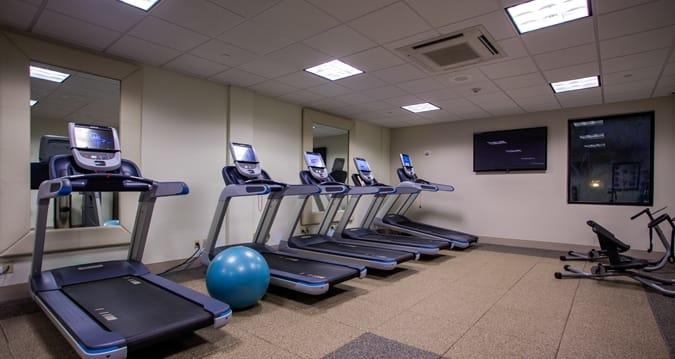 Hotels and resorts attract guests with help from on-site fitness centers. They earn loyalty and great reviews by ensuring that these fitness centers are clean, attractive and useful. Here are some tips to help you choose the best fitness equipment for your property in the hospitality industry.
Design a Gym Your Guests Will Love
Keeping in shape wherever they might be is a top priority for many travelers. Commonly they restrict their hotel searches to properties with fitness centers. The best fitness equipment for hotel workout rooms is space-conscious, durable, low-maintenance and suited to all ability levels. Below are details to keep in mind when choosing cardio trainers and strength equipment for your property. We invite you to contact us for personalized fitness room planning help too.
Light Commercial and Full Commercial Fitness Equipment
Property managers can choose from light commercial and full commercial models of fitness equipment such as treadmills, exercise bikes and multi-gyms. Warranty coverage is longer for light commercial use but the machines might only be intended to run for half the amount of time per day. For example, here are standards from the commercial treadmill industry:

Light commercial treadmills are covered for three hours of use per day.
Full commercial treadmills (or simply "commercial treadmills") are covered for six hours of use per day, if not longer.
Light commercial equipment is adequate for many customers in the hospitality industry, but it's a good idea to get advice if you're unsure.
Full commercial cardio trainers are especially low maintenance. This can make them better investments in the long run despite higher expense up-front.
Guest Demographics
The hospitality industry obviously caters to guests with the full range of ages, ability levels and exercise preferences. Therefore when space is especially limited hospitality managers focus on selecting equipment that accommodates a wide range of guests' skill levels. For example:

A hotel with room for just one treadmill should feature one that accommodates runners as well as walkers. Choose a treadmill with a long track (60 or 62 inches) and a top speed of at least 12 mph rather than 10.
If you offer an elliptical machine, then it should have resistance choices suitable for beginners as well as top athletes.
Hotels striving to be
ADA-friendly
can choose specially designed "total access" fitness equipment. Simple decisions can also help ensure that fitness equipment is accessible to more guests. For example:
A multi-gym can have a foldaway bench for easy access by someone in a wheelchair.
Keeping 30-inch wide aisles helps ensure that a wheelchair can pass.
Equipment vendors can help you design a fitness room layout that is ADA-friendly.
Depending on your target market, choosing luxury cardio trainers with the latest technologies for workouts and entertainment could be a good investment. In other cases choosing solid but simpler club-quality machines makes more sense.
Luxury Fitness Equipment for Spas, Resorts and Hotels
Guests at high-end properties expect fitness rooms to feature the top models of cardio trainers and strength equipment. While luxury fitness machines are excellent in terms of performance, visually they're distinguished mainly by their consoles. Top treadmills, ellipticals and exercise bikes for the hospitality industry offer these and other highlights:

Touch screens for displaying workouts
High definition TV screens
On-board Internet
Tablet computer holders
iPod/iPod compatibility
Bluetooth for sending workout data to wireless apps
Several brands of cardio trainers for luxury shoppers can be customized with different consoles. One brand, Cybex International, will customize frames with any color. Their consoles can also be loaded with customized media.
Get Customized Advice Planning Your Gym
Keep your occupancy rates high with a fitness center that earns rave reviews. Contact us for help considering light commercial versus commercial equipment wear and tear, your guests' fitness needs and other important elements of planning the right gym for your hotel, resort or spa.