Best Fitness Equipment for University Gyms
Helping Academic Communities Maintain Healthy Bodies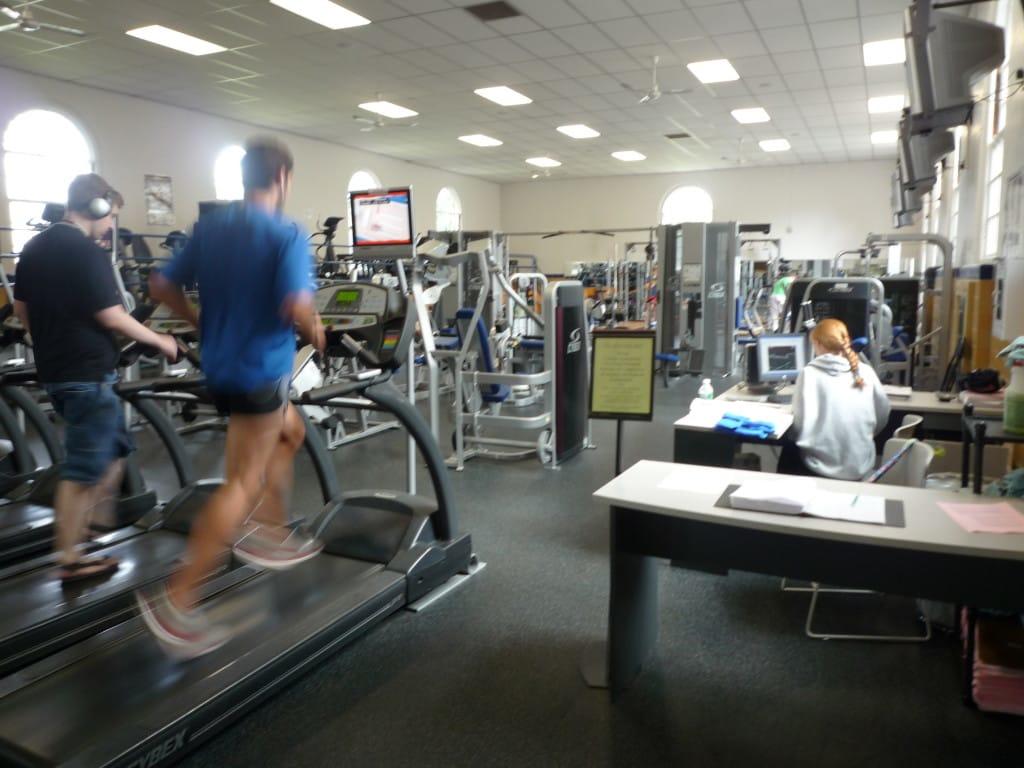 State-of-the-art recreation centers help schools recruit and retain high quality students, faculty and staff. At the best campus gym facilities, fitness equipment collections appeal to all skill levels and are ADA compliant. Read on for tips choosing the right commercial fitness equipment for your diverse campus population.
Maximize Your College Fitness Equipment Budget
When you're planning a campus workout center, your general task is to optimize your budget while choosing equipment that 1) appeals to trainees and 2) meets ADA requirements. The information below can set you on the right path. Feel free to contact us for personalized assistance too. Get help with product selection, floorplan setup and other issues that arise when shopping for school fitness equipment.
Fitness Equipment and School Campus Demographics
Campus fitness centers ideally appeal not only to student athletes but to all school community members. After all, for many modern students and instructors the stress of academic life is more intense than ever. Rec centers have become a highlight of campus tours as prospective students and employees envision creating a healthy life balance. Here are three signs of great fitness equipment for college, high school and university fitness centers.
Durability is obviously essential. Equipment in university fitness centers and similar settings encounters heavy regular use…  And let's be honest: In school settings it faces irregular use too! The best cardio trainers for school gyms can withstand students' shenanigans as well as serious "heavy use" in terms of hours per day, user weight and the intensity of top athletes' exercise.
High performance is also a top priority for university gyms and other campus fitness centers. To meet the needs of student athletes and other top performers, some equipment should have above-average performance capacity. In the case of treadmills this means extra speed; the mass market norm of 12 mph won't do, but top treadmills for runners and other athletes have high speeds of 14 mph and above. Another example of high performance is especially powerful resistance on a strength trainer.
Of course appearance and modern electronics matter too. While being rugged the best commercial gym equipment also looks sleek and has modern technology to entice today's campus communities. For example:

Top commercial cardio trainers have eye-catching color screens for advanced workout programming and entertainment. Some can even be customized with school media and are painted in school colors.
Standard even on entry level commercial models are helpful training programs, convenient touch screens, on-screen iPod and iPhone controls, tablet computer holders, mobile device charging ports, and Bluetooth connectivity for tracking stats.
Another important consideration, ADA compliance, is reviewed below.
Ensure ADA Compliance
Meeting the accessibility requirements of the Americans with Disabilities Act (ADA) will likely shape your choice of fitness equipment and the layout of your campus rec facility. Some key points:
About the Act
In 1991 the Americans with Disabilities Act first set standards relevant to fitness center construction, alterations, barrier removal and programming. These standards were revised in 2010 and the new requirements for accessible design have been in effect since 2012.
Institutions that fail to meet ADA standards risk losing federal funds. Fortunately you don't need to reinvent the wheel or navigate the law alone; lots of free guidance is available.
Types of Equipment
College and university fitness centers typically feature many types of exercise equipment. For ADA compliance some examples of "types" are a treadmill, an elliptical trainer, free weights and a biceps curl station. For each type of equipment in your gym, at least one item must be ADA compliant. In other words, if you have nine treadmills, then by law at least one must be ADA compliant. If you have only one biceps curl station, then it needs to comply.
Fitness Room Layout
The ADA has set forth floor space requirements to ensure fitness equipment accessibility for trainees using wheelchairs. An accessible route is at least 30″ wide and 48″ long to let a person in a wheelchair position themselves for transfer to the equipment.
With careful planning you can maximize space while leaving ample room in aisles and around machinery. To help you out, most commercial fitness equipment manufacturers provide interactive room-planning tools on their websites. TreadmillReviews can also refer you to experts about ADA compliance for commercial gyms.
Get Tailored Advice
Planning a campus gym is an exciting opportunity. With careful planning you can make the most of your budget with durable, low-maintenance equipment that keeps your community engaged. Feel free to contact us for help designing an inspiring recreation center that keeps your school strong.