A Guide to iFit for Treadmills
It's time to upgrade your treadmill experience for the 21st century. iFit lets you bypass the boring routines of fitness and this guide will help you understand why. Read on to learn about iFit workout creation, stats tracking, and the iFit online community. In using iFit with my treadmill, I've been able to cut from 212 pounds to 173 between January and May of 2022 in preparation for a bodybuilding contest. Irrespective of your fitness goals, there's no doubt iFit and treadmills are born partners. 
And now, NordicTrack is sweetening the pot even more, by offering a free machine with the purchase of a four-year iFit Family Membership plan. In addition to the NordicTrack C1100i treadmill, the S15i bike, the Spacesaver SE7i, and the RW700 rower can all be had for the purchase of the iFit package alone at $39 per month.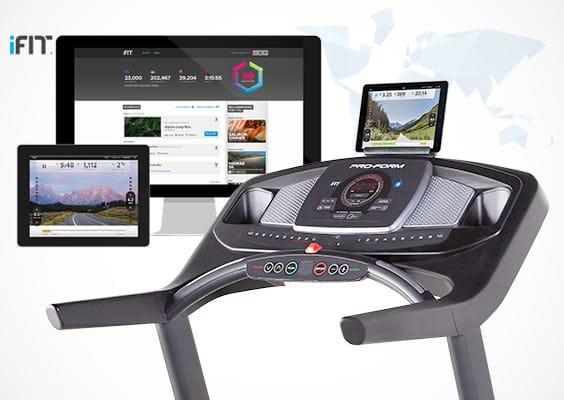 Note: iFit's latest offering, ActivePulse technology, marries a Bluetooth heart rate monitor for the arm with automatic trainer control. This allows the machine to override programs and adjust resistance to maintain a specific target. Very cool indeed!
Table of Contents
Read the iFit guide straight through or skip around:
Part 1: iFit Workout Programs and Challenges
Google Maps workouts

Video workouts

Time and distance workouts

Challenges
Part 2: Stats Tracking
Your Fit Score

Log workouts

Log nutrition

Log weight and sleep
Part 3: Building Community
Add your biography

Add other users to your iFit account
Besides reading our iFit guide, curious readers might want to try a 30-day free iFit membership. Even without access to an iFit-friendly fitness machine, you can use a trial membership to explore the app on your computer, mobile device, or television. You can create workouts, use message boards, and log health activity such as calories-consumed, distance walked, and bike rides taken.
Your free iFit trial can be for standard or Premium membership. A standard membership includes unlimited Google Maps workouts, activity tracking, virtual coaching and more.
Introduction
iFit is an all-in-one fitness app. Its vibrant Google Street View workouts stand out in treadmill ads, but the app also provides workout programs in traditional formats and is an easy-to-use health tracker. A true virtual coach, iFit uses data about your sleep time, diet, and exercise to make fitness suggestions.
Key attributes of the iFit app:
The app syncs with iFit treadmills and other iFit cardio machines to log workout data automatically.

iFit logs fitness activity that takes place away from your cardio machine (at home, outdoors or with other gym equipment).

You can access iFit coaching many ways. iFit apps work with fitness machines, Bluetooth mobile devices, desktop computers, and TVs.
Which fitness machines work with iFit? Four fitness equipment brands build iFit-friendly machines: ProForm, NordicTrack, FreeMotion, and Reebok (These brands share the same parent company: Icon Health and Fitness). iFit Coach works with many of their treadmills, elliptical trainers, and exercise bikes.
Part 1: iFit Workout Programs and Challenges
With iFit there's always a path less traveled. Whenever you train, you can choose from a near infinite variety of workouts. These include programs that you create yourself and programs posted by others (iFit staff and members).
The main categories of iFit workouts are Google Maps workouts, video workouts, and time/distance workouts. User-designed workouts can also be turned into competitions or challenges.
Google Maps Workouts with Google Street View
Hike the Himalayas, run the Boston Marathon, or enjoy the Pacific coastline without leaving your treadmill with iFit Google Maps workouts. With an iFit-enabled incline/decline treadmill, you can virtually experience the rise and fall of any mappable Google route. With any iFit treadmill, it's easy to choose routes via Street View for a sense of escape.
Two basics of Google Maps workouts:
Incline:

iFit treadmills with incline can automatically adjust to mimic topography. Entry-level treadmills tilt up to 10 percent. Top-of-the-line treadmills with iFit have generous incline ranges of -6 to 20 percent.

Video:

Enjoy the view! As you walk or run, an interactive Google Street View will appear on your screen. Roads with Street View available are highlighted during iFit workout setup.
Some treadmills with iFit, such as the Boston Marathon 3.0 Treadmill, have race routes preloaded into their consoles. On most iFit-enabled treadmills, you'll download a program before workout time. (This is one way iFit saves time.) When downloading you can draw your own route or choose from premium content.
Draw a Google Maps Route
Train virtually with real-life views of scenic coastlines, busy cities, national parks and more! Choose "Create" and then "Map Based Workout" to get started…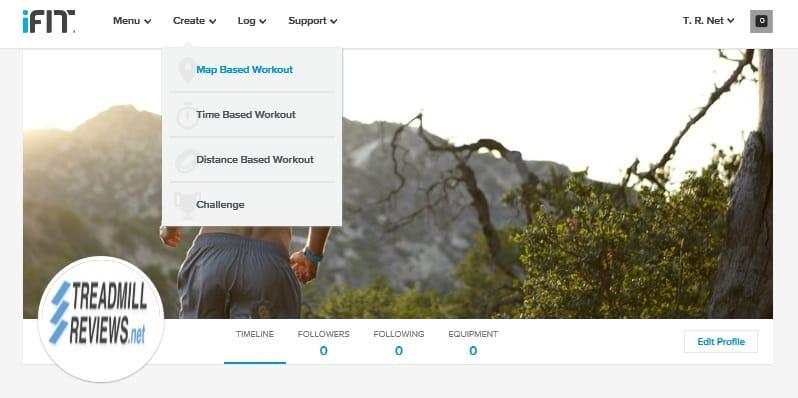 Set up an interactive training route by using the "Search Location" box to zoom in on a region. Then click on map points. In the screenshot below, we've created a run through scenic Barcelona. We can choose "Close Loop" to let iFit finish drawing a route.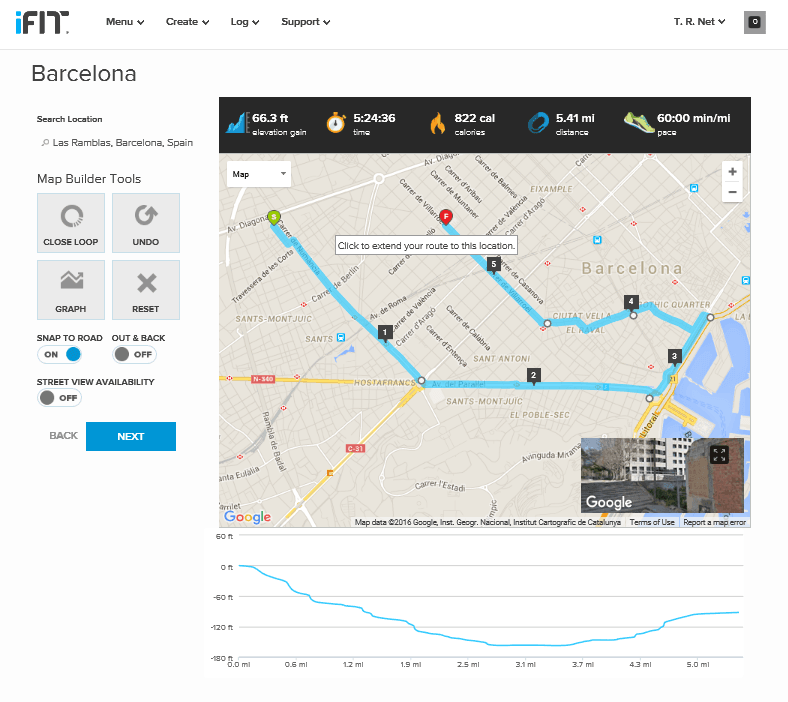 As you draw, helpful data is displayed such as the route's total distance, elevation changes, and a calorie burn estimate. Note that your weight must be logged for the calorie function to work best.
Choose an iFit Workout
Setting up Google Map workouts is fun, but you can save time by choosing an iFit workout. Access to these workouts costs a bit more per month than the usual iFit membership. To find them, choose "Library" from the main menu. Some program titles are "Backpack Europe," "Famous 5Ks" and "Calorie Burn 4 Week Training Program."
Here's a sample view of the ever-growing selection: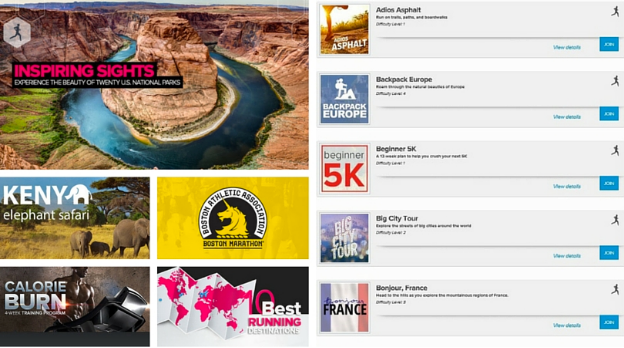 You can filter iFit workouts by difficulty levels 1 – 5.
iFit Video Workouts
iFit members can use an ever-growing library of workout videos for training away from the treadmill. These HD videos feature celebrity personal trainers such as Elisabeth Hasselbeck and Jillian Michaels. Some examples of iFit video series are "Kickboxing" and "Fit Mommies." Here are some program graphics:
Each iFit video series has many workouts to help make exercise a regular activity.
Customized Time and Distance Workouts
iFit also lets you easily build workouts with specific speeds, inclines, and distances. iFit provides a template and then you move the speed and incline lines to change settings.
In the image below, the pink line shows speed being set for different segments of a workout. The default is one mph.
To adjust incline, click the square "Incline" button. A yellow line for incline will appear. You can overlap speed and incline settings to see a program's overall demand: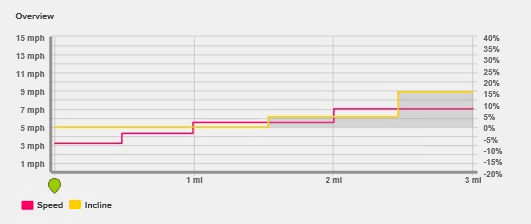 In addition to pushing yourself, you can also challenge other iFit members to beat your workout time. Read on for an overview of iFit challenges.
Challenges
Bring out your competitive side with iFit challenges! Challenges are workouts designed and shared by iFit members to help push each other toward goals. Create your own competition or accept another's challenge.
How to Create a Challenge
Creating a challenge is much like creating a personal workout based on a map, time or distance. You can post a previously created workout as a challenge or design something new. Either way, here are the steps.
Choose "Create" from your toolbar. Then select "Challenge":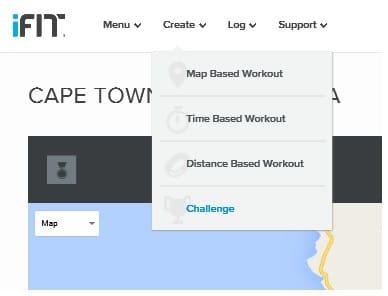 iFit will prompt you to set up the activity. In this screenshot we're choosing dates for the competition: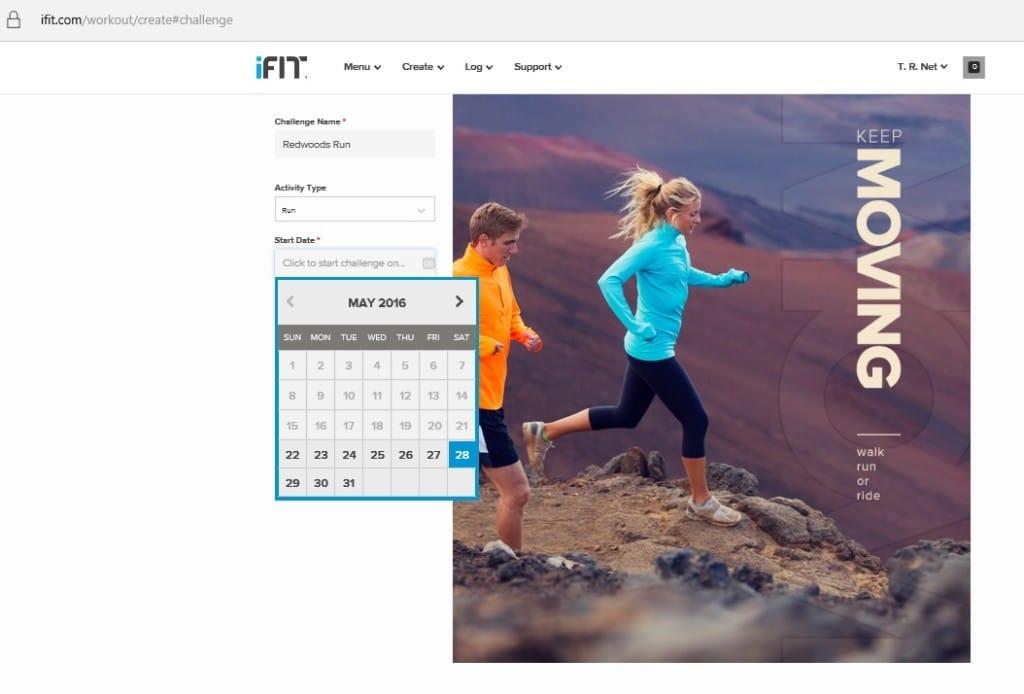 We draw a map-based challenge, and here is our finished route through a redwood forest: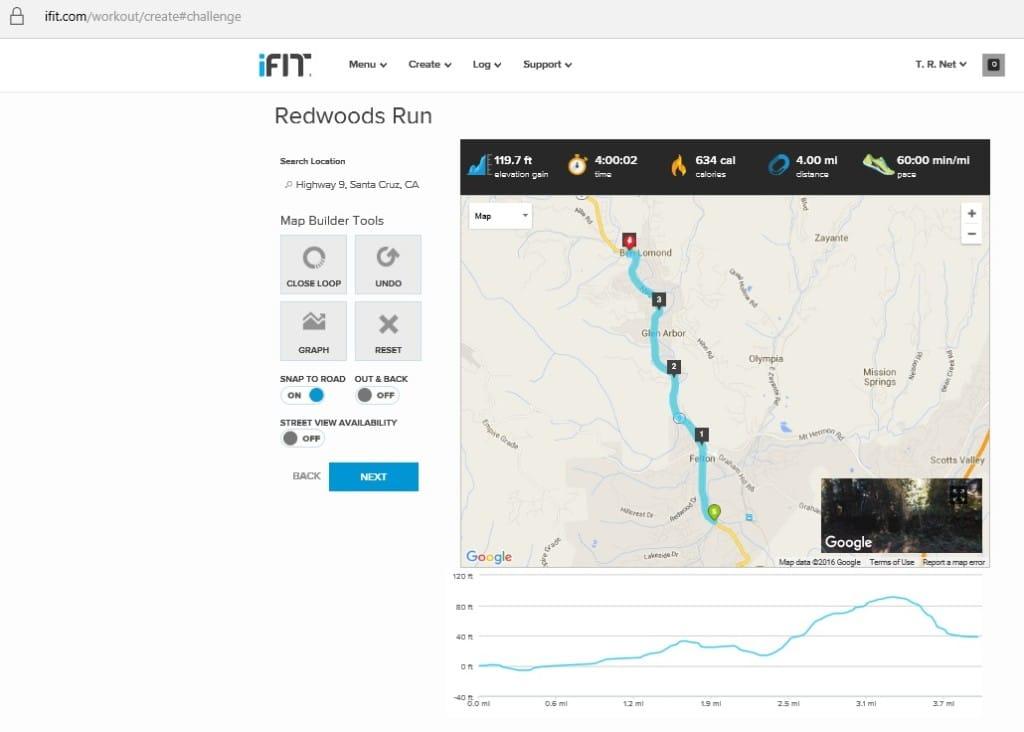 Next, during setup iFit asks for your invitation list. Then it shows a summary of the challenge. Your final step is launching the challenge by pressing the blue "Create" button.
How to Join a Challenge
You can join challenges that were posted by iFit staff or your friends and followers. Find challenges through the main menu "Challenge" button.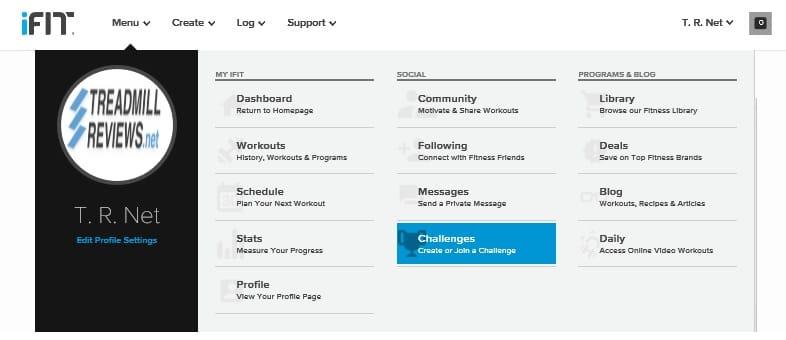 Check the tabs to see challenges categorized as Public, Created (by you) and Invited (by friends/followers). Accept a challenge and you can schedule it on your iFit workout calendar.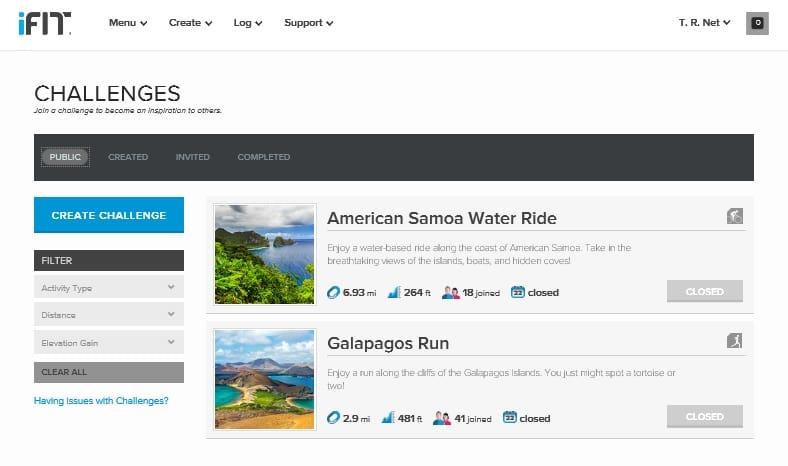 After a competition you can see your overall ranking on the "Completed" tab. You can click the badge icon to see your ranking based on age, gender, treadmill type and other data.
Part 2: Stats Tracking
Keeping track of treadmill exercise and other health activities is easier with an app like iFit. The more you pay attention to your health stats, the more likely you are to make smart health decisions. iFit can help track your calories, track your activity, chart your sleep and chart your weight. See how everything fits together!
To access the tracking section of iFit, click "Stats":
First you'll see your Fit Score. This number is from 0 to 100. It reflects your fitness activity (exercise and nutrition) in relation to your goals over the past seven days. You'll start at zero…
… and get motivated as your Fit Score climbs!

Track your stats by clicking "Log." You can add information about workouts, weight, nutrition, and sleep:
Logging Workouts
The exercise logging features are easy to use. Simply fill in the blanks! iFit will calculate the distance and elevation for your outdoor running or cycling routes (plus the app will automatically calculate your calorie burn). Your recently logged workouts are displayed beneath your Fit Score as follows:
You can repeat workouts on your history list anytime.
Logging Nutrition
The iFit nutrition log can simplify calorie tracking with its database of thousands of foods and beverages. Easily find a nutritional description of your intake, then click to add the info to your log.
Here's a search for an afternoon snack of almonds: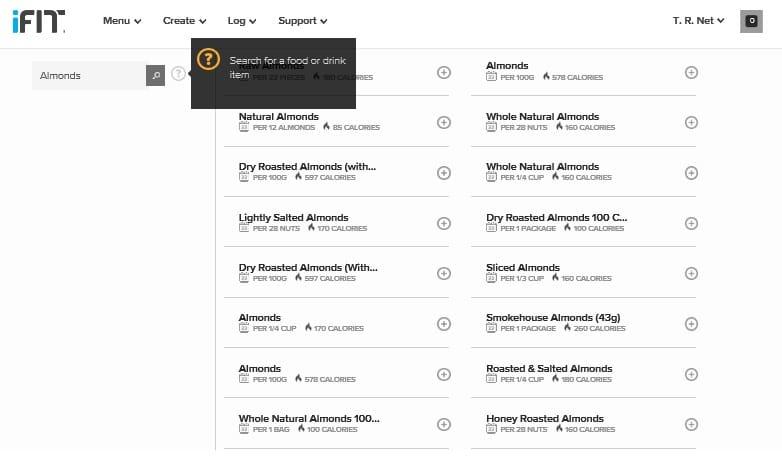 iFit lets you review items before adding them to your journal. Here we have approved the almonds and a cup of raspberries:
Logging Weight & Sleep
Tracking your weight and sleep is easy with iFit. By logging these items you'll help build a helpful overview of your health. See how sleep, diet, and exercise work together as you pursue your fitness goals. You can see charts of your data by choosing "Menu" and then "Stats."
Note: Logging your weight is especially important. Otherwise your iFit treadmill will estimate calorie burn data for its default of a 185-pound user.
Part 3: Building Community
Socializing within iFit can help motivate your training. One benefit mentioned above is the option to experience challenges with friends and followers. You can follow posts from the whole iFit community or just inner your circle. iFit members can follow one another just like members in other social media platforms.
This image was taken from a message board post. It suggests a training route, and viewers have the option to share the post or schedule the workout.  
Set Up Your Profile
An iFit profile includes room for a brief bio that all members can see. Attract like-minded community members by posting info about your fitness interests. You can control who views your content.
To set up your bio, choose "Profile" from the drop-down menu in the upper right corner of the iFit screen. Then choose "Edit."
Members can click "Follow" to send a request: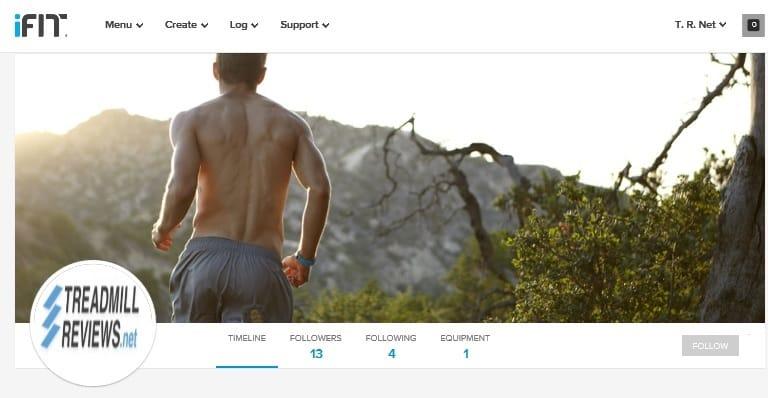 Add Users to Your Membership
Share the wealth! With a premium iFit membership you can add up multiple users to your iFit account. Add friends and family to your fitness community and exchange workouts, challenges and motivational messages.
To add users, click on "Settings" or "Profile" beneath your username in the upper right corner. Then click "Secondary Users." Enter email addresses or existing iFit usernames.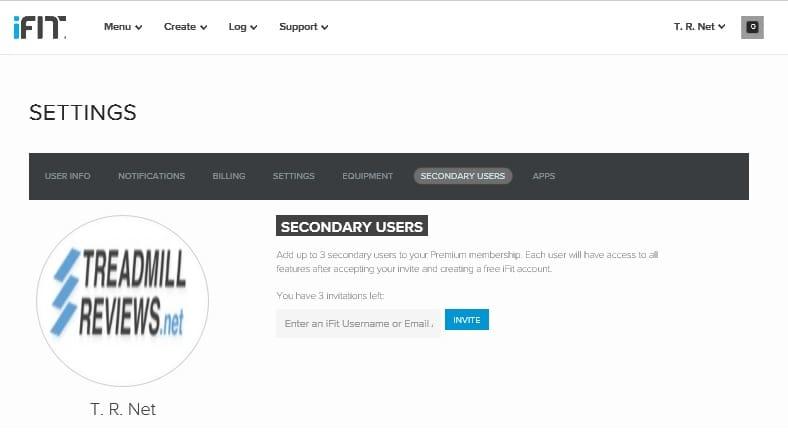 More iFit Info
This free iFit guide from TreadmillReviews.net covers workout setup, stats tracking, and a few other key features of iFit. We only covered the basics. There's so much more in iFit to explore, so for more detailed information visit iFit.com. With a free iFit account, you can access the manufacturer's online database with guides for iFit installation and answers for frequently asked questions.
Training for Weight Loss with iFit
In using iFit with my own NordicTrack 1750, I've found the automatic trainer control and ActivePulse heart rate technology is invaluable when it comes to weight loss. In prepping for an NPC-sanctioned bodybuilding contest this spring, I've been able to cut from 212 to 173 in just four months combining nutrition with cardio performed using iFit. Any interactive app helps take the mind off work while strolling through the hills of Italy, true. But what's unique about iFit is the way the machine automatically adjusts not only with the workout, but your heart rate. This takes all the mental work out of your hands and leaves you to enjoy the show.
Another big value to iFit I've found is the diversity of programs. Granted, your treadmill might be the primary tool with which you use it, but this app can travel on devices to your weight room, or onto the mat for yoga. With the success I've had, I'd highly recommend giving the free trial a spin and see what it can do for you.
iFit FAQs
Can you stream iFit on any device?
In addition to being built into fitness equipment from NordicTrack, ProForm, and FreeMotion, you can download the iFit app on iOS and Android devices. More details are available on the iFit website.
Does iFit have live classes?
Yes! Both day and night in just about any kind of styling, iFit trainers offer live classes with automatic control.
How much does iFit cost?
iFit is free for the first year with your newly purchased NordicTrack, or ProForm treadmill. After this, it is $39 USD / month. iFit offers a Yearly Family Plan for $396/yr, a Monthly Family Plan for $39/mo, and a Yearly Individual Plan for $180/yr. See the iFit website for more information.